The biggest style mistake that I see high school and university-aged kids making nowadays is the one where they refuse to carry a backpack to school. And okay, purses are cute, and an awkward backpack can ruin an entire carefully-crafted outfit, but there is no quicker route to back pain in your thirties than a single-strapped book bag in your twenties!
Thankfully, it's no longer the '80s (sorry, '80s babies), and there are tons of great style options available for students entering or continuing at University nowadays. I covered some great unisex Burton backpacks here on the Best Buy Plug-in Blog last month, but here are a few other great options for girls!
For the sporty student
Jansport describes their JanSport Outdoor Agave 32L Backpack in Bay Blue as a backpack that's perfect for both school and hiking, and I couldn't agree more. This sporty, padded bag has space for both a tablet and a 15" laptop, or for a tablet and a 3L hydration pack.
It's designed with women in mind, too, and features curvy AirCore shoulder straps for a comfortable carrying experience, with extra daisy chain quick-clip points on the front for days when you need to carry even more items.
I wouldn't recommend carrying both school books and hiking gear in your pack, but with this guy? I bet you could totally do it.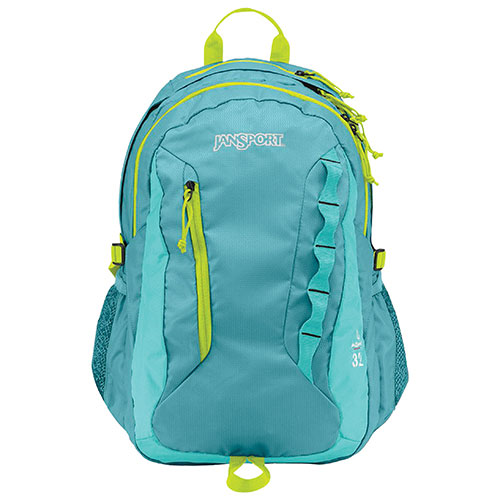 For the college freshman
A really fun backpack can take the stress out of the ungodly number of books that you're putting into it, so here are two backpacks that'll (hopefully) help distract you from the imminent onset of final exams.
The JanSport Digital Student 18″ Backpack in Multi Blue Ice is an awesome, super functional bag that'll bring back memories of your first day at grade school, but with a twist: unlike your first-ever backpack, this JanSport has been updated with a laptop sleeve, tablet pocket, and electronics organizer.
Or, for a bag that offers the simpler things in life, opt for the Roxy Always Core 13.5″ Backpack Interweave Logo. It's bright, bold, and simple, without too many heavy bells and whistles that'll weigh you down.
For the spring breakers
My favourite backpacks to write about are the kind I'd never carry: the ones that are full of stylish pastels and trendy cuts. (What? A girl can appreciate from afar while staying firmly in her comfort zone!)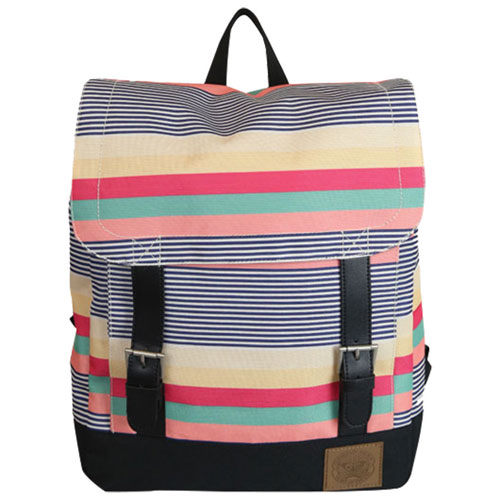 I love the Burton Kettle 16.5″ Daypack in Green, which always, for some reason, reminds me of my sister – I think it's because she can pull off all of the gorgeous lilac tones that my skin just eats up into oblivion. But this time around, the Roxy Day Trek 15.3″ Backpack in Swing Stripe caught my eye, too. It's thin and boxy, and offers the support of having two backpack straps while still looking super chill. It's a backpack for backpack-haters!
Whether you're headed for a first-date trek in the woods or a first day at university, Best Buy's backpack section has you totally covered. Give these top five picks a try, or have a look through Best Buy's entire backpack selection to find the one that fits your lifestyle perfectly!