Today is day 8 of our 12 days of Christmas gifts series, and this time I'm looking at 3 of my very favourite Star Wars toys from this year's big Force Friday reveals (complete with embedded video reviews for each can't miss item). If there's a big Star Wars fan on your gift giving list this year, the toys I'm about to cover are almost certainly already on their radar, so you really don't want to miss out on this top level intel! (Note: Calling the items on today's list "toys" is kind of doing them a disservice. While they are meant to be fun and provide hours of entertainment, each item on today's list is far more than a mere toy. They're also extremely well suited to the adult Star Wars memorabilia collector.)
Sphero BB-9E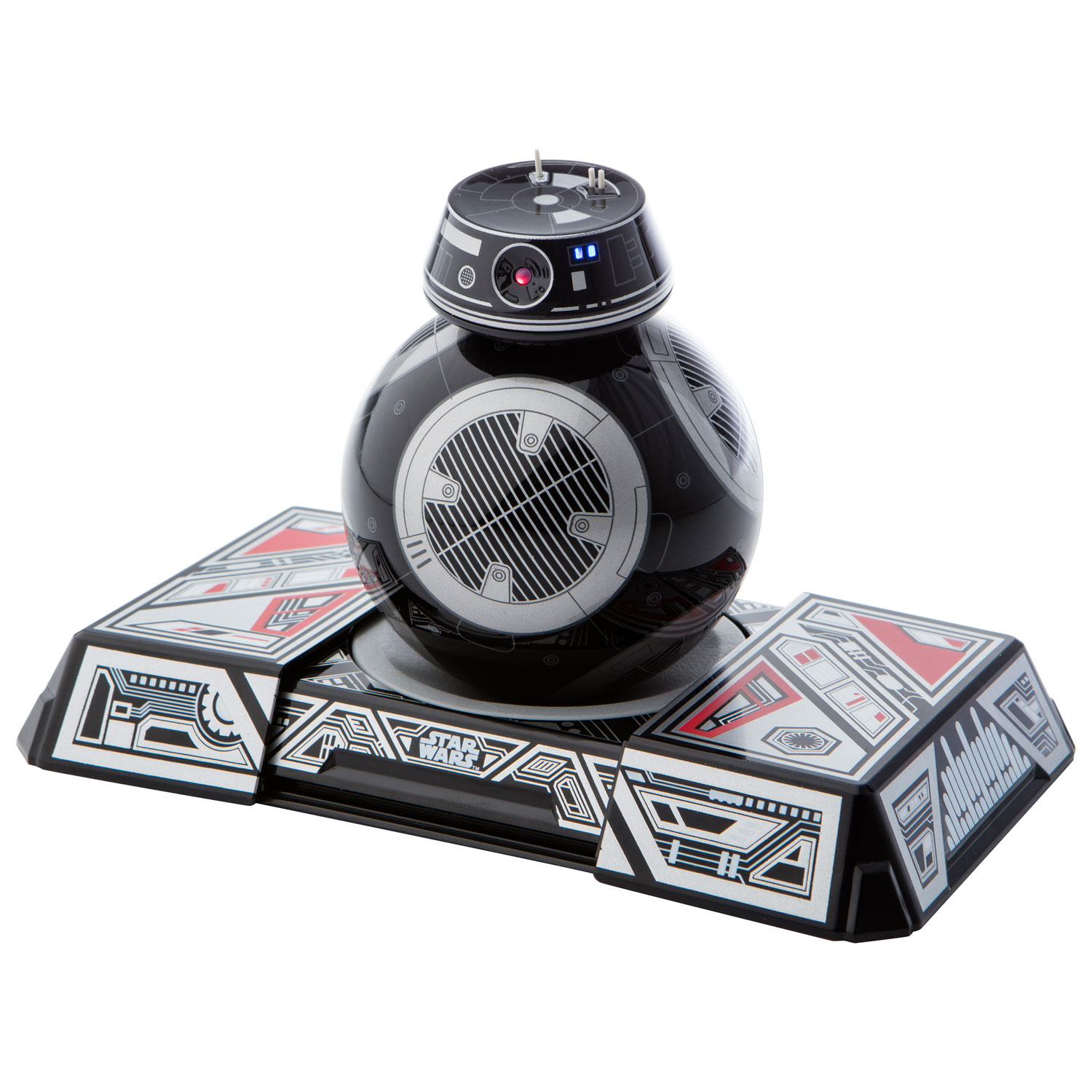 One of the most exciting toys to come out of this year's big Force Friday reveals on September 1st was the all new Sphero Star Wars BB-9E App-Enabled Droid. Sphero was already famous for its amazing BB-8 toy that arrived with The Force Awakens 2 years back, but this time around they seem to have topped themselves with 2 of the 3 toys on today's list of my Star Wars favourites. The first of these is BB-9E, which in many ways surpasses its BB-8 colour variant. This is largely because Sphero added working LEDs to 9E's head piece that BB-8 doesn't have. Another thing that I found when testing both BB-8 and 9E was that 9E seemed to roll much better in its droid trainer cradle. This led me to wonder whether or not BB-9E might feature newer internal technology from Sphero that didn't make it into their BB-8 unit? Hard to say. In any case, all of Sphero's Star Wars droids use the Sphero Droids App, which allows you to drive your droid all around, have it make realistic Star Wars droid sounds, and engage in fun activities like the Watch with Me feature where you sit back and watch a Star Wars movie with your droid and see its fun reactions.
For more information on the mysterious BB-9E, check out my full length (about 7.5 mins) video review below:
Propel Speeder Bike Battling Drone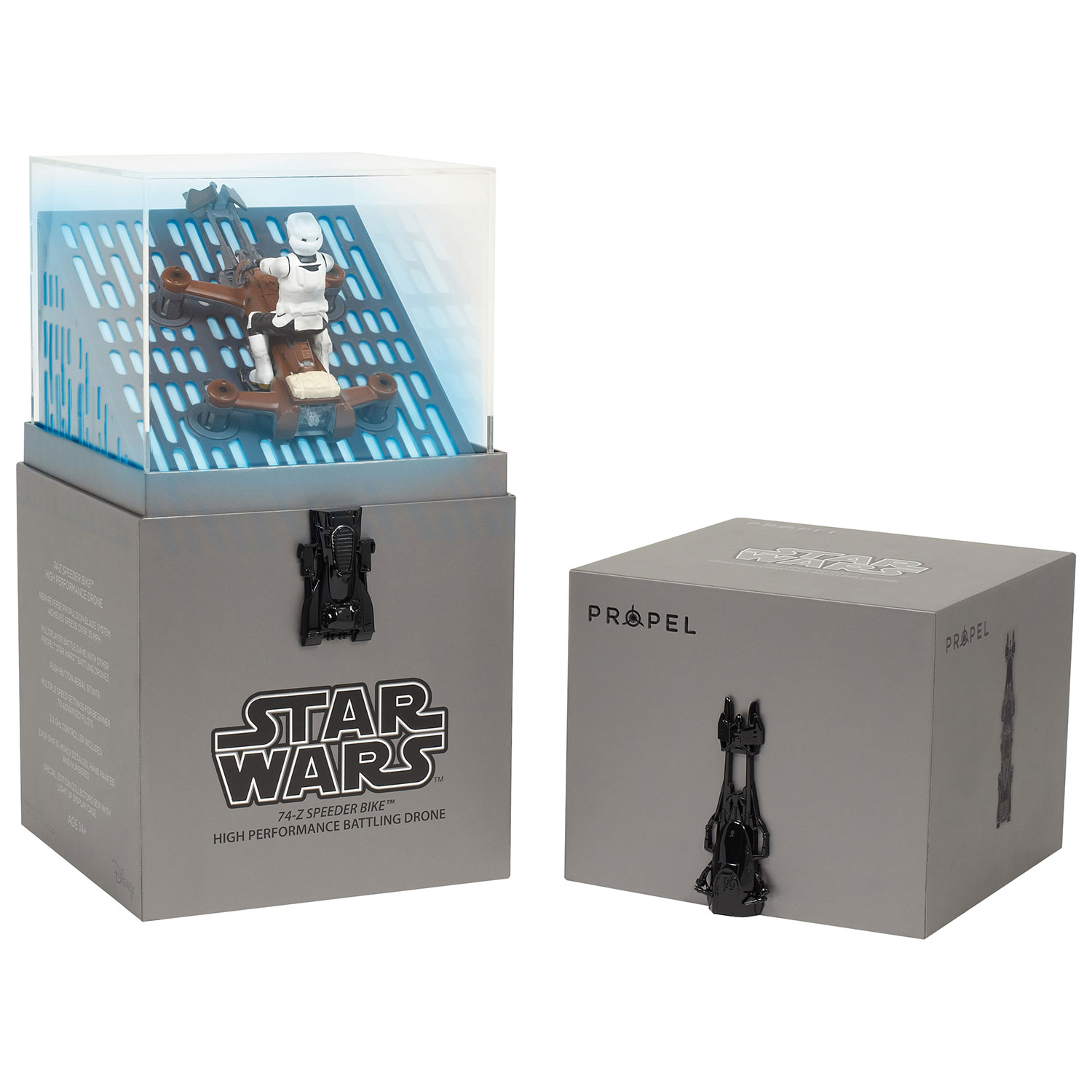 The second item that I really loved among this year's Star Wars toy releases was the Propel Star Wars Speeder Bike Battling Quadcopter Drone. I tested this drone a few weeks ago and really had a blast doing it. Among the speeder bike's key features are 3 different speed modes (for all levels of piloting proficiency), auto takeoff and landing, left and right barrel rolls, an altitude stabilization feature that keeps you from going up up and away, and the most impressive packaging I've ever seen with any product ever. And honestly, I'm barely scratching the surface here. This thing also has tons of moulded in detail, LED lights and cool Star Wars sounds (they come from both the light-up packaging and the hobby grade controller), and a very cool app with 34 training exercises that allow you to be as good a pilot as Luke Skywalker or Poe Dameron. The entire Propel series of Star Wars drones is truly one of the most amazing toys I've ever encountered. I just love them.
If you'd like to see why, be sure to watch my complete Propel Speeder Bike video review below:
Sphero's R2-D2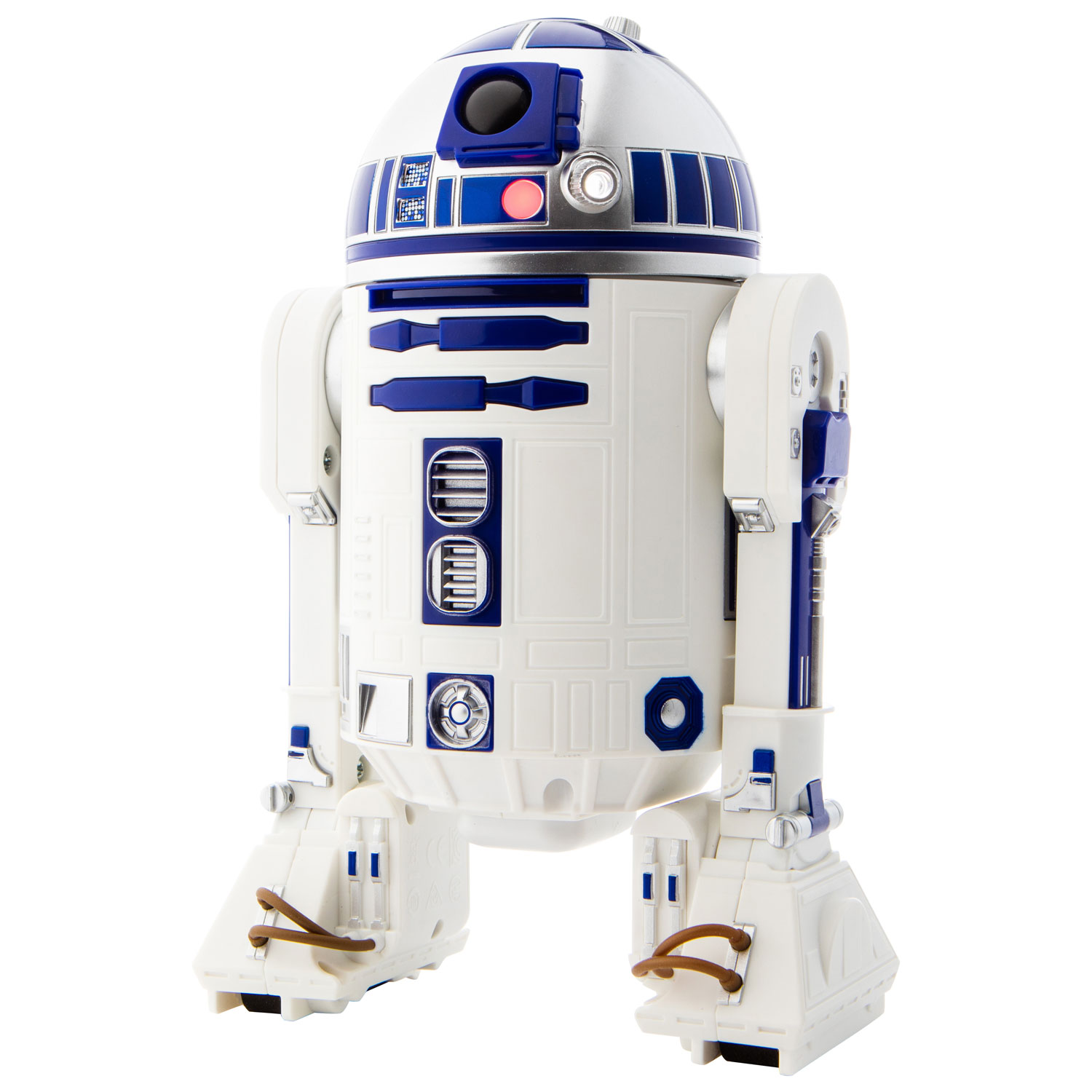 The third and final Star Wars item to make my favourites list this year is yet another offering from Sphero. This time around it's the Sphero Star Wars R2-D2 App-Enabled Droid, and in many ways it surpasses both BB-8 and BB-9E. This is mostly due to the fact that R2 has a whole lot more moving parts than either of those ball droids. Among his capabilities are a real rotating dome, LED lighting in multiple places, both a 2 legged and a 3 legged stance, and the ability to roll around all over your house in a much more controlled way than a ball droid could ever manage. R2 also has a built-in speaker and all of the same cool app features as BB-9E (seeing as how they both share the Sphero Droids App). The only significant difference between R2 and 9E insofar as how they work with the Droids App is that each droid has its own ship to explore in the AR Experience portion of the app (R2's ship is the infamous Millennium Falcon!).
To see R2 in action in my complete video review, just hit the play button below:
There you have it, my 3 favourite Star Wars toys that I've tested so far this year! Other notable items that might have made the list if I knew more about them are the Lenovo Star Wars: Jedi Challenges VR Headset with Saber & Beacon and the littleBits Star Wars Droid Inventor Kit (which I recently picked up but haven't had time to open yet). Have a Merry Christmas and be sure to enjoy The Last Jedi when it opens in just a few day's time! I bought my own tickets nearly 2 months ago.
Check out all 12 of our gifts suggestions