Picture this: warm sand, a cool breeze, and some crisp waves. Now imagine if you didn't have to picture it, because you thought ahead and brought an adventure camera with you on your last spring break vacation.
I am almost always the person in the first scenario; never the person in the second. Spring break is an exciting time for anyone with time off to travel, and your travels deserve to be documented! Whether your ideal vacation involves climbing the highest cliff you can find or kayaking through the mountains, the right spring break camera lets you capture those moments forever.
Why take a camera on spring break?
Smartphones nowadays all come with cameras, and let's be honest: a lot of them come with some pretty great ones. But phone cameras are designed to capture every moment quickly, which produces different results from something designed to capture some moments perfectly.
Using a camera with controls and lenses lets you produce high-quality images of your action shots that you can blow up, print out, and hang on your walls. A separate camera gives you the freedom to leave your phone at home to untether from the world while still capturing all of those exciting adventures.
Plus, while most phones aren't built to be durable, waterproof, or telephoto-capable, many adventure cameras are designed for just that. So save your phone for your food 'grams and pull out the real deal to document your adventures.
Six adventure cameras to consider
If you're going exploring, a camera with a great zoom will let you capture fine details in the environment around you. Start building your kit with a DSLR body like the Nikon D7100 and a great lens, and add on to it as needed. A telephoto lens is perfect for capturing peaks and wildlife in the distance, while a macro lens will allow you to see each little vein on a leaf.
If you want to remember your friends from abroad, the Fujifilm Instax Mini that my colleague Justin discussed recently is the perfect way to do so. It lets you snap and print instantly, so you can take two photos: one for them to keep as they move on to their next destination, and one for you!
(Tip: if you're as bad with names and faces as I am, instant photos are a great way to remember the people you meet by chance. Add them on Facebook, snap a photo, and scrawl their name and number on the back!)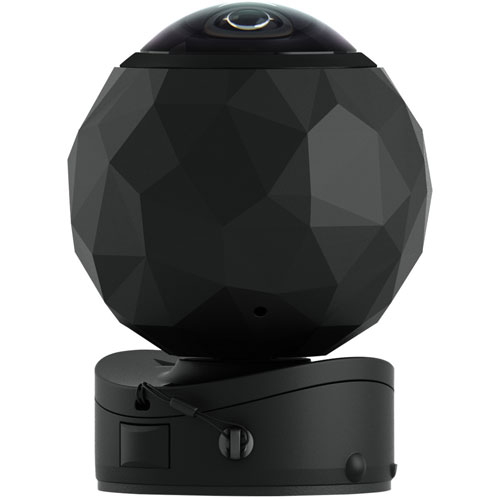 If you want to document your adventures in 360, then you have to check out the 360fly 4K Waterproof HD Sports Camera that was recently featured on the Best Buy Blog. The 360fly isn't totally 360 degrees (it's actually 240 degrees vertically), but it's pretty darn close. Aside from a blind spot from the camera itself, it'll capture everything around you–whether it's a rainforest or a ski lodge.
If you're exploring the ocean, then a waterproof camera is the way to go! A GoPro HD camera like the GoPro HERO5 is waterproof to 40 metres (the HERO Session and HERO5 Session are waterproof up to 10 metres) and records audio and video while you get your adventure on.
And finally, if you just want to grab-and-go, I have two options for you. The Canon SX720 is a reliable, affordable camera that's really compact and easy to grab as you head out the door. But for a vacation along the water, I have one last suggestion: the Olympus TG-4. It's waterproof, shockproof, crushproof, and even freeze-proof (all within limits, of course.) The TG-4 a great way to quickly document a spring vacation that's heavy on the "adventure" component and light on the rest! 
… And yes. That was a "rest" pun.
Find a great selection of adventure cameras in a Best Buy store near you, and online at Bestbuy.ca