Earlier this week, I shared a post on the Plug-In Blog about why you need a stand mixer. Today, however, we're talking food processors. Food processors don't do as many tasks as stand mixers, but depending on your kitchen style, they're sometimes just as essential.
When you move into more specialized equipment, tools often become better at their jobs. For instance, a dedicated stand mixer will typically have better blades and a more powerful motor than a multipurpose appliance, so it's a good idea to invest in a standalone food processor if you're going to be getting a lot of use out of yours.
Why do you need a food processor?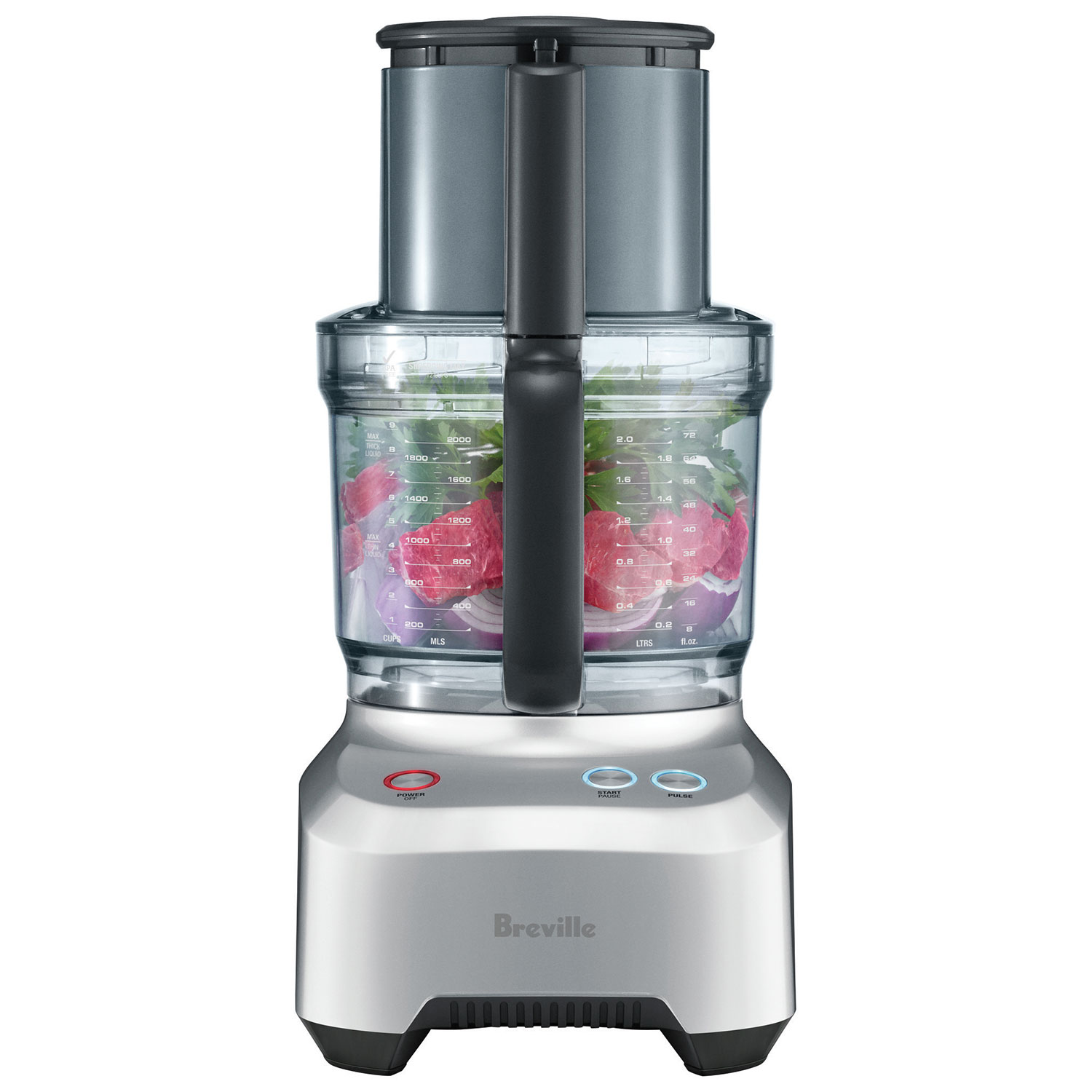 Food processors are great for blending, but what many people don't realize is that they're ideal for coarser jobs, too. You can certainly use your food processor to make smooth, well-mixed dips and sauces (I love a good hummus, and food processors are perfect for a big batch), but you can also use them to for simple prep tasks.
Any food processor worth its salt, like the popular Breville Sous Chef Food Processor, comes with a feeding chute and slicing disks. With a slicing disk, you can get your food processor to complete basic, tedious tasks like shredding cheese and slicing tomatoes. They take a lot of the physical labour out of chopping and shredding tasks, which can be really helpful in a kitchen if you're short on time or if you have physical limitations.
I hate shredding cheese, so this is my absolute favourite use for a food processor. Sauces and dips can be done in a hand blender, but cheese shredding–that's make or break for me. If a kitchen device will shred my cheese, I don't care how clunky it is or what else it can do; I need one.
Food processors are also great for making smoothies and doing light chopping. You can make a quick, easy salsa by adding your ingredients to the blender and then pulsing until it's ready; just be sure not to hold that button down for too long or you'll end up with a purée!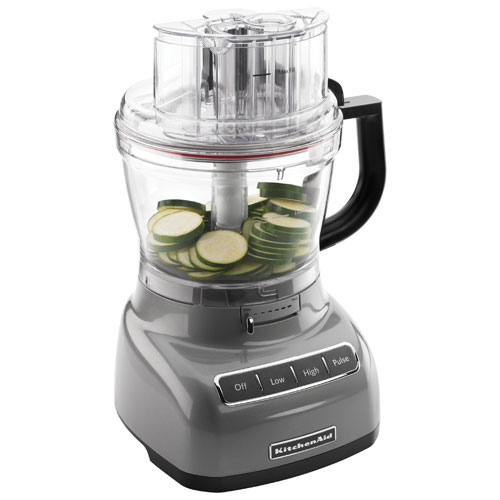 I also find that they're great for prepping baking ingredients in large batches. If you have 3 cups of walnuts that need to be crushed into a walnut cake topping, for instance, using a food processor like this 11-Cup KitchenAid Food Processor is far easier than chopping them all by hand. Or, if you have a handful of almonds that you want to turn into almond flour for making macarons, then a food processor is mandatory–there's no other small kitchen appliance that'll do the job.
(I mean, okay. Technically you could chop up the almonds and then grind them down with a mortar and pestle, but like … Don't. That's insane.)
Food processors for small kitchens & light use
The one thing that holds a lot of people back from getting a food processor is the size of their kitchen. And it's totally understandable: if you don't do a lot of batch cooking and you have a small kitchen (or you live in a small apartment), then sometimes a food processor just isn't the right kind of appliance for you. An immersion blender or food processor add-on might be the better choice for your lifestyle.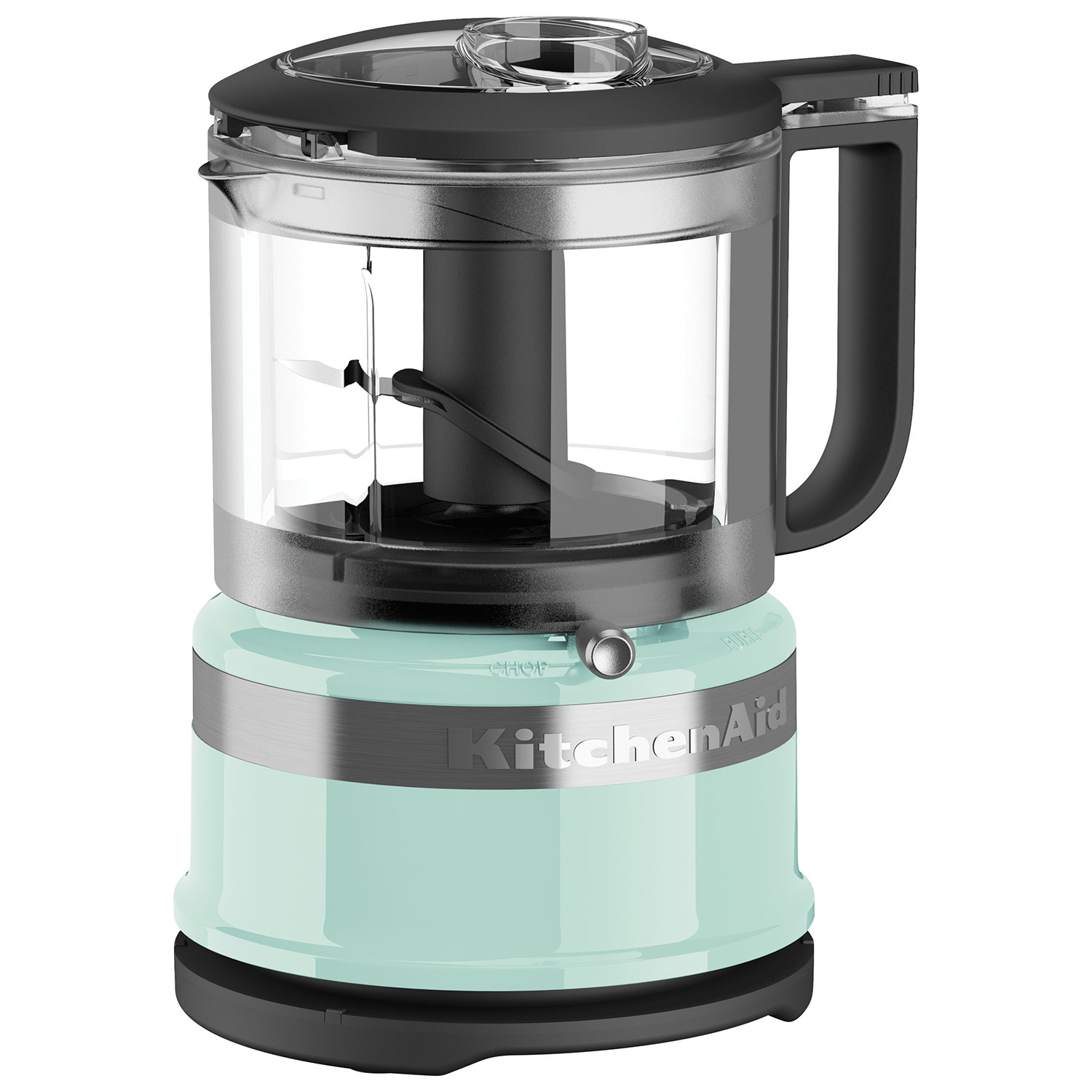 If you plan on using your food processor only on occasion, though, there are certainly smaller options that you can choose from. Take, for instance, the KitchenAid Mini Food Processor. It holds a mere 3.5 cups, which is just the right amount for single-serving use. And, while it doesn't come with slicing disks, it can still be easily pulsed for chopping and blending.
I personally don't think that food processors are a must in all kitchens, but they're certainly handy. They give you the flexibility to make healthier versions of your favourite store-bought dips and salsas at home, and they can really simplify otherwise time-consuming tasks!
Check out all of Best Buy's food processors and see if there's one that's right for your kitchen.