The holidays are the time to use portable speakers to share Christmas music with the people we love. This includes our friends, our colleagues, and our family. Music should always be playing in the background. It sets the mood, gets us in the spirit, and shapes our holiday memories.
Let's examine some Portable Bluetooth Speakers to consider for the holidays. Whether you're hosting a party or going to one, there's a speaker out there for you.  

Party speakers for holiday gatherings
A successful holiday party requires two things: people and good music. Okay, a little rum and eggnog can't hurt. Regardless, Party Speakers provide a big part of that equation. These are purpose-built speakers designed for big sound, deep bass, and multicoloured lighting. 
There's an entire range of party speakers available including Home, Team Events, Camping and BBQs, and Pool and Beach. For the holidays, many people will be looking for indoor solutions to bring people together. Thankfully, there are many great party speakers to choose from. Since they all feature Bluetooth connectivity, everyone at the party can take turns being DJs. 
JBL PartyBox 310 portable speaker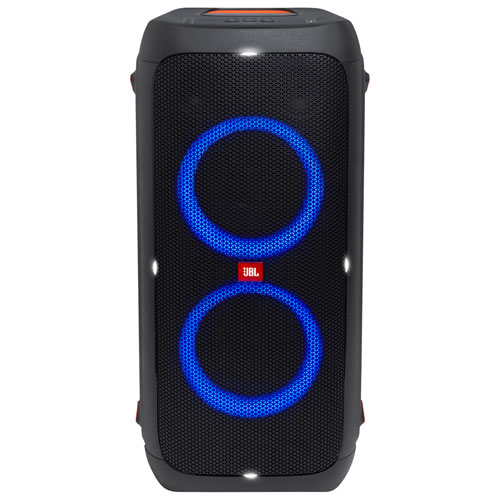 The JBL PartyBox 310 has a fitting name. It truly is a party in a box— but on wheels. Equipped with a telescopic handle and built-in guide wheels, it moves around like luggage. It offers 240W of power with 18 hours of battery life. Each of the subwoofers has an LED ring around it for a multi-colour light show controlled by the Partybox app.  
This is perfect for holiday office parties, and gatherings with friends and family. After a couple cocktails, activate the built-in karaoke mode and plug dual mics into the PartyBox 310. Drink in one hand, microphone in the other. Everyone can take turn singing Dean Martin holiday classics. Aspiring DJs will love the built-in sound effects including applause and air horns. If you want people to have a good time, pull out the JBL PartyBox 310, and make some cocktails.
Soundcore Rave+ portable speaker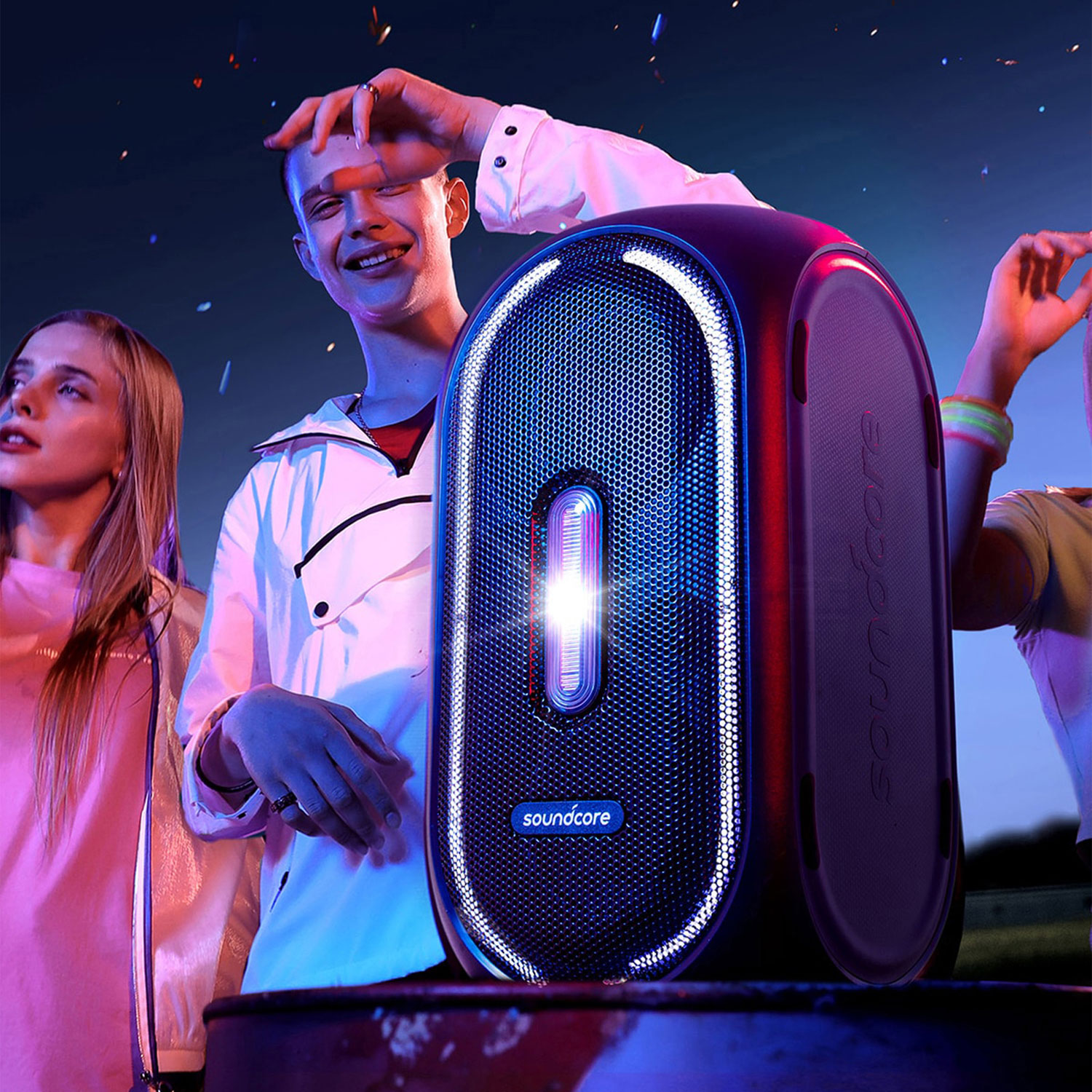 Where there is music and strobing lights, there is dance. The Soundcore Rave+ portable speaker is a party speaker designed for impromptu dance parties. It offers 160W of power with flashing strobe lights and LED lights that sync to the beat. Combine that with BassUp technology, and 24 hours of playtime. If that's not good trouble, I don't know what is. 
With this portable speaker, it doesn't matter where the party is held. An IPX5 rating means it can withstand rain showers and other types of water splashes. That makes it durable, reliable, and powerful. Everything you want and expect from a party speaker
Sony MHC-V13 portable speaker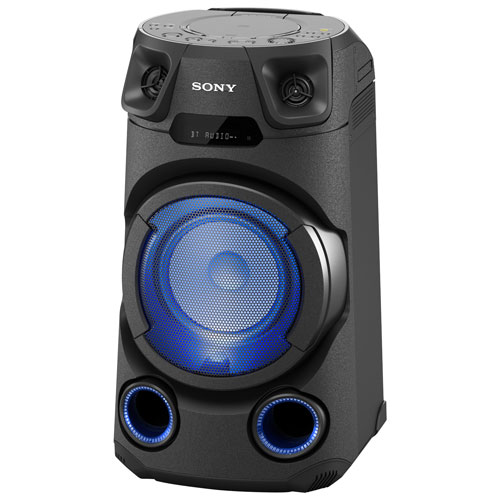 The holidays are about tradition. It's time to pull out the family holiday CD collection and listen to Christmas songs. The only problem is finding a CD player. The Sony MHC-V13 solves that problem. Dust off that CD collection because this Bluetooth party speaker has a CD player. That's right, with this party speaker, you can party like it's 1995. That's on top of the FM radio, guitar amp, built-in LED lighting, and DJ controls. In a nutshell, it's everything you want in a party speaker—past, present, and future. 
With a karaoke/guitar input, it's perfect for wannabe singers and musicians. Built-in effects like Mic Echo should help you sound better. The Jet Bass Booster technology is sure to kick any party up a gear. It also features a carrying handle so it's easy to move the party around.  

Bluetooth portable speakers for holiday gatherings
If you're planning on a holiday trip to visit family, a Bluetooth Portable Speaker should be part of your travel kit. There are small, lightweight, and easy to carry. Take Christmas music with you. Use it to sing Christmas carols in the neighbourhood. Share your custom holiday playlist with friends and family. 
Sony SRS-XG300 portable speaker
The Sony SRS-XG300 is designed for portability. It features a retractable handle with small rubber feet to place it on any flat surface. As part of Sony's X-series, it uses X-balanced speakers which feature non-circular diaphragms. This increases the sound pressure for punchier bass, and a rich deep sound. 
It's the ideal portable speaker for holiday music listening sessions. Connect it to your smartphone to play classic holiday playlists. Use it with your tablet to watch and listen to your favourite holiday movies. With 25 hours of battery life, it will last all night and then some. 
The Sony XG300 connects to other Sony SRS speakers. From a smartphone or tablet, play music on multiple speakers during holiday parties. The portability and flexibility it offers is sure to create memorable experiences. 
Sony SRS-XE200 portable speaker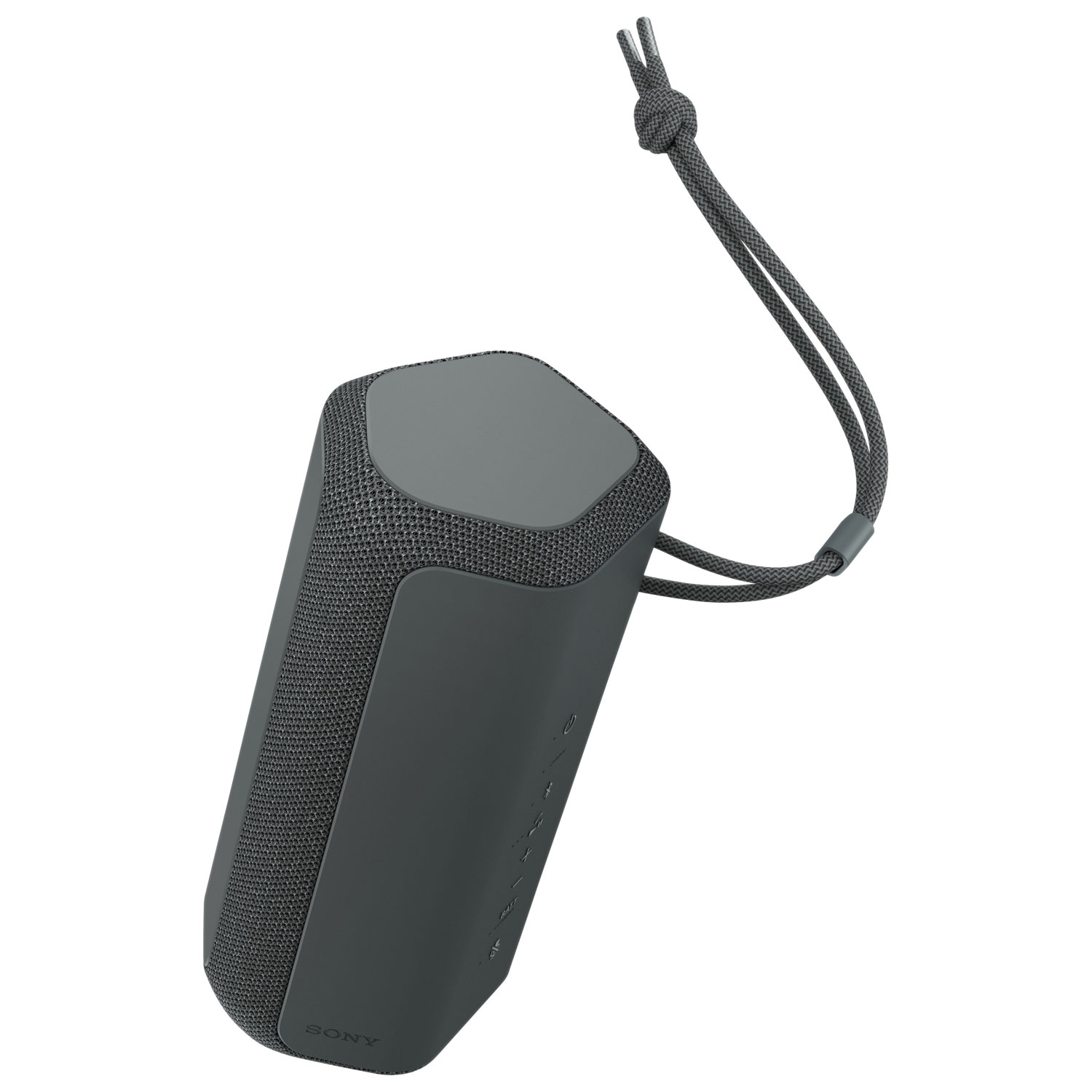 For ultimate portability, the Sony SRS-XE200 features a convenient carrying strap. Carry it on your wrist while you Christmas Carole through the neighbourhood. Listen to holiday music on long drives to the relatives. Bring it to house parties to get everyone in the mood. With a unique Line-Shape Diffuser, the Sony SRS-XE200 provides room-filling sound. Even at max volume, the audio is not distorted. 
Portable speakers need durable builds. The Sony XE200 is shockproof. It can withstand bumps and drops indoors and outdoors. Take it to holiday parties without worrying about it getting damaged. It's designed to be used. 

Choosing a portable speaker for the holidays
There's no shortage of Bluetooth Portable Speakers. They come in all shapes, sizes, and price points. For holiday parties and gatherings, most people will want a party speaker. Others may want a portable Bluetooth speaker that's small and lightweight. No matter which type you choose know this. Everything is better with music, including the holidays. 
Check out this Portable Bluetooth Speaker Buying Guide for more tips on buying a Bluetooth speaker. If you're buying for someone else, this Gift Guide should help. Best Buy has you covered for all of your Portable Audio needs this holiday season.