Today we attempt to determine if smart lighting is right for you and your home. If you've been thinking of installing smart lighting but aren't quite sure what all the fuss is about, this is where you can learn a bit about what smart lighting is and why you might just want to install it. As we go along, we'll also see a few specific examples of smart lighting products that are currently available at Best Buy. These products range from the ridiculously easy to install to the slightly more elaborate, and they're packed with surprising and useful features. These include an infinity of colour options in a single smart bulb, energy efficiency & long life, and the ability to control your lighting from almost anywhere on the planet via your smart phone device. If any of this sounds interesting to you, just keep reading & let the learning begin!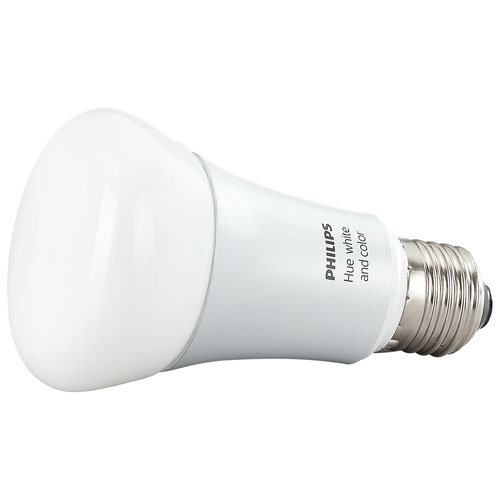 What is Smart Lighting?
Smart lighting is just what it sounds like—lighting that's smart! But how so? Well, for one thing, smart lighting is more energy efficient than traditional lighting systems. This is because smart lighting uses LED (light emitting diode) bulbs, which last considerably longer than other types of bulbs and require far less electricity to light. Smart lighting is also largely compatible with iOS & Android controlled smart phones and tablets, using Bluetooth, Wi-Fi, or a bridge / hub setup to connect your device to your lighting. This allows you to control your home's lighting from just about anywhere on Earth (provided you can pick up a Wi-Fi signal). You can even use smart lighting to create a custom lighting schedule for things like decorative lighting (i.e., at Christmas time) or coming on & off at specific times of the day. And, with the millions of colour hues that many smart bulbs can produce, you'll be able to achieve an atmosphere for every mood, and a mood for every atmosphere.
Why Install Smart Lighting?
Arguably the best reason to install smart lighting is because of the significant amount of control it gives you over your home lighting system. For example, you may wish to have certain lights in your home switch on or off at various times when you're not there. This can help to make your home appear lived in even when you're not there, such as while you're at work or even away on vacation. Imagine being able to manipulate your lights from thousands of miles away, or being able to turn off a light that you forgot to turn off when you left the house. Thus, smart lighting succeeds as a number of distinct products. For instance, it is at once a fail-safe, a mood / atmosphere enhancement system, a decorative tool, and it's even a key part of an effective home security system. And these are just a few of the reasons to install smart lighting in your home. As you explore the smart lighting product options below (as well as on Best Buy's Smart Lights page), you're sure to think of more ways that smart lighting can benefit you and your home.
Easiest Options
Among the easiest options when it comes to setting up smart lighting are the ones that simply screw into a standard light socket and are instantly ready to go. Take, for example, the Philips Hue A19 Add-On Smart LED Multi-Colour Light Bulb, which is not only as easy to install as screwing it in, but is also dimmable & provides 16 million different shades of colour to light up your life! I can think of a multitude of reasons for installing such bulbs, not the least of which is for producing the perfect atmosphere for any occasion—orange & dark purple for Halloween, green for St. Patrick's Day, and red & green for Christmas! You can even adorn your home in the colours of your favourite hockey or football team. This particular bulb can also connect to a Phillips Hue Bridge (wirelessly, of course) (& sold separately), enabling easy and convenient smart phone control from anywhere where you can get a cellular signal.

Another easy (and equally decorative) option is the MIPOW PLAYBULB Comet Smart LED Multi-Colour Light Strip. This colourful strip is flexible, self-adhesive, measures 2 metres (7 feet) long, and is Bluetooth compatible for easy control via either your iOS or Android powered smart phone or tablet. A free downloadable app gives you all the control you'll ever need, and it easily plugs into a typical wall outlet via its included AC adapter. Just keep in mind that the MIPOW PLAYBULB is for indoor use only.
Great for sprucing up anything from walls to cabinets, shelves to banisters, this light strip features hundreds of individual long-life LEDs, and its colours & lighting effects are fully customizable. Whether you're feeling flashy or festive, the MIPOW PLAYBULB can capture and reflect your every mood, and it's so much fun to look at that you may end up wanting them all through your house! All in all, the MIPOW PLAYBULB is a fun and easy smart lighting solution!
More Elaborate Solutions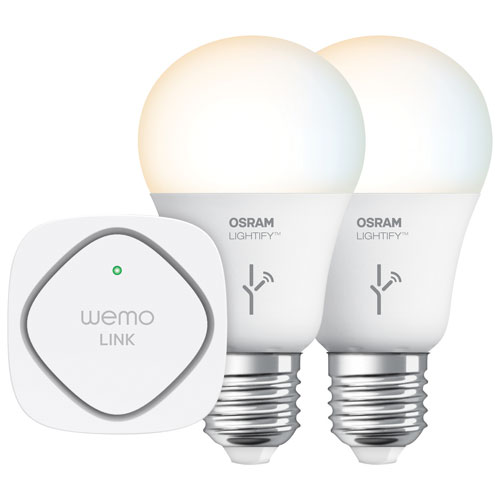 If you prefer to opt for a more elaborate smart lighting solution, you could go with something like the Belkin WeMo and OSRAM LIGHTIFY A19 Smart LED Light Bulb Starter Kit. So what makes this set more elaborate than the individual bulbs and lighting strip? Well, the WeMo Link for one! With the WeMo Link, you can create a fully automated (& synced) lighting system (consisting of up to 50 different WeMo enabled bulbs) that operates throughout your entire home. Simply plug the WeMo Link into a central wall outlet and start syncing your WeMo enabled bulbs for complete home lighting coverage.
And that's not all! This set also has the same great features of other smart lighting products. There's the free WeMo App (fully compatible with iOS & Android devices—and even your Kindle), complete WiFi connectivity (for control from practically anywhere), adjustable temperature ranges (for a variety of lighting / brightness options), and the long life & energy efficiency that's a staple of smart lighting. There's even IFTTT (If This, Then That) compatibility, allowing you to set whatever conditions you wish for having your lights switch on or off. For instance, if you'd like to have your lights come on in response to certain weather conditions, you can. Very cool!
Final Word
It seems to me that the development of smart lighting marks a positive, useful, and innovative change in the world of home improvement. With all of the great benefits that smart lighting provides, I have to say, I am certainly all for it! For more information on smart lighting and other smart home options, see paliontology's blog on Setting up a Smart Home Series Part 1: Assessing your needs & Steven Hill's blog entitled Should I add a Smart Camera to my home. And until the next time, have an excellent day!