When you're redoing your kitchen (or planning a new one altogether), it's important to make sure you plan enough kitchen space for any new appliance you plan on bringing home.  Not all appliances are made equal in width and height, so if you're designing a space or filling one that already exists, make sure to reference Best Buy's Width Groups to choose an new appliance that will work for you. 
My mother, in our old kitchen, made the mistake of replacing a counter depth fridge with a deeper one a few years back. We had a fridge that stuck out an extra few (awkward) inches for a couple of years, so when she redid the kitchen this summer, she made sure to measure the depth this time, too!
How much kitchen space do you need for the average refrigerator?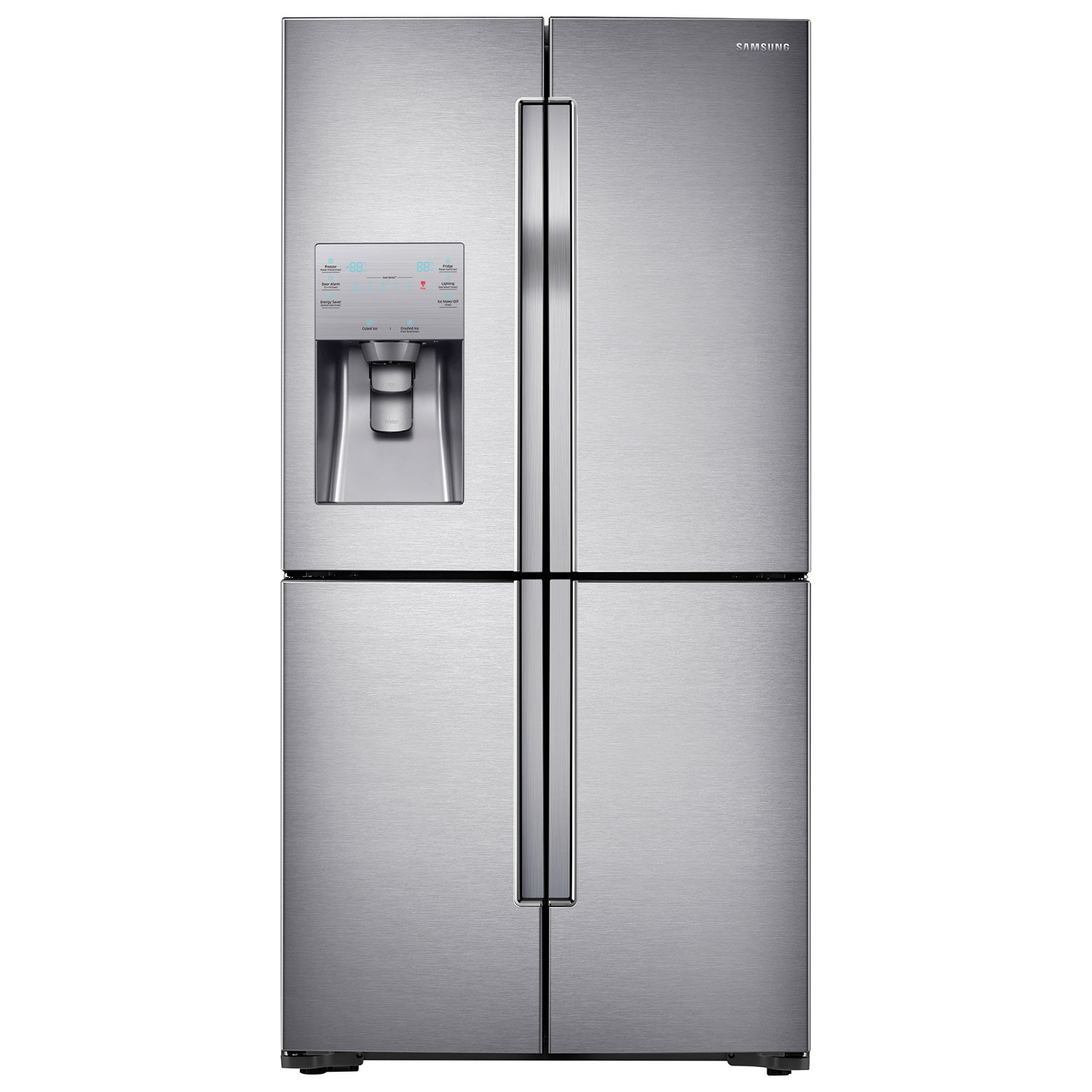 Refrigerators are measured in two standard ways: total capacity (measured in cubic feet) and footprint (measured for both width and depth). But two fridges with the same standard capacity won't necessarily be the same width or depth, so it's important to make sure you're looking at both of the figures when you purchase a new one.
Note: Most "counter depth" refrigerators are 28-31 inches in depth, while most non-counter depth refrigerators are over 35 inches deep.
On average, most top or bottom freezers are 28-30 inches wide, while most side-by-side refrigerators are 33-36 inches wide. Most French Door refrigerators are a little more consistent, with an average width of 36 inches by a wide margin. That's a difference of up to eight inches, so a different kind of fridge may literally not be able to fit into your kitchen.
Best Buy offers fridges of all common widths, from the 30″ Frigidaire 18 Cu. Ft. Top Mount to the 36″ Whirlpool 20.6 Cu. Ft. Side-by-Side Refrigerator (counter depth) and the 36″ Samsung 28.1 Cu. Ft. 4-Door French Door Refrigerator (greater than counter depth).
How much kitchen space do you need for the average stove?

On the whole, stoves will be the easiest new appliance to size for your kitchen–because they're almost all 28-30 inches wide. However, capacity can vary greatly.
Take these two 30″ stoves, for instance. The Frigidaire 30″ Easy Clean Smooth Top Range is a mere 4.8 Cu. Ft. large, while the GE Profile 30″ Self-Clean True Convection Slide-In Smooth Top Electric Range is a whopping 6.6 Cu. Ft. Both products fit a 30″ wide space, but offer very different oven sizes inside.
(Funnily enough, the Frigidaire is also taller and deeper than the GE, but features a significantly larger than average storage drawer underneath.)
But wait! When you're looking at how much kitchen space you should plan for your stove, make sure to measure the space above it, too. Most older houses have range hoods above the stove, while most newer ones have a range hood/microwave combination. Make sure the space you're allotting for your stove will also fit the width of a microwave or range hood above.
How much kitchen space do you need for the average dishwasher?

Dishwashers are my favourite part of this post, because here's where things get tricky! There are large dishwashers ("built-in,") medium dishwashers ("apartment sized,") and small dishwashers ("portable.")
The biggest dishwashers, like this stainless steel one from Whirlpool, clock in at 25″ wide, while the average one is about 24″. (Take, for instance, this Samsung Tall Tub Dishwasher.) But portable dishwashers… Those can be really small. The super-skinny Danby 18″ 55dB Portable Dishwasher is narrower than most computer monitors nowadays, and the stout Danby 22″ 52dB Countertop Dishwasher sits on top of the counter and does your dishes while hooked up to the sink.
You can check out this post on how to measure for a dishwasher if you'd like a visual on measuring for dishwashers.
There are many different sizes for each major kitchen appliance, and while not all of them vary as widely as dishwashers do, sizing isn't something to scoff off. Remember to measure twice and "cut" once when it comes to your appliances to determine kitchen space. Each one should fit into a space that's a few inches larger on each side than the appliance itself, so measure, measure again, and add a few inches to be safe!
If you're about to do a kitchen renovation be sure to check out all of the other articles in our series starting with shopping for your appliance, what appliance delivery specialists can do for you, the delivery and install of your appliances, and see how easy Best Buy makes recycling your old appliance.