Stand mixers are a favourite topic of many of the writers here at the Best Buy Plug-in Blog, and it's not hard to see why. They're one of the more attractive kitchen appliances, and with so many different attachments to choose from, they're incredibly versatile pieces of machinery.
While a stand mixer takes up a good deal of space on the counter top, they can do a lot within that small space. Unlike a toaster or juicer, stand mixers are essentially no more than glorified motors–and I mean this in the best way possible. They can whisk, blend, grind, make pasta, and more, all while quietly adding a splash of style to your kitchen counters.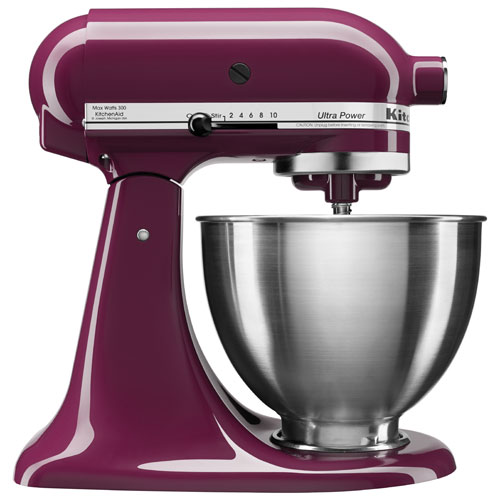 For me, the question is not if a stand mixer is needed, but what that stand mixer is needed for. 
My favourite uses for stand mixers
I love using our chrome KitchenAid Artisan Stand Mixer for a little bit of help in the kitchen. On days when I'm really exhausted, it's kind of like having a sous chef by my side: I make the decisions, but it does all of the heavy lifting for me. This 10-speed, 5-quart mixer can mix batter for 9 dozen small cookies at a time, but I usually call it at 24 cookies and freeze half the batch for instant homemade cookies later in the month.
The flat beater, which is included (along with a dough hook and wire whip) with the mixer, is perfect for mixing my cookie batter thoroughly every time. It and the bowl are dishwasher safe, so I can make an entire batch of cookies without having to whisk or hand-wash a single item.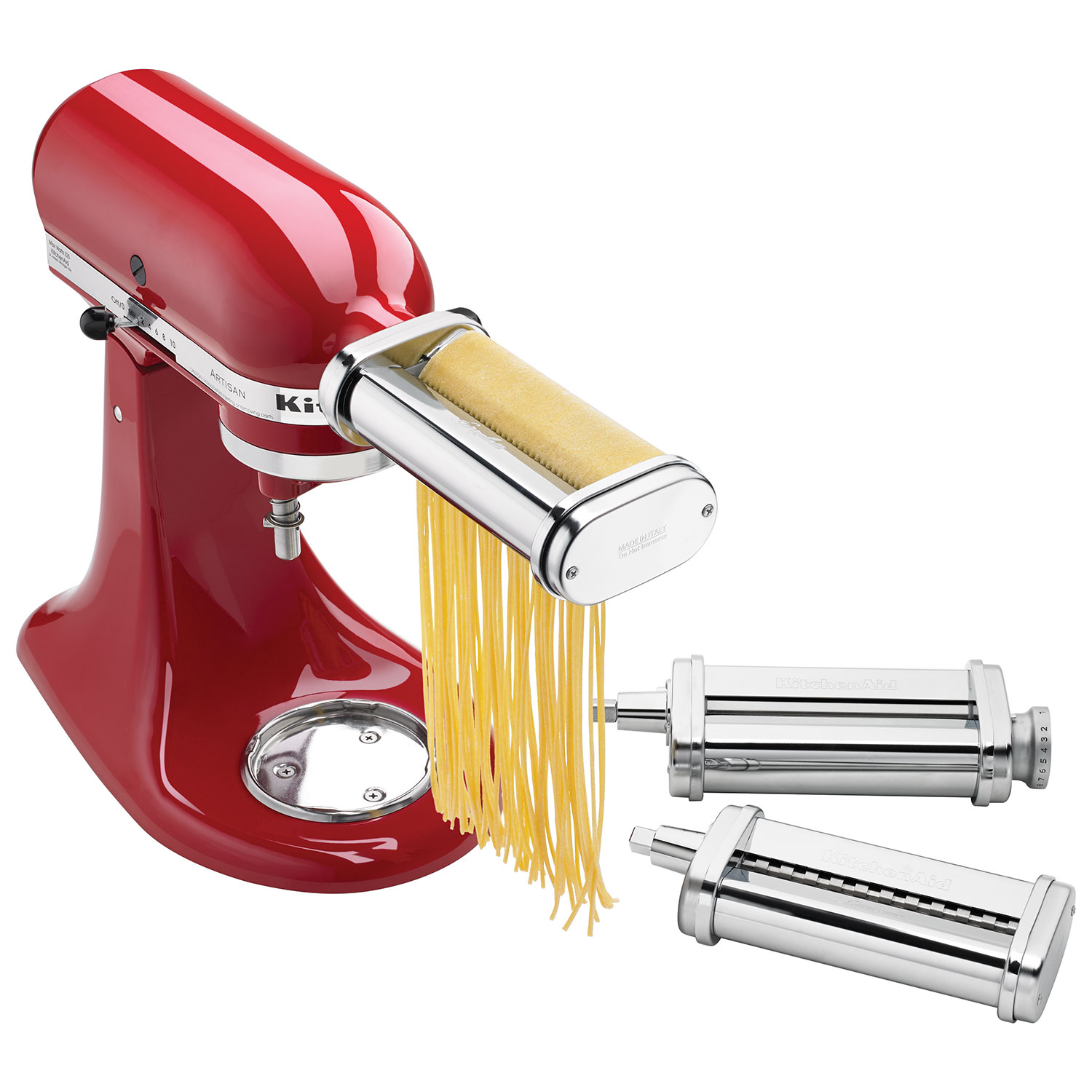 But my favourite way to use our KitchenAid Artisan is, by far, to make pasta. At the end of our very first date, my now-partner asked me to come over for dinner because we just couldn't stop talking to each other. He used his KitchenAid Pasta Roller Attachments to make me the most delicious pasta I've ever had in my life–fettuccine carbonara, with sage worked right into the fresh pasta dough–and that was that.
I'd like to be able to say that he had me at hello, but … Nope. He had me at his delicious, KitchenAid-assisted cooking. I now use that very same stand mixer to move along my cookie-making, batter-mixing, and whipped cream whipping, so I'm a little biased when I say that every kitchen would benefit from one.
Especially bachelors' kitchens. You know, to help you get the girl.
What I'd like to be able to do with my stand mixer
If pasta, cookies, and whipped goods aren't your style, there are still plenty of reasons as to why you need a stand mixer. With a couple basic attachments (but no more precious counter space), you can slice ingredients, grind meat, and stuff your own sausages.
One day, I'd love to be able to use our stand mixer to make ice cream with the help of the KitchenAid Ice Cream Maker Stand Mixer Attachment. I could try to justify this desire with a bunch of fancy language, but really, what more needs to be said than "ice cream"?
While I personally think that stand mixers are an excellent addition to any kitchen, no matter how infrequently you cook or bake, I'll admit that they do take up a fair amount of counter space. It's put to good use, but unlike a hand mixer and bowl set, it's much more difficult to put a heavy stand mixer into a drawer or cabinet when you're done with it.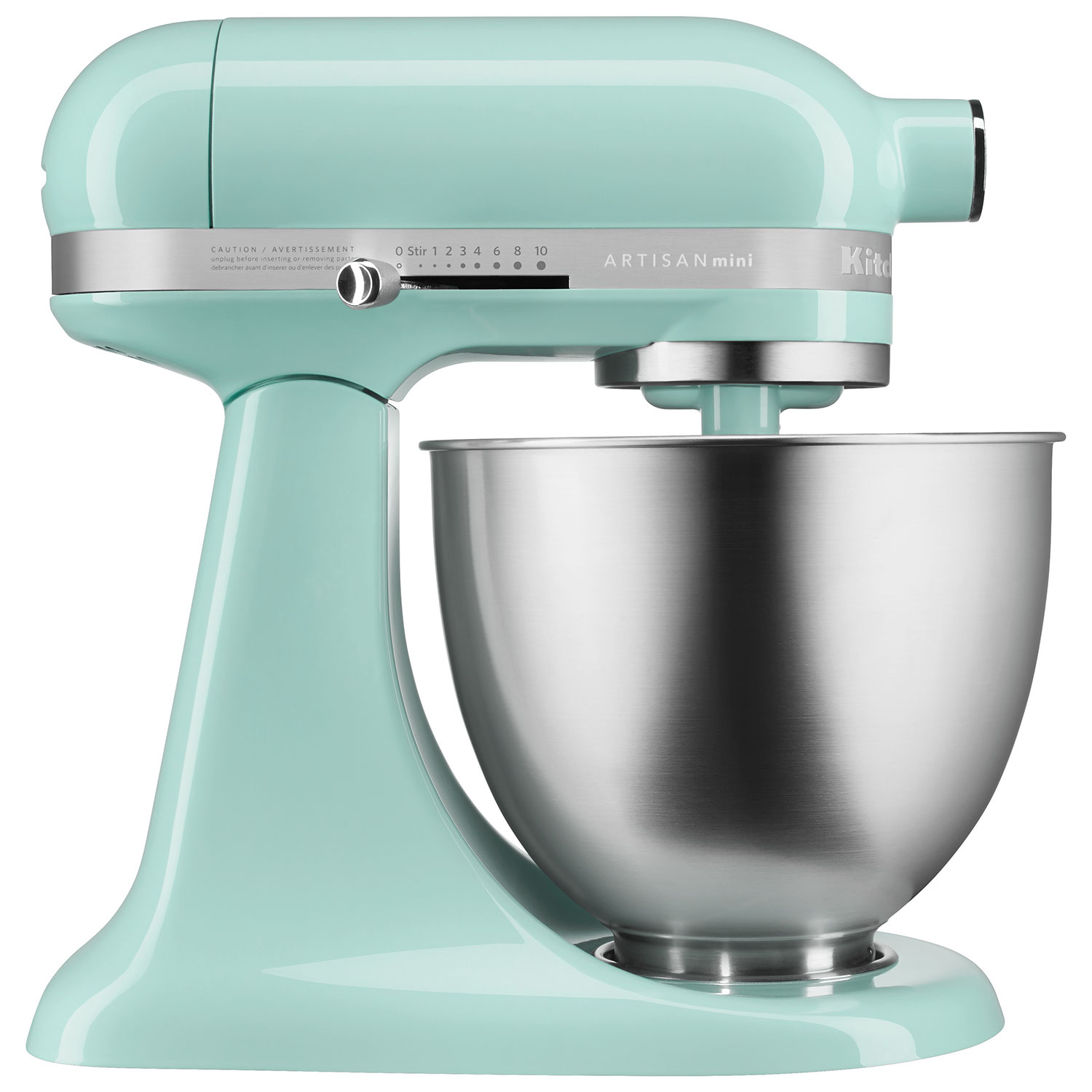 In exchange, you get a ton of functionality and an extremely multi-purpose piece of equipment that classes up your kitchen counter tops in an instant. Stand mixers now come in a wide variety of sizes, from a Batman-esque 3.31L Matte Black Mini Stand Mixer to a 5.7L Professional Lift-Bowl Stand Mixer. (The lift-bowl design helps keep the mixer stable during big mixing jobs.)
As one final cherry on top, stand mixers come in a every shade under the sun. I love KitchenAid's minty Ice Blue, and this season's Blue Willow and Boysenberry are nothing short of breathtaking. If you have the space, then yes: I think you really do need a stand mixer!