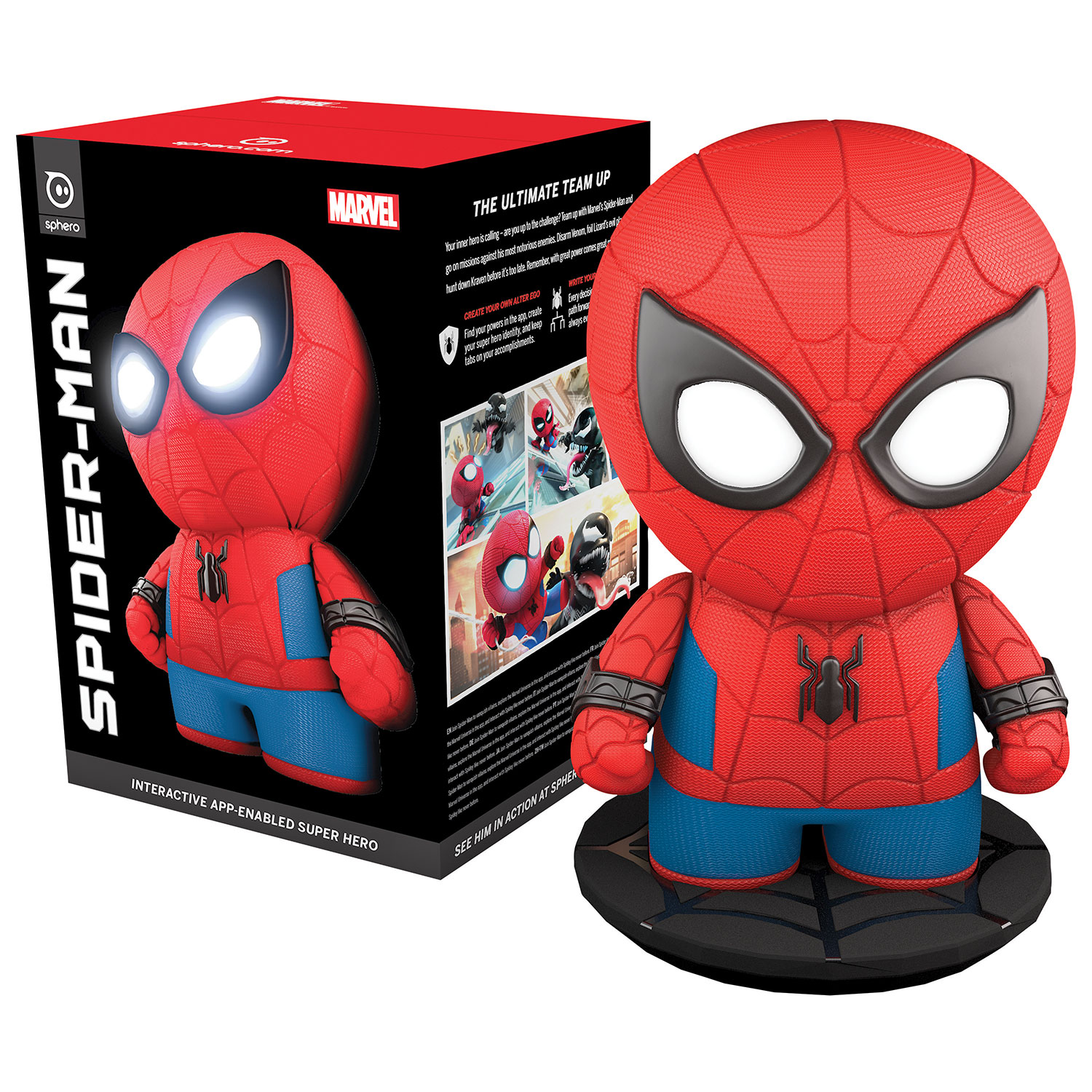 Who's your favourite super hero? Well, mine is (and always has been) none other than Spider-Man, and that's why today I'm super excited to bring you an in-depth review of the still relatively new Sphero Spider-Man App-Enabled Super Hero.
It's Your Friendly Neighbourhood Spider-Man
Sphero's Spider-Man App-Enabled Hero is definitely an interesting release. With his giant head and tiny body, he's got that fun, super-deformed look that often accompanies today's super hero toys. He's also got numerous features befitting a hero outfitted by Tony Stark. Among them are his durable silicone suit, his high-resolution LCD eyes (for revealing Spidey's emotions), and a built-in motion sensor that triggers all kinds of interesting reactions from your new heroic companion. But the real features arrive (just in time) once you download the free Spider-Man App to your iOS or Android based smart device. This app has lots of fun games and activities that really bring your Spider-Man to life. Plus Spidey is internet connected thanks to your home Wi-Fi setup, so he can constantly upgrade and get even better. I'll discuss some of the app features in greater depth further down the page.
My Experience Playing with Spidey
Normally the first thing one does when starting off with a new Sphero toy is begin the charging process. Not so with Spider-Man. In this case, the toy comes with more than enough of a charge already in place to get you started. When I placed Spidey onto his charging base and plugged it in (via its standard wall adaptor), the charging indicator light shut off in about 2 minutes, indicating that he already had a near full charge to begin with. The expected charging time for this product is normally about 4 hours, during which his spider chest light/logo will pulse. Once that light goes off, he's fully charged up and ready for action. A full battery charge, which can also be achieved without using Spidey's charging base (just plug the cord directly into his foot) should provide approximately 2 hours of continuous play time.
The other thing you need to do to begin playing with your Spider-Man is download the free app to your Android or iOS based smart device. While the app itself installs quickly, there is a fair bit of firmware (and other) updating still to come. This all took approximately 15 minutes for me to complete with my Spider-Man. You also need to connect your hero to your home Wi-Fi signal in order for him to work, so keep that obscure password handy or you'll be running around the house looking for your record of it as I was.
Finally I was ready to begin interacting with my Spider-Man, and the first thing I had to do was choose my own super hero name. There were only a few to pick from, so I went with the very first option, Stealth Wolf. Had I known that Spider-Man would hereafter refer to me by this name, I might have been a little more selective, but no matter. The next step in the process allowed me to choose what I wanted to do with Spidey. There are 3 initial options, but each has many sub-options of its own. For instance, if you choose "Team Up," Spider-Man will walk you through any one of a number of special games and activities that are designed to hone your super hero skills. He may ask you to say specific phrases (he does have voice recognition, after all) or get you to pick him up and move him around to activate either your own super powers (mine was "super clap") or his. Most of these games are pretty fun, and they involve non-emergency situations. In other words, Spider-Man has previously designed these safe activities for you to participate in for when the real danger begins.
One such example of the "real danger" comes when you jump to the third section of the app called "Fight Villains." In this feature you will put your newly practiced super powers to the test against real Marvel villains such as Venom, Kraven, and the Lizard. In most ways it's a lot like the "Team Up" feature, only this time the stakes are real, and your actions (or inactions) can have serious consequences for the fictional bystanders that you are Spidey are trying to save. It's pretty fun!
My favourite part of the app, however, is the section called "Hang Out," where you do just that with Spider-Man. He can tell you lame (but still funny) jokes, have a real two-way conversation with you, or tell you interesting stories about himself. The "Let's Chat" feature of the app actually works reasonably well, provided you come up with a subject that Spidey knows lots about. For instance, he simply gushes about Tony Stark. I guess you can't really blame him for that…
Other in-app features include the ability to set an alarm clock (so Spidey can wake you up in the mornings), the ability for Spider-Man to guard your room when you're not there to protect your own property (he'll try to chase intruders off with verbal warnings and then give you a full report of what happened later on), and also a battery level indicator (so you know when Spider needs to be recharged). More recently there's even been added a new Watch-with-Me feature for viewing the Spider-Man animated TV series from Disney XD with your Sphero Spider-Man commenting on the action. These Watch-with-Me features that often Sphero does with their licensed property toys (the Sphero Star Wars droids and the Ultimate Lightening McQueen) are always really fun. I would have loved to try it out myself, but so far I don't seem to have access to the animated show. I may have to track it down and watch before I send this guy back!!
Beyond app features, Spider-Man doesn't exactly have a ton going on. His only articulation is in his arms. They can move forward or backwards, but not out to the sides, and there are no elbows to be found. For the most part, Spider-Man is a static character. The only movement you're really going to see is in his very expressive LCD eyes. Spidey can convey a good range of moods or emotions just by the shape his eyes take. What's especially cool about this is how the eyes mimic the way that Spider-Man's eyes work in the new incarnation of his suit as developed by Tony Stark in the last Avengers movie (technically Captain America: Civil War, but who's kidding who, that was totally an Avengers movie!). In any case, Spider-Man's eyes are really the stars of this particular show, and it's really fun to see their many configurations. Overall, Spidey is a fun character to watch and listen to, and I do believe that that was Sphero's main goal for this toy.
Examining the Video Evidence
Please take a few minutes to check out my brief video overview of Spider-Man in action. Ok, "action" may be a bit of a strong word for a hero that doesn't actually move, but at least you'll get to see him up close and see how his LCD eyes work:
Final Thoughts
Sphero's Spider-Man is definitely a cool toy. Sphero seems to be one of those toy companies that just can't miss—everything they touch seems to turn to gold. I really enjoyed my time testing their Spider-Man super hero, and I am 100% convinced that the majority of Spidey loving kids will too. This is not to say that Spidey is perfect. It would have been nice if he had had some reasonable level of articulation or general mobility. Sphero's Ultimate Lightening McQueen (which I recently reviewed) is a prime example of a sophisticated Sphero toy that combines cool app features with an impressive amount of mobility. Then again, Lightening McQueen is a much more ambitious toy than Spider-Man, so it's really a case of apples and oranges to compare the two. Still, it would have been really cool if Spider-Man could have moved around a bit while telling his jokes or stories. As it is he just stands there and talks to you. Luckily he has some pretty interesting things to say, and I certainly enjoyed listening to him. Highly recommended for any and all Spider-Man or Marvel fans!