How much fits in carry on luggage, you ask? Well, if you're travelling for a summer trip, the answer is "a lot." I can (and have) packed only a carry-on for a two week summer trip, and I had room to spare.
Pack in layers
When you're packing compactly, it's
important to pack in layers. This is meant in two ways: first, you want to pack clothes that you can layer, so that you don't need two different outfits for two different weather days. Instead, you want items that can add onto each other, so you're carrying less items in total.
To pull this off, I like to pack a handful of t-shirts (for a 1-2 week trip, I'd pack 4-5) and a couple of sweaters. Most of my wardrobe matches anyways, but it's a good idea to pack items that work together in any combination: for instance, I can wear every single one of these t-shirts with either the chunky red sweater that I packed or with the vegan leather jacket that I selected to wear on the plane.
For a summer trip, I'll usually pack only shorts and skirts as bottoms for the week. I packed pants for each trip for years, but it has always been a waste of my time (and packing space). I hate wearing full-length pants without sneakers, and shorts or skirts with sneakers, so packing pants means that I have to bring along socks and shoes in addition–which would then only be worn with the pants.
So, as a result, you'll notice in this video that I only packed three bottoms: shorts, two straight skirts, and a longer skirt for chilly days.
I also like to be ready for any occasion, so I always pack a summer dress or two on top of everything else. I would definitely carry less than this for a weekend trip (I'd only need two outfits at that point), but this carry on would easily get me through a month!
For a suitcase featuring items from the men's department, you'll need similar items, but you'll want the men's equivalents thereof. For instance, shorts and light pants instead of skirts, and a mix of t-shirts and tank tops. Grab a hoodie or cardigan instead of a chunky sweater, and replace the dresses with polos or light dress shirts.
I find beige bottoms are always the most flexible for men, because they look at home both at the beach and in a casual dining establishment. A great pair of beige men's shorts can be paired with a low-neck tank top as well as a pinstriped dress shirt, so you can take an outfit from a beach day to a night out.
No, really. Pack the carry on in layers!
Secondly, you want to literally pack your bag in layers. Use travel organizers like the Mancini Ripstop Polyester Packing Cubes available at Best Buy to slide items into your bag in pouches. This will save space, but it'll also help you access your belongings while you travel. It's something that's especially handy if you'll be hitting multiple stops on your travels, because it allows you to easily access the bottom of your suitcase without unpacking your bag into a dresser or closet.
I remember packing being a lot harder as a kid, and part of that stems from the fact that bags used to be made as one big compartment (on occasion). Now, most luggage sets feature "halved" items in each size, with elastic tie-down straps on the bottom half and a zippered top half.
The carry on featured in this post is the Swiss Gear EVO II 20″ Hard Side 4-Wheeled Carry On Luggage, which is available solo or in a set. I've spent February testing quite a lot of luggage, but Swiss Gear's were my favourites every time.
The EVO II features smooth, 360-degree spinner wheels and a retractable push-button handle, and everything about it functions perfectly. I tried out the entire 3-piece EVO II set, and I have to say: it is sexy. Each piece is shiny and resilient, and the wheels just feel so smooth as they glide along the floor.
Don't forget those summer items!
Some things are typically only packed for summer vacations, and you don't want to leave those behind! Remember to pack sunglasses, a hat, and a bathing suit into your summer carry on (or wear them on the plane if you don't have space).
Beyond those items, you'll also need to pack sunscreen, for both you and your family. A mere 1-2 bad sunburns as a child almost doubles your risk of developing skin cancer as an adult, so it's important to start wearing sunscreen early. Apply generously (a bottle of sunscreen should never last you more than one trip) and reapply every two hours.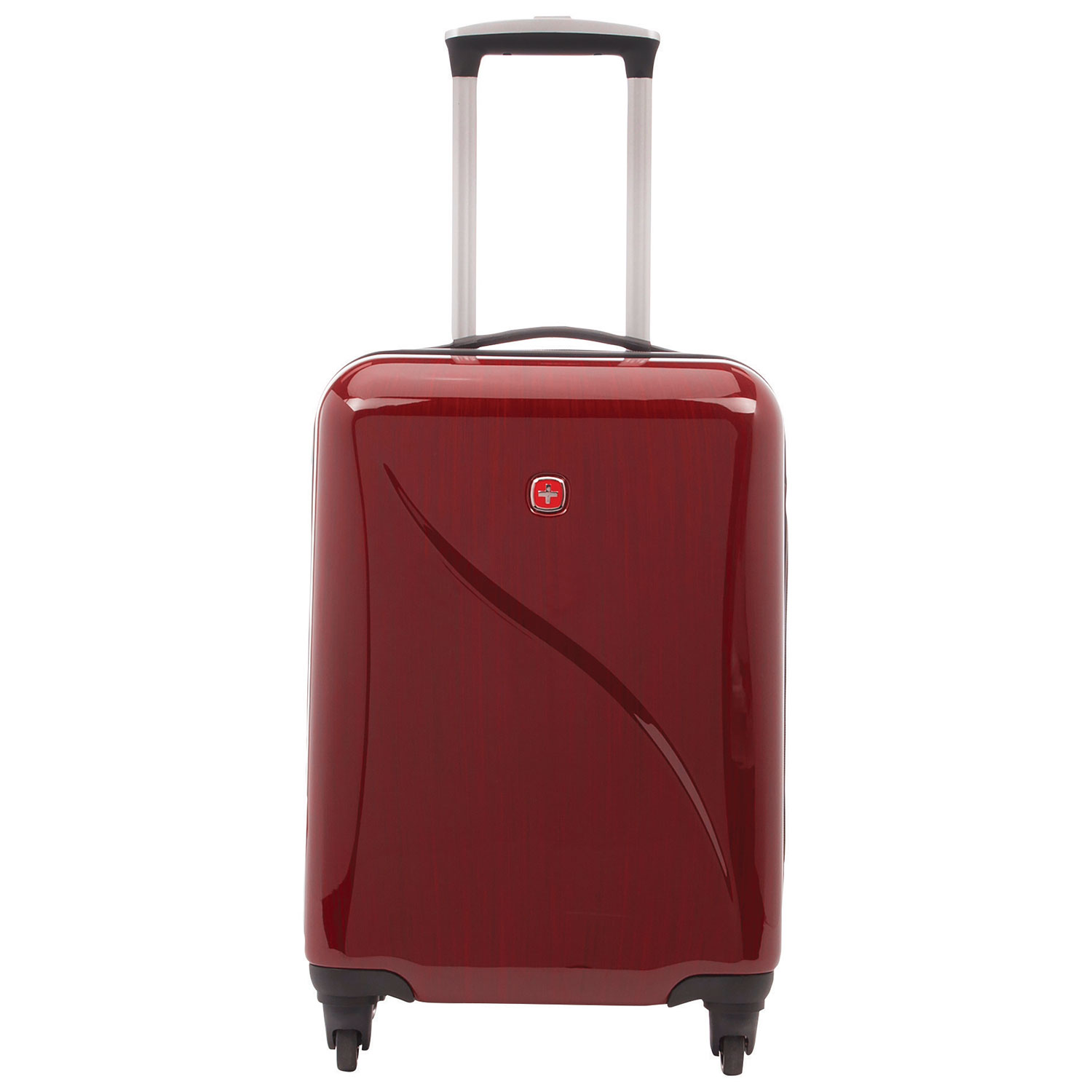 Sunscreen and cosmetics are one of the trickiest things to pack if you're travelling without checked luggage, but it's not an impossible task. To circumvent the liquids rule altogether, I like to pack mini tubes of whatever possible (including toothpaste and shampoo). Then, for my sunscreen, I'll pack a solid product like Neutrogena's Ultra Sheer Face & Body Stick Sunscreen SPF 50+. The only full-sized liquids in my carry on are my foundation, mascara, eyeliner, and moisturizer which makes getting past security a breeze.
I also like keeping a good glow while I travel for the summer, so I'll pack a dewy foundation like Make Up For Ever Water Blend and a powder highlighter. (Right now, I'm loving Rodial Instaglam Deluxe Illuminating Powder, which has been in my stash for years.)
As one last summer packing tip, remember: you're making a trip to what's likely a hot destination, and you may be travelling for a while. So, make sure you bring a full-sized water bottle in your personal item (like a backpack or purse), but DON'T fill it. Instead, bring it through security empty and fill it up once you're at the gate! You'll have a water bottle to keep you hydrated during your flight and your trip, and you won't have to leave it behind.
Summer only lasts a short few months in Canada so you may be wondering about how to pack for a winter trip. I have that covered in another post so give that one a look, and leave your questions and comments in the section below. How big does your luggage have to be to fit all of your travel essentials?
Check out Best Buy's carry on luggage options and tell us what would you pack for your dream summer vacation?