Today we take a look at the Novi Security 4-in-1 Home Security System Kit. This small device brings 4 of the most useful home security devices all together in a single unit. There's a High Definition camera (with a 170 degree field of view & 720p image quality), a smoke detector, a motion detector (that triggers 3 photographs whenever movement is detected, and even uses an LED flash for taking pictures in the dark), and a 90 decibel siren/alarm, all of which join forces to protect your home against a variety of threats. For instance, the camera provides visual evidence of potential home intruders, the smoke alarm will alert you in the event of a fire, the motion detector lets you know if someone is skulking around your house, and the siren is sure to scare away any intruder with the good sense to realize that they've been detected. If this sounds like the kind of home security system you've been after, keep on reading for full details!
Among the Novi Security system's greatest virtues is the fact that it is 100% battery powered. In other words, there are no wires or power cords for you to trip over, so you can set it up pretty much anywhere you like. There's no need for extension cords or any other bits and pieces of clutter that could limit your placement options, making the Novi Security Kit perfect for any number of scenarios. All it requires to operate is 4 x AA batteries, and they actually come included with the kit! This means that you can easily place systems throughout your home or place of business (which is made even more true thanks to Novi Security's easily obtained 4-in-1 Home Security Expansion Pack), and, whether you own or rent doesn't really matter, because this device is perfect for houses, apartments, condos, whatever!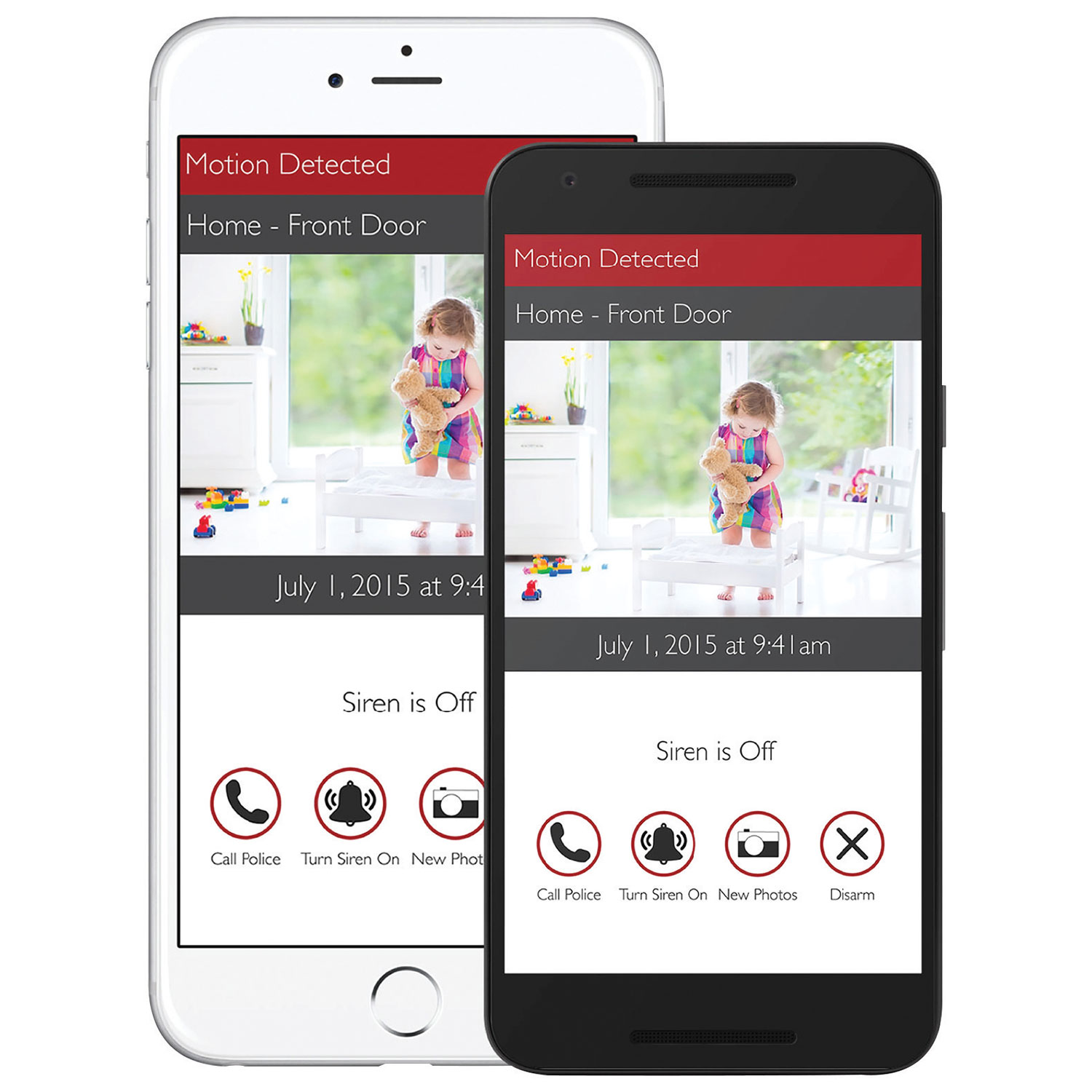 What makes the Novi Security Kit truly stand out is its ease of use via a dedicated app that works happily on either an iPhone (Version 5 and up) or an Android based device (V. 4.4 and up). The Novi App provides (real time) picture notifications whenever smoke or motion are detected in your home, making it an excellent early warning system against potential emergencies. This useful (and intuitive) app also allows you to dismiss an alarm, manually blast the siren (which is perfect for scaring off intruders), check your "event" history, and various other functions—and all without any need of a monthly subscription service or its associated contracts & pesky fees! You're literally given the most relevant options of what action(s) to take when something goes awry, and you can even instantly call the police (via a selection in the app) if that's the most desirable action to take for whatever is occurring at the time.
What comes with the Novi Security Kit?
The Novi Security Kit comes with everything you'll need to get you system up and running right away. This includes everything in the following list:
The Novi Relay Station (with 3 Foot Ethernet Cord)
The Novi Sensor
A 6 Foot AC Power Adapter
4 x AA Batteries
Mounting Attachments (Including Screws, Drywall Anchors, & Command Strips)
All that's left for you to do is download the app to your smart phone and set your system up. And remember, you can mount it virtually anywhere!
With the Novi Security 4-in-1 Home Security System Kit, you can rest easy knowing your home is in good hands. For such a small system, Novi Security offers amazing peace of mind! For additional like-minded products, be sure to visit the Smart Home section of the Best Buy Canada website. There you'll find all kinds of amazing home security devices to help protect you, your family, and your property. Until next time, stay safe!