I recently received one of the coolest sample drones I've ever had the opportunity to test, and I spent the whole weekend getting to know it and its wealth of amazing features. It's the all new DJI Phantom 4 Quadcopter Drone with Camera & Controller – In White, and it's (almost) ready to fly right out of the package. Simply charge the batteries, attach the props, and download the free DJI App. If you don't already have a DJI account, you'll need to make one of those as well. Oh, and reading the manual certainly doesn't hurt! If you'd like to see if this thing lives up to all the hype, keep reading for full details.
Introduction
The Phantom 4 is easily one of the most impressive drones I've ever flown. With it's 4K camera & gimbal system and top speed of up to 72 Km/h (44.7 mph), there's not much that this drone can't do in the way of movie making. And if something portable and easy to tote around is what you're after, well, the Phantom 4 weighs just over 3 pounds and comes in a sturdy foam carrying case as well. Having had a limited testing period over the weekend to try this drone out, I acquired neither the skill nor the confidence to fully push its limits. However, I did learn a lot during my one flying session and can confidently say that this drone not only takes steady and incredibly beautiful video footage, but also that it is very responsive to commands and flies as easily as any drone I've ever tested. After a bit of study to figure out the basics of flying this thing, as well as a few minutes to download and install its free app & establish a DJI account, it was an absolute pleasure to fly!
Key Features & Technical Specifications List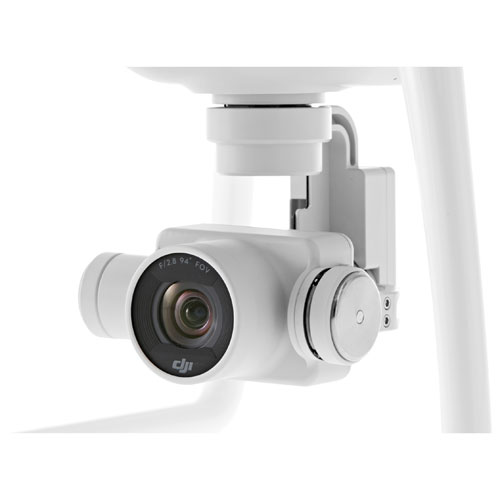 The DJI Phantom 4's key features & specs include the following:
* A 4K camera with improved lenses (versus earlier Phantom models) & sharper edging capabilities
* The camera can shoot anywhere from 30 to 120 frames per second at up to 1080p
* A reinforced gimbal for camera stability and silky smooth video footage
* Live streaming of everything the camera sees right on your smart device
* An Obstacle Avoidance System that can detect obstacles at a distance of 50 feet and fly around or over them
* A Return to Home feature that works at the touch of a button
* The ActiveTrack System for tracking objects with the drone's camera simply by tapping the object's image on your smart device screen
* The TapFly feature allows you to send the drone anywhere you like just by tapping a selected location on your smart device screen
* Up to 28 minutes of flight time per battery charge
* A 5 Kilometer (3.1 mile) flight range
* A maximum height of 19,685 feet (6000m) which is limited to 400 feet by the DJI software for safety
* It communicates with GPS & GLONASS satellite systems to continually track its position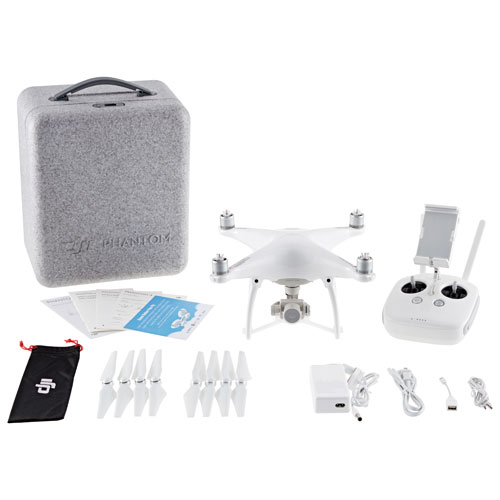 Accessories & Remote
Very few additional bits and pieces come with the Phantom 4, which is something I really appreciate. I never like having heaps of parts and wires that just seem to add chaos to an already complex piece of equipment. The Phantom 4's main included components are the drone itself, one transmitter, one battery charger (which charges both the drone & the transmitter at the same time), and a 5350mAh LiPo intelligent battery that lets you know when it's time to call it a day. Also present in the package are a couple of wires (i.e., to connect your smart device to the transmitter for live viewing of the Phantom 4's camera footage, and later to download your recordings), 8 props (4 complete sets, so you'll have spares if any break), one gimbal stabilizer, and one high quality foam carrying case for easily bringing your drone with you when you head out adventuring. See the Gallery of Additional Photos for individual shots of most of these components.
The Phantom 4's controller is quite different from that of many other drones, having a large, adjustable mount for your tablet or other smart device built right onto its face. This allows for real time remote viewing of everything the camera can see. Simply connect your smart device to the controller via the included USB cable, turn everything on, launch the DJI App, and follow a few simple steps to establish a connection with the drone. Once this is done, you should already be able to see everything the drone sees even before taking flight. As for using the controller, it's pretty standard stuff. The left joystick controls liftoff, landing, and the way the drone faces, while the right joystick is for directional movement. The Return to Home button is also prominent on the front of the controller should you quickly need to find it. Various other buttons and controls are on the sides & bottom of the controller. The most important of these (to most of us) is the toggle button at the top left outside edge of the controller that begins and ends video recordings.
Testing & Results
In testing the Phantom 4, I took to the skies at the edge of a nearby beach close to the Canada/USA border. Having had little time to prepare for my first & only flying session, and needing to get some decent footage for the video you see below, I was quite concerned regarding the end result. At first I didn't even know how to turn the drone on (the instructions weren't exactly helpful on that front), but after a brief period of study, the drone was in the air and I was quickly realizing just how easy this thing is to operate.
Due to a safety limitation built into the Phantom 4's app, flight range in beginner mode is limited. A voice even comes out of the controller to warn you when you're approaching the boundary. This made me feel safer while piloting the drone as I knew it couldn't suddenly go rogue on me and make for the border! Still, I wasn't about to push it too hard my very first time out. Ultimately, the Phantom 4 did everything I asked of it, with the only difficulty being the sun making it hard to see the live video feed on my device's screen. This was true even when I hid in the shade. All up, it was a very satisfying, albeit brief, experience.
Examining the Video Evidence
Take a look below at my short video overview of the DJI Phantom 4:
Final Thoughts / Recommendations
So, do I recommend the DJI Phantom 4 Quadcopter Drone? Yes, I surely do! Although my time with the Phantom 4 left me more with a general impression of this drone than a solid understanding of it, there was enough of an impression there for me to conclude that this is a high end, high quality, high performance drone that's pretty much as good as it gets! And, while it may be beyond the budgetary reach of many of us—myself included, if you're a serious drone enthusiast (or someone with a need for a high resolution aerial imaging & video system) and have room in your budget for a truly awesome drone, then the Phantom 4 is most certainly for you! I truly believe that if you require a drone of this calibre in your aerial arsenal, you'll be very satisfied with the Phantom 4.
See the complete selection of Drones currently available @ Best Buy!

Gallery of Additional Photos