The thing about Canadian summers is that, for most us, the heat doesn't really hold. Our summers last from June through August, and at the end of each day, Canada takes a minute to remind us that we're really just a chilly iceberg pretending to be cozy and warm for the day!
To get the most out of your summer days, then, what you really need is a patio heater. A good one will help you stretch the season to get the most out of your gorgeous patio, and a great one will make your patio or deck space an even more idyllic place to be in those balmy (and not-so-balmy) summer months!
Standing patio heaters
Freestanding patio heaters are kind of light the beach umbrellas of the night. They have an umbrella-shaped top, they cover a much bigger space than you might expect, and they keep things comfortable and temperate even through super-long hangout sessions.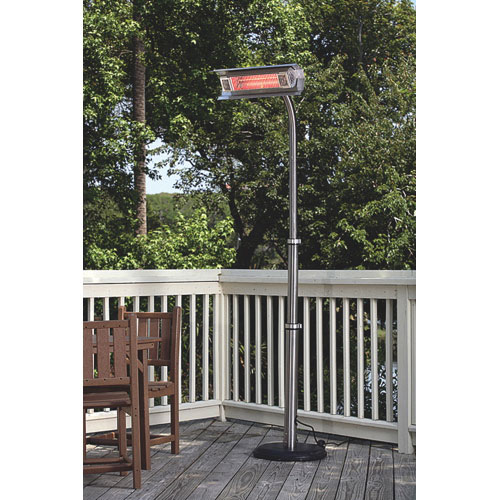 What makes free-standing propane patio heaters a particularly great choice for summer lovers, however, is that they don't need to be plugged in. So, if your patio doesn't have a "roof" or wasn't made with plug-ins in the right places, it's not a problem!
You can roll a Paramount Freestanding Propane Patio Heater or Paramount Old World Bronze Deluxe Bullet Patio Heater into your backyard, add a propane tank, and you're ready to go. (I think the Paramount Old World Bronze design is particularly lovely!) Plus, both feature easy-to-use ignition systems and are built with attached wheels, so they're a great choice even if you or your partner isn't particularly handy.
Not everyone likes having propane tanks in the backyard, though, and that's totally fair. Luckily, patio heaters also come in options like the Paramount Infrared Patio Heater, which is standing but plugs into a regular household outlet. Unlike propane heaters, infrared ones aren't affected by the wind, and unlike hanging patio heaters (below), they don't need to be affixed to anything.
Hanging patio heaters
As much as I love a standing patio heater, if given a choice, I'll go for a hanging one 10/10 times. A great hanging patio heater will give your patio the warm, cozy look of a tungsten lamp with a killer light shade, and it won't take up any of your precious patio space, either.
(Plus, hanging patio heaters aren't at risk of being knocked over by a clumsy guest moving at backyard-football velocities, which is a serious concern in our household!)
EnerG+ does a great line of hanging patio heaters, like their weatherproof EnerG+ Outdoor Hanging Infrared Electric Heater or their EnerG+ Outdoor Hanging Infrared Electric Heater. They offer designs in gorgeous retro-inspired colours, as well as simple designs like these that are ideal for any type of patio, from rustic clutter to a sleek, minimalist design. Plus, their infrared heat technology produces up to 5,100 BTUs of clean, odourless heat, which warms up objects (like you!) instead of the surrounding air.
If you still haven't seen your perfect patio heater, I have one last option for you: the Paramount Hanging Infrared Square Gazebo Heater. It comes in super-bright colours and is features a mix of infrared wave and quartz halogen technology, and it'll produce up to 5,118 BTUs of heating power in heat settings of either 600W or 1,500W.
These patio heaters will keep your perfect patio party going all through the night, so what are you waiting for? It's time to start planning those awesome spring and summer get-togethers!