Your home should be a fun place. Your home should be a practical place. Your home should not only be one of your favourite spaces, but it should be your perfect mix of practicality and comfort. Modern technology definitely helps provide that mixture and during Smart Home month, it's a great time for you to add some new tech to your home. After all, as I sit here within view of 2 laptops, a TV, 5 video game systems and more, I say confidently that you can't get enough tech in your home. Let's take a look at some of the great smart home gadgets you can bring home to keep boosting the smart IQ of your home.
Bells are ringing
A video doorbell is one of the newer and cooler smart home gadgets you can easily implement into your home. They look and feel extremely sophisticated but only take a few minutes to install from start to finish. If you take the latest version of the Ring Pro Video Doorbell, for example, you'll see the perfect example of this. Ring Pro takes (at best) about 15-20 minutes to install. That includes removing your old doorbell, wiring the power kit to your chimes, setting up the app and running the full installation.
Within the time it takes you to eat dinner, you can have the fanciest doorbell in the neighbourhood which will allow you to do things like speak with whomever is at your front door in real-time no matter wherever you are, get smart notifications of any suspect activity and even store video of incidents to the cloud.
The best part about a video doorbell is that despite the need to play around with a bit of wiring, you don't really have to call the experts in to help install. All you have to know is how to flip a circuit breaker and follow directions. If I can do it, so can you. If you can't, still buy it without worry. The CEO of Ring is so confident you have the know-how to install that if you don't, he'll send somebody out to install it for you free of charge. It says so right in the instructions.
Who turned out the lights?
Smart Lighting is one of the more fun and creative space changers in the world of smart home tech. Companies like Philips and their amazing line of Hue products are making it easy for you to transform your home into a different looking space through the magic of lighting control. A Philips Hue starter kit is a gateway into home transformation with the use of a few bulbs or lighting strips. You can begin to make those big or small changes with little effort outside of screwing in a few light bulbs and syncing them to your app.
You can even use the Philips Hue to do fun and (somewhat) silly things too with the help of their If This Then That (IFTTT) partnership. You can turn the lights different colours and have them do different things to support your favourite teams when you have your friends over to watch the game or even have the lights change shades with the weather. With over 16 million possible colour combinations, you'll never run out of ways to change your space.
Keep a green lawn without getting off the couch
I live on the West Coast and rarely know the perils of a dry season. While we've had the odd dry summer, the fact of the matter is that it rains here enough that you hardly have to break out your sprinklers to keep the lawn watered. This isn't really a luxury for many Canadians, but standard irrigation systems run on manual timers, which means that if you're on vacation or away from home, you're running your sprinklers consistently even if it's raining. It's great to have a friend like the Rachio 16-Zone Smart Sprinkler Controller looking out for you. This small, yet mighty box helps you control your sprinklers through an intuitive system that you can modify, enable or disable anywhere in the world. If this is too much effort, it can just tap into your local weather forecasts and control and schedule its own waterings so that you can get onto life past having the nicest lawn in the neighbourhood. Of course, you'll still have the nicest lawn in the neighbourhood. You just don't have to let the neighbours in on your secret.
Keyless entry into your home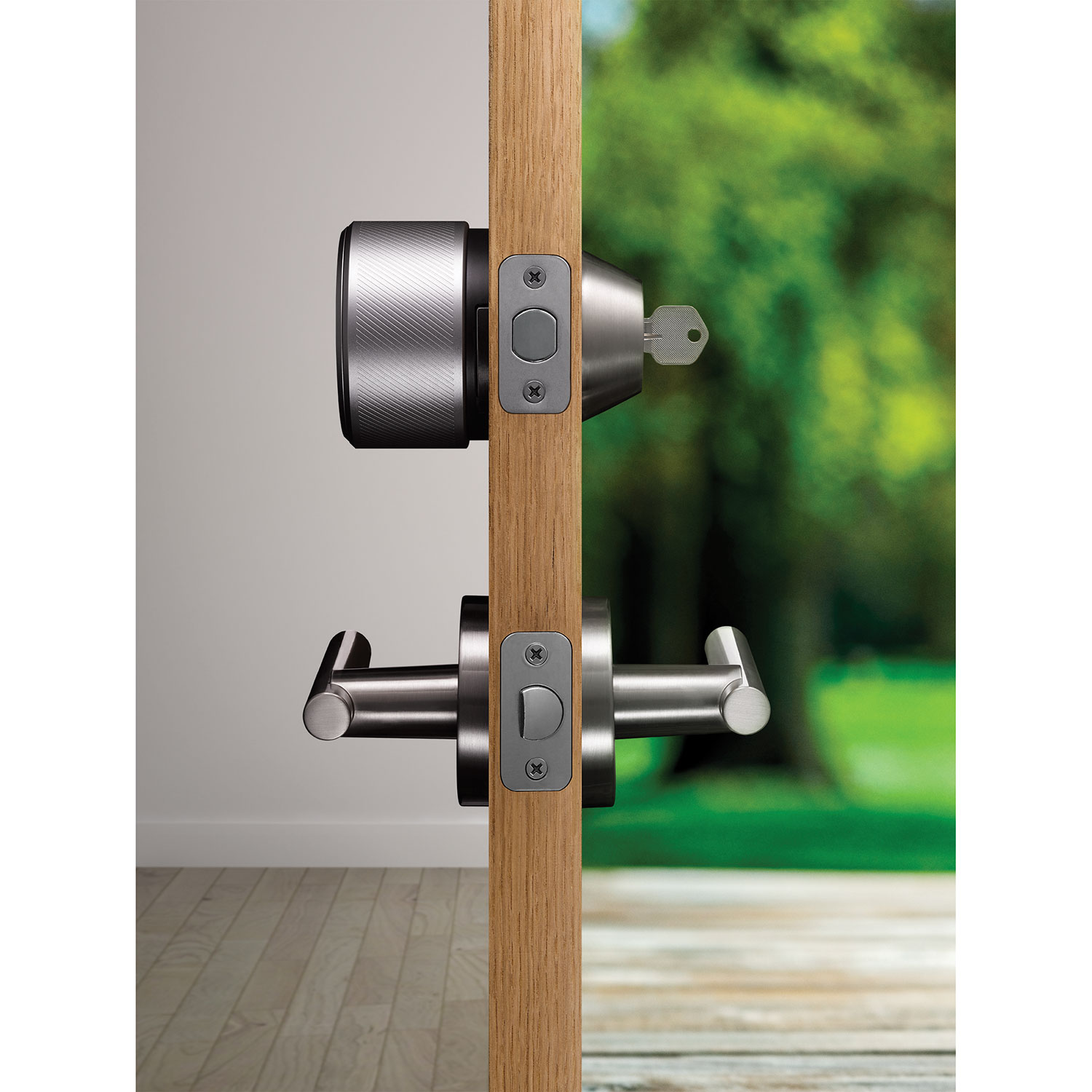 My 2 year old daughter already thinks that pressing buttons open car doors thanks to the wonder of vehicle remote keyless entry. Soon, she'll understand that you can do that with your home too. Home keyless entry is probably one of the first products many homeowners choose as their maiden voyage into Home Automation and when you see what's out there, it isn't surprising. The August Bluetooth Smart Lock might be at the forefront of the small number of products out there but it's got a lot going for it. Of all the Bluetooth enabled home entry systems out there, I found this to be the easiest to install. It also uses the front end of your existing deadbolts so whomever you previously gave keys to can still use them. August also comes with other neat features its competitors don't. For example, you can enable your phone to automatically unlock the door just by walking up to it through proximity recognition. You can also partner it with other August products and even partner it with Nest products. Newer versions of August also come Homekit enabled if you choose to focus your home network around Apple and their Smart Home partners.
Smarter heating and air conditioning
With winter peering its head around the corner (as those of you who've experienced their first snowfall already can attest,) it's time to think about taking control of heating management around the home. I'm sure you've fallen prey to "I forgot to turn the thermostat down and I'm already tucked into bed" a few times in your life, but it doesn't mean that you have to spend nights again this winter heating the empty living room because you haven't mastered the art of teaching your dog how to turn the heat off at night. If you take something like the Nest Learning Thermostat, it's a fantastic way to take control of the heating bills in your home. Rather than grab your slippers and scurry back to the thermostat, you can fire open the app from your bedside and turn things off. If you forget to turn the heat off before you leave for work, same thing. If the heat IS off and you want the house warm by the time you get home from work? You know what to do. You can even set threshold temperatures to ensure that you aren't keeping the house too cold (or too hot) overall. These thermostats do require a little bit more hands-on for the installation so you may need to call an expert in. However, you'll make that back and more. Nest estimates that you'll save so much on your heating bill that this thermostat will pay for itself in 2 winters.
Nest is also the best gateway into other Home Automation products. With its groundbreaking "Works with Nest" system, you can leverage this start point to look at other products out there that chain their functions and link with it to create an intelligent and efficiently flowing home ecosystem.
One thing to keep in mind though is that Nest only works on furnace systems. If your home is completely heated through baseboards, your major alternative is the Sinope Smart Thermostat system.
It's always fun to add a new piece of tech to your home and why not make it practical to boot? Look for products like this and others in the Smart Home category at BestBuy.ca or in store at your local Best Buy.
October is Smart Home month so keep an eye out on more blogs and reviews like this as my colleagues at Plug In and I continue to encourage you to boost the Smart Home IQ of your house.