Today I review the very cool Traxxas Slash 2-WD 1/10 Scale RC Truck. Just take note that there are multiple tribute versions of this exact same model that pay homage to different real life drivers, so the version that I tested, the Arie Luyendyk Edition, is just one of the models I'll show photos of in this review. Another model is the Mark Jenkins Edition, and the one shown at left and linked to at the top of this paragraph is the Chad Hord Edition. I actually think that both of these versions, which are primarily red in colour, look a little bit better than the mostly blue Luyendyk model, but all versions shown in this review have the exact same features and specs. Read on if you enjoy high performance RC vehicles from the experts at Traxxas.
INTRODUCTION
The Traxxas Slash 2-WD 1/10 Scale RC Truck (shown at right) is a large model radio controlled truck that's based on the real life GUNK sponsored racing truck driven by Arie Luyendyk Jr. in the TORC (The Off-Road Championship) Racing Series. You can see an image of Luyendyk's actual truck in the image gallery below. This homage racing model is capable of reaching speeds of up to 48 Km/h (about 30 mph) and is meant for drivers ages 14 and up. Featuring waterproof electronics (for wet and wild any time racing, should you choose to go mudding), a tough & durable chassis with nerf bars to absorb a multitude of bumps and impacts, a fully independent suspension system with oil-filled shocks & coil springs, and a ready-to-run (straight out of the box) system that requires no initial assembly beyond charging the battery, the Traxxas Slash 2-WD truck is one supremely capable RC toy. It's all the truck that most hobby RC drivers will ever need, provided you're not racing competitively in a league with other hard core hobbyists.
DRIVING THE SLASH
Driving the Slash involves first charging its battery, which is an 8.4V, 7-cell, NiMH, 3000mAh, rechargeable battery that you charge via a 4-amp Peak Detecting DC Fast Charger. The charger plugs into a standard car cigarette lighter type of outlet and should charge in a reasonable amount of time. For me it took roughly an hour before the charge indicator light went out the first time, and anywhere from 30-60 minutes in subsequent charging sessions. Unfortunately, I don't think I was getting a full charge in the time it took for the charge indicator light to change colour, because the Slash's battery should provide 10-15 minutes of total running time, but all I ever seemed to get was 7-8 minutes. I'm not sure if there was a problem with my charger, the battery, or some other aspect of the truck, but I think it's most likely that the indicator light was just plain wrong. However, since the Slash worked very well in the 7-8 minutes of driving time I got each time out, I really wasn't all that concerned about it.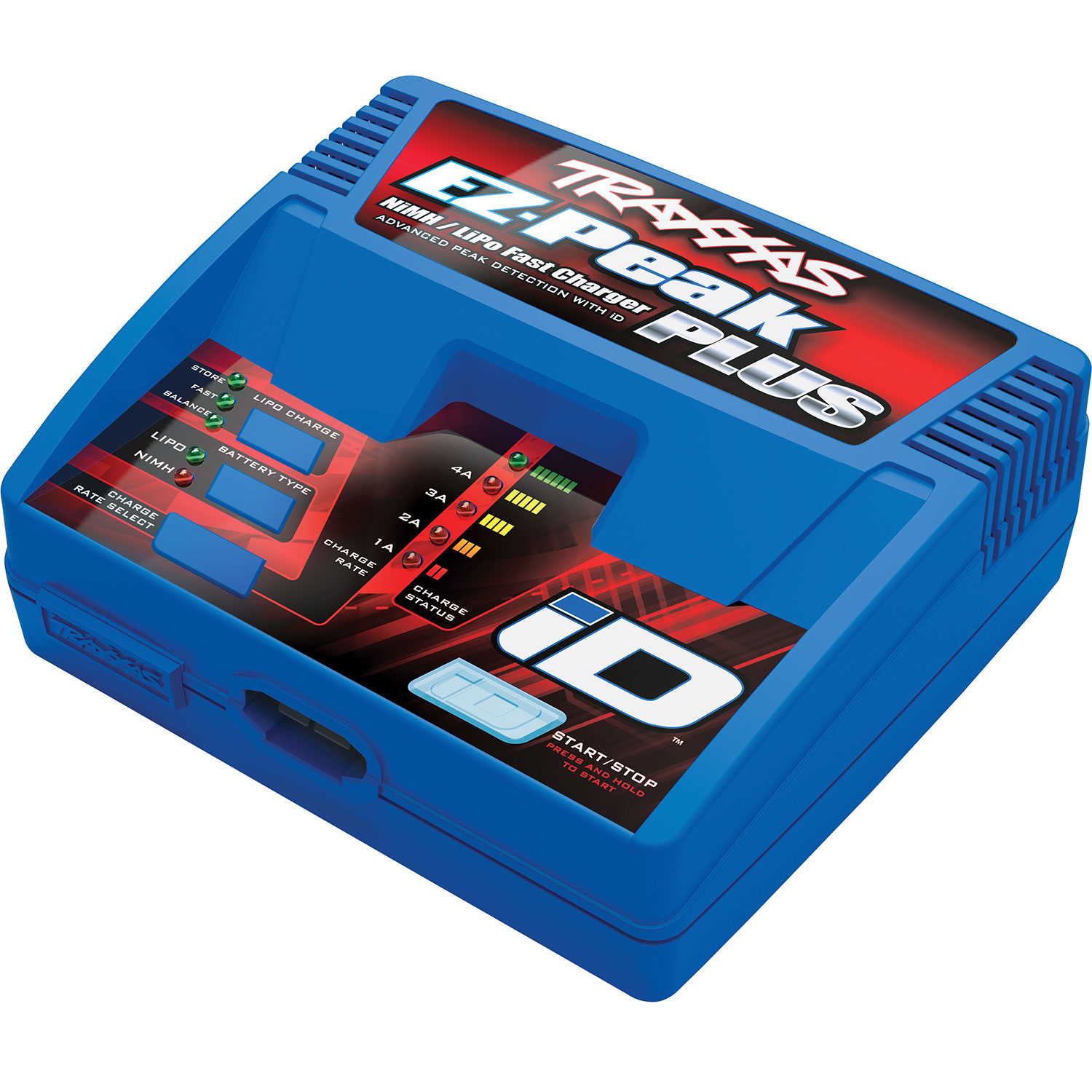 Of more concern to me, however, is the fact that the charger can't be plugged into a standard wall outlet. This seems to be the usual situation with Traxxas RC vehicles, and I do find it somewhat annoying. At least you have the option of picking up the Traxxas EZ-Peak Plus Charger, which does work with regular wall outlets. Of course, this accessory is sold separately and represents an additional cost to you. Still, if you plan to have multiple Traxxas vehicles (or multiple battery packs for your primary Traxxas vehicle), it is advisable to have one of these chargers for quick indoor charging of a variety of Traxxas battery types. 
Ensuring optimal control of the Slash is the Top Qualifier 2.4GHz radio transmitter & system. This controller works pretty much like every other TQ Traxxas controller, meaning it's very straightforward and easy to use. It also provides excellent long-range communication with your Traxxas vehicle, so I was very happy with its performance and the Slash's quick response to my control inputs. I didn't really experience any understeer while testing the Slash, and the acceleration and reverse gear were both spot on. The comfort level with this controller is also great. Due to the comfortable shape of its handle and its relative lightness, it is easy to hold, handle, & use. This controller requires 4 AA batteries to function. These batteries, sadly, are not included with the Slash.
Aside from the effectiveness of the transmitter, driving the Slash was most fun on loose gravel. For some reason, running on a paved parking lot proved to be most difficult for the Slash. The truck kept flipping over at nearly every turn (see my video review below for footage of this carnage). On loose gravel, however, the Slash performed extremely well. I don't think I had a single flip, although I did take out my camera several times. My camera, which is actually my smart phone, mounts to a small tripod and sits only about 8 inches off the ground, so it makes a prime target for these Traxxas RC cars and trucks! In any case, driving the Slash was fun, fast, and furious on the loose gravel. It handled every sharp turn and wild spin perfectly, and it threw up heaps of dirt with each wicked donut. It was pure awesome!
EXAMINING THE VIDEO EVIDENCE
Why not take a few minutes to see the Traxxas Slash 2-WD Truck in action? I shot this brief video with an aim to showing how fast the Slash can go and how much fun it is to drive. I also summarize many of its key features & specs and give a bit of a lecture on the virtues of modding your Traxxas RC vehicle. Go ahead and check it out:
FINAL THOUGHTS
If you're a fan of other Traxxas RC vehicles, you're probably going to enjoy the Slash as well. I suppose it all depends on the type of RC vehicle you're mostly into, but if racing trucks are your thing, the Slash is certainly a very good one. It's not as fast as the Traxxas Slash Fox (a vehicle I tested last year that can travel at up to 97Km.h), but the Fox was a much higher-end 4X4 version of the Slash, so it's really not at all fair to compare the two. It's just as well anyway, because the Fox was way too fast for most reasonable sized driving spaces, whereas this version of the Slash goes just fast enough to run in a normal sized field or playground. All in all, as with most Traxxas vehicles, the 2-WD Slash is loads of fun for any RC hobby enthusiast. Just make sure its specs are in line with your expectations before buying, and you're sure to enjoy your purchase! Happy hobbying!
GALLERY OF ADDITIONAL PHOTOS