If the fact that Best Buy carries camping gear is news to you, then today's about to be a whopper of a news day, because that's the major focus of our BIG blog story! That's right, Best Buy sells camping gear, and I mean heaps and heaps of the stuff! They've got everything from tents & air mattresses, to outdoor lighting & cooking equipment. So if you'd like to learn about a few key examples of the great camping gear that's currently available at Best Buy, then scroll down the page and let the learning begin! There's no better way to prepare for the 2016 camping season.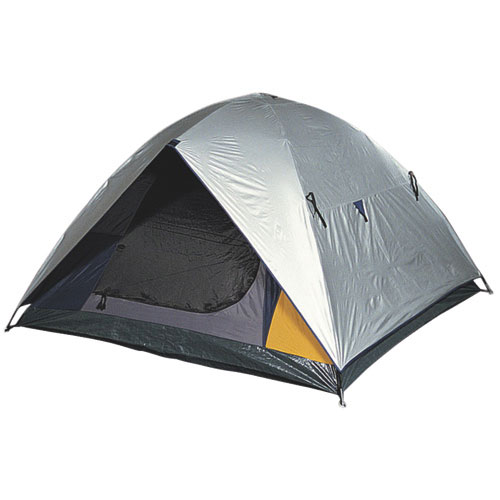 One absolute camping essential (unless you have a full-on camper) is the all-important tent, and it would be hard to do much better than to relax in a World Famous Orion 6-Person Square Dome Tent – in Blue / Grey. This tent can comfortably sleep 3 adults (with room for plenty of gear), and it comes with everything you'll need to get your new temporary home up and running, right down to the handy carrying bag. If you're traveling light, you can house up to 6 people in here, so it's great for camping with the whole family! Made from strong nylon, and featuring a polyester fly & polyethylene floor, this tent is large, comfortable, and it even comes with a 1 year parts warranty. Overall, an excellent choice!
When it comes time to bed down for the night, you'll be sleeping in style should you choose to accompany your very nice tent with a comfortable air mattress. Take, for example, the Stansport Deluxe Air Bed – King Sized, In Grey. Made from durable & super heavy PVC, and featuring a soft velour surface, this mattress is built for both strength & comfort. And the great thing about a piece of equipment like this is that you'll still be able to enjoy everything that nature has to offer as you hike, fish, & buzz about the campfire during the day, while absolutely sleeping like a baby at night. When the lamp is finally blown out, you'll forget you're in a tent and begin to believe that you're relaxing in a 4 star hotel—possibly even planning the breakfast you'll order from room service in the morning as you doze off to dreamland. After using this mattress, you might just want to spend all of your nights in the woods! Coil beam waffle construction & electronically welded seams are among the remaining features of this great mattress, and it even comes with its own repair kit! So sleep like a king on this king sized slice of Heaven while on your next big camping trip!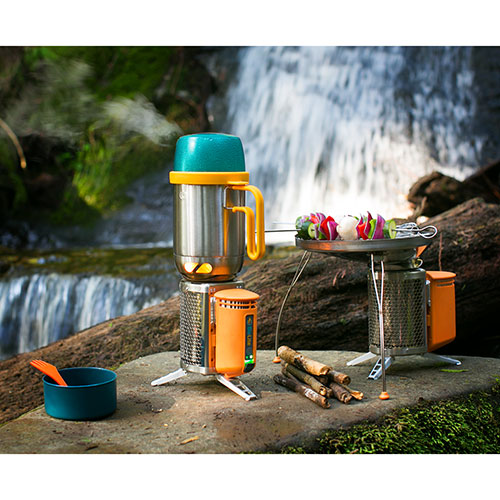 When you finally wake up from your luxurious night's sleep, unfortunately there'll be no room service to bring you breakfast. So, why not make your own using the BioLite CampStove Wood / Biomass Camping Stove Bundle – @ 10,000 BTU? This set features a number of useful components, and it actually converts heat (produced from burning bio-matter such as sticks and twigs) into electricity. It can even charge your cell phone for you! Included here are a stove body, a grill, a grill cover, a kettle body, a serving bowl, a USB cord, some fire starters, a carry sack, and so much more. You can cook beans & weenies with this thing, boil water for tea or coffee, and pretty much prepare everything else in between, including making that old camping favourite, s'mores! There isn't much that can't be done with this set, and it's great whether your tent camping, camper camping, or merely backyard camping! This thing is the real deal!
So there you have it—yet another entire category of products that many Canadians didn't even realize Best Buy carries. Whether you personally learned anything new here today or not, there's certainly lots more to see om Best Buy's Camping & Hiking page, so be sure to check it out if you're looking for some new outdoor gear this fine camping season. And remember, always go with a plan and think safety first when camping. Oh yeah, and be sure to have fun out there too!