The big holiday trend in smart homes is smart lights. They illuminate colour in any space—indoors or outdoors. Smart lights are also highly versatile with multiple ways to control them. Use your smartphone, or connect them to voice assistants for voice control.  Kick it old school and use them with existing light switches. Replace existing switches to make your old lights smart. No matter the space, you need light. I argue to choose smart lighting. 
Bear in mind, there are many different types of smart lights to choose from. The good news is they're all easy to install. Plus, different smart lights connect together for the ultimate home lighting experience. Imagine turning all your lights off before bed with one command. With smart lights, that's a possibility. Let's look at the different types of smart lights to help you find the right one for you.   

Smart Outdoor Lighting
One of the best places to use smart light is outside with Smart Outdoor Lighting. It's a quick and highly effective way to enhance the beauty of a walkway, patio, yard, or deck. First, it provides safety and security. Light up areas around your yard for visibility at night in any colour. Better yet, change the colours to match the season. Outdoor smart lights can be scheduled to turn on or be triggered by motion. If someone walks onto your property, the smart lights automatically turn on. Motion-activated lights deter thieves and critters like raccoons from your property at night. As soon as they go on, they get frightened and leave. Use them alongside smart security cameras for the ultimate level of protection. Any time the light gets triggered, you'll have footage of that event.  
Smart outdoor lighting also provides decorative options during holidays and other events. Set your outdoor lights red/white on Canada day and green/red during Christmas. Gone are the days of setting up Christmas lights and taking them down at New Year. With smart lights, you can make semi-permanent installations that can be used all year round. Typically, this is done with RGB string lights. Install them on railings, around trees, and other shrubs, and control the light colours, effects, and schedules on your smartphone. 

Indoor Lighting
Inside, there are many creative opportunities with Smart Indoor Lighting. There are more power sources available indoors. Existing lights and lamps can be used with Smart Bulbs. They fit into any standard light socket and look like traditional incandescent and LED bulbs. It's as easy as changing light bulbs—that's all you have to do to get multi-colour lights. Another option is to upgrade to Smart Ceiling Lights. In this instance, the light is built into the light fixture. Users replace existing fixtures with smart ceiling lights. This is a great option for anyone building a new home or renovating a new one.  
The newest decorating trend is Wall Lights. The lights are multi-colour panels that connect to one another on a wall. Users can create intricate shapes and designs to add colour and light effects to any room. From there, they can be controlled by touch, voice controls, or through an app. It's a great permanent decorative piece that can add colours to any space like a gaming room, dining room, or home office. 
Of course, you can also get Smart Tables, Desks, and Floor Lamps. These replace traditional lamps with multi-colour options with smart features. It's perfect for setting a mood in bedrooms, gaming rooms, and home offices. Use it for late-night study sessions, or during epic gaming sessions. The added ambiance of multi-colour lights sets people into a certain mood. Plus, it's easy to move these around. Move it outside the bedroom during the holidays to add colour to the living room. Their versatility indoors is what makes these an appealing option in any home.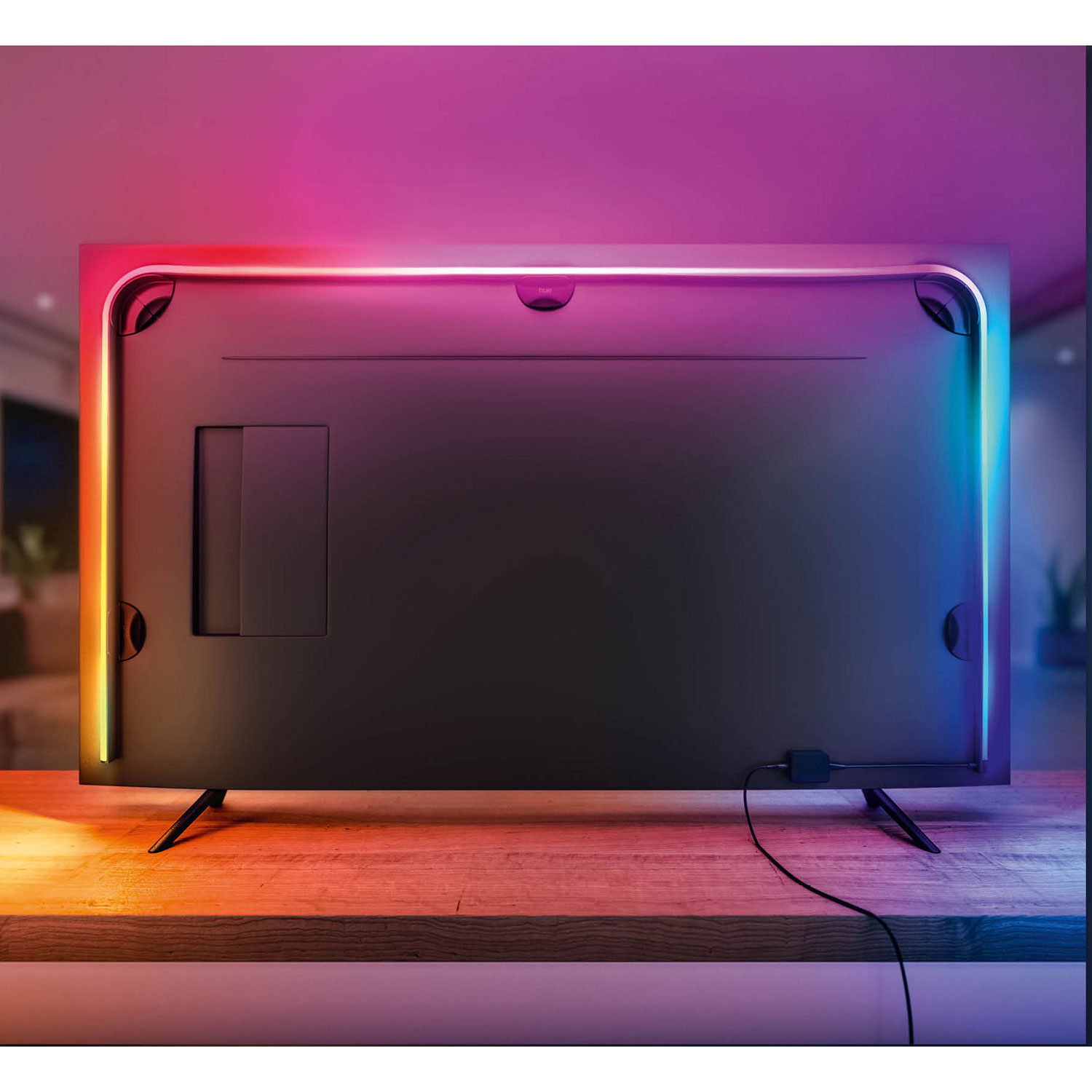 LED Light Strips
If ambiance is what you're after, consider getting some LED Light Strips. As the name suggests, these are small LED lights on a long flexible strip with double-sided tape. Users can install it over kitchen cabinets, behind a TV, or even under couches. The secret is to not see the light strip itself. Instead, the light should reflect onto another surface. This could be on the ceiling (i.e. LED strips mounted above kitchen cabinets), or on the wall (i.e. LED strips behind a TV). The indirect lighting adds flare to any space, especially with multi-colour options. Set all the LED strip lights to red and green on Christmas day or green on St Patrick's Day. Wherever you choose to install it, let your creativity shine indoors with LED light strips.  
Smart Switches
With Smart Switches, any light can become smart. It replaces standard light switches to add wireless connectivity to lights. Let's face it, not everyone in the family wants to turn the lights on via voice. With a smart switch, turns lights on the old fashion way or with voice. Plus, you get the added benefit of setting schedules. During family holidays, set the lights to go on at night. That way, people will think you're home when you're traveling. Another benefit is seeing how much energy your lights are consuming. Many smart switches report energy usage. This information helps you make better decisions about how and when you use your lights. Plus, it's a great way to prove to the kids when they need to turn the lights off in their room. 
Combining different types of smart lights
Take your home to the next level by combining all the different types of smart lights together. With voice assistants like Google Assistant and Alexa, users can combine lights together in rooms and groups. From there, the possibilities are endless. For example, program all the lights together into a group. While in bed and with your voice—turn them off at night. Gone are the days of manually switching lights on and off. With Smart Lights, the lighting possibilities, colour combinations, and controls are available by voice. Check out this Smart Lights Buying Guide for more lighting ideas available at Best Buy.