Christmas is already just around the corner and hopefully you'll be spending it surrounded by family and loved ones. And hopefully you're planning to have a camera close at hand to capture some of those one-off moments that will pass by all too quickly. Today I'm going to look at some of the more interesting cameras that have caught my eye here at BestBuy.ca, so that you can choose a camera that will help you capture amazing memories of Christmas 2016.
Don't worry about image quality
First of all, a word about image quality. In my opinion, any conversation about image quality is kind of a redundant nowadays, because the standard has gotten to such a high level right across the board. If you compare images made with cameras of a similar sensor size, you would have a very hard time ranking one over the other. The general rule of thumb is that bigger sensors provide better image quality, and this is certainly true under low light situations. Bigger sensors also allow you to print bigger images, so if you're planning to print huge wall portraits, best to choose a camera with a full-frame sensor, like the Sony A7, for example.
But before we get to the big guns, let's talk point-and-shoots.
Pros use point-and-shoots too
Point-and-shoot cameras are known to be pretty easy to use, as the name suggests. They come with a fixed lens, unlike mirrorless and DSLR cameras, which doesn't necessarily mean they are cheaper, or that they can't produce professional quality images. With a camera like the Sony Cyber-shot RX10M2, you are ready to compete with the pros, but be prepared for the sticker shock!
An alternative option from Sony which has a nice big 1″ sensor, like the RX10M2, and a good quality Carl Zeiss lens is the Cyber-shot QX100, which is a unique 'bodyless' camera. It has no LCD screen so you need to pair it with your smart device in order to get a live preview. You can either mount it on your smart phone or hold it separately, which gives you the chance to get angles that other cameras will struggle to match. If you're planning to take some family portraits you can also mount the QX100 on a tripod and shoot remotely.
The QX100 certainly is an unusual camera, and it may not be for everyone, but for the price it's impossible to find the same specs elsewhere.
Stylish cameras by Fujifilm
I've been a fan of Fujifilm's cameras for a number of years now. When it comes to stylish, they're way ahead of the pack. And they're designed with purists in mind because they have lots of external controls which give you the power to change your settings without going to the menu on the LCD screen. Pro photographers rave about the Fujifilm X100S, and many have stated that they bring it to their professional gigs as a backup camera. It has a big APS-C sized sensor (bigger than a 1″, smaller than full-frame), and is capable of capturing HD video at 60fps, perfect for your holiday movies! This is the kind of camera that will make you want to shoot more, simply because it feels so good in your hand, and you'll be very impressed with the results, particularly when you start making some big prints.
Mirrorless cameras have awesome features
Now let's take a look at some mirrorless cameras, which are smaller than DSLRs, but still with the option to change lenses when needed. This has been one of the most progressive segments in recent years, with many seeing it as the future of photography. Sony has done some truly remarkable things in this area, especially by introducing the first full-frame sensor mirrorless camera, the A7 which I mentioned earlier. One of the dark horses however is Olympus, and in the OM-D E-M10 they have on of my favourite all-round cameras. Like Fujifilm, Olympus has given a lot of thought to the style and ergonomics of the camera, but they also have some really cool features like the 5-axis image stabilization built into the camera, where most of the time the stabilization is in the lens. The E-M10 also has a really nice electronic viewfinder which can really help you to improve your composition skills. And yes, it shoots HD video, and that stabilization is going to make your videos look a lot smoother.
There's life in the DSLR yet
While a lot of people have been writing obituaries for the trusty old DSLR since mirrorless cameras came along, there are still a couple of reasons you may choose a DSLR to capture your holiday memories this year. The most affordable cameras that carry APS-C sized sensors are DSLRs, like the Canon Rebel T5. If you buy a T5 and a 50mm f/1.8 lens you have a set-up that any portrait photographer could use to make phenomenal photographs. I mention this because I'm not a huge fan of the kit lenses which come bundled with most cameras. The quality generally isn't high enough to get the most out of the camera, but manufacturers can offer a much more attractive price point by including a cheap lens.
The other advantage of DSLRs is the battery life. It might be just a case of their physical size, but whatever the reason, DSLR batteries last way longer than mirrorless camera batteries. I've honestly never had an issue with my DSLR running out of juice, even when shooting weddings, so it was kind of a shock to me to discover that mirrorless cameras run out surprisingly quickly.
If budget wasn't an issue, there's no question which camera I would choose. I've already mentioned the Sony A7 a couple of times, and this is one of the most highly regarded cameras out there, with a price point to match! But you're talking truly professional quality here, both in terms of stills and video.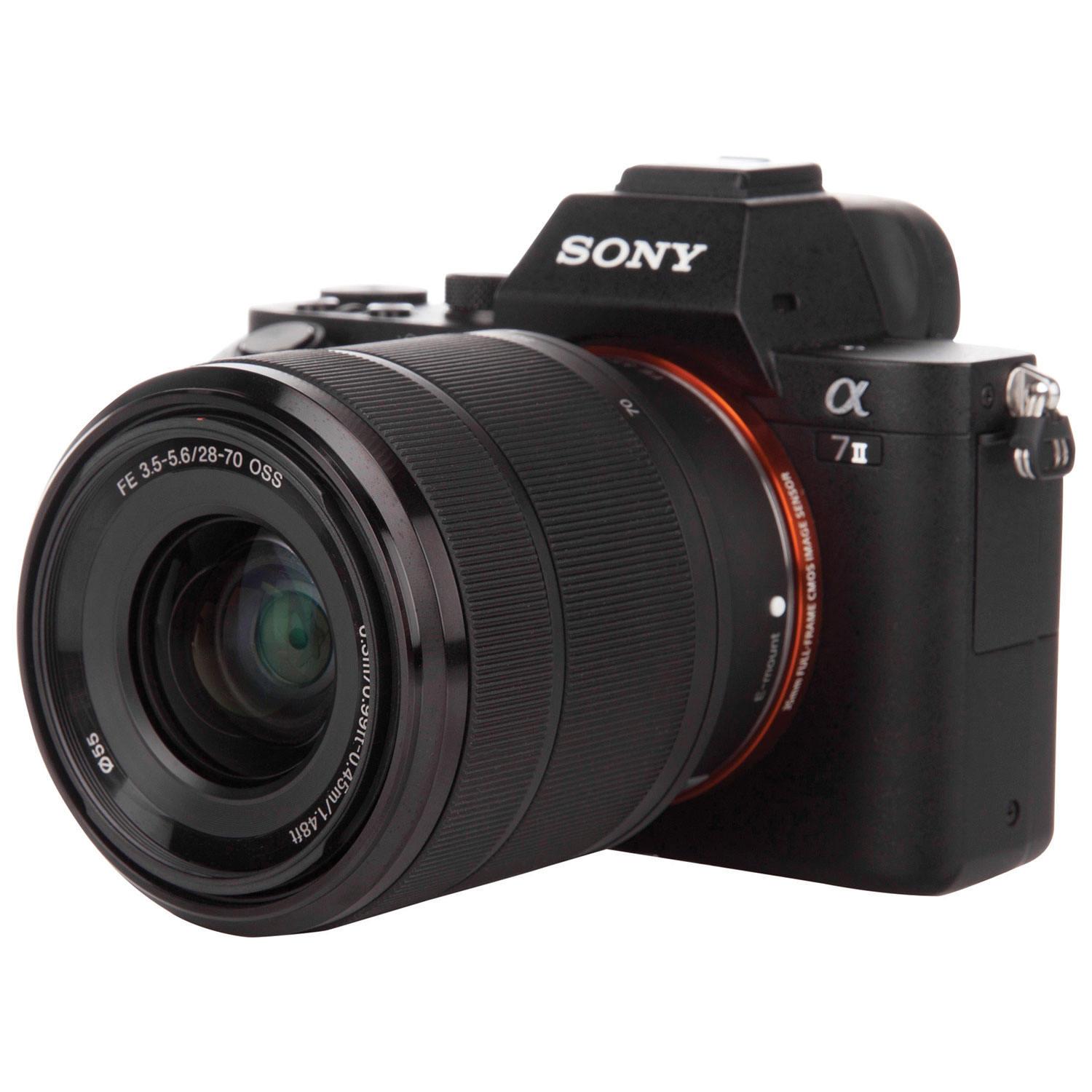 Hopefully I've given you some interesting angles on the camera options available here at BestBuy.ca, but if you have any questions feel free to leave a comment below!