Mother's Day is coming! Do you know what you're getting your mom yet? If not, stick with me for the next few minutes as I toss out a few inexpensive (sub $100) Mother's Day gift ideas that are sure to make mom feel appreciated!
.

Since pretty much everyone carries a smart phone these days, one possible gift option for mom is a new Cell Phone Case. While the one pictured here (the Kate Spade New York iPhone 7 Hollyhock Floral Fitted Hard Shell Case) is specifically designed to fit the iPhone 7, there's no shortage of options available for other phone types. You'll obviously need to find something that's not only appropriate to the type of phone your mom carries, but also one that's well suited to her unique personality. The ideal smart phone case should protect your mother's phone against bumps and shocks due to accidental dropping, and it will also protect against nicks and scratches, and even just general smudges and fingerprints—all while looking right at home in your mom's hand or bag. This particular model is a lightweight case with an easy-to-grip hard shell exterior and a shock-resistant bumper that's sure to protect mom's iPhone against all manner of accidents. It's also quite attractive, featuring a nice floral design that's perfect for moms everywhere!
Another great option for mom may be a Google Chromecast streaming media player. If mom likes to be entertained, she'll enjoy a massive selection of first rate content with Google Chromecast. Included here are over 200,000 great TV shows and movies, numerous sporting events and radio broadcasts, and a whopping 30 million song library. It'll likely take mom quite a while to get through all of that! Other cool Chromecast features include easy setup via your TV's HDMI port and home WI-FI network, the ability to mirror content on the biggest screen in your home, and the ability to use your smart device as a remote control. With Google Chromecast, the entertainment possibilities are practically endless, making this a very nice gift idea for moms all over Canada!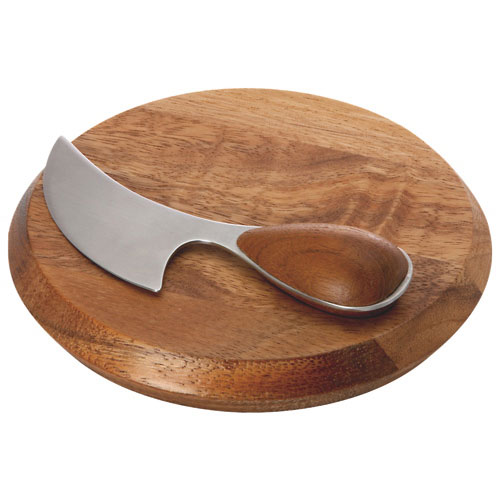 Perhaps your mom enjoys hosting dinner parties for friends and family? If mom enjoys preparing and serving food, then you may find that a Cutting/Serving Board is in order. Take, for instance, the Dansk Wood Classics Vivianna Cheeseboard—a solid and attractive board that's made of beautiful acacia wood. Included with the board is a matching steel knife (with almond shaped handle) for slicing through various meats and cheeses, and both components are completely dishwasher safe, making cleanup easy after your mom's next big dinner party.
In keeping with the dinner party theme, maybe your mom would appreciate a quality wine decanter like the Vinturi Reserve Glass & Acrylic Carafe Set? This fine set includes both glass and acrylic components, and it also includes its own cleaning kit, along with the carafe itself, a stand, a no-drip collar, and an aerator for introducing air into your wine to enhance its bouquet and flavour. If your mom is a wine enthusiast (or even if she just enjoys the occasional glass), she's sure to enjoy this set, which is the perfect way to enhance her favourite bottle. Of course, if you prefer to keep on looking, there are many other excellent Decanters available at Best Buy for pouring both wine and spirits…
Alternatively, if your mom happens to be a coffee or tea drinker rather than wine, you may wish to take a look at Best Buy's great selection of French Presses & Percolators instead. This way mom can still hold her dinner parties with cheese and meat appetizers, only this time she'll serve them with a spot of tea or coffee on the side.
Some moms may prefer Jewelry. Of course, with the gift of jewelry, it's imperative that you go with a non-romantic option, which may somewhat limit your selection. But there are still some great choices available, such as this stunning pair of Amour Blue Topaz Stud Earrings. These elegant blue topaz gemstones are a very fine example of jewelry that you can happily give to your mom. Set in sterling silver, they feature square, princess cut stones with butterfly clasp backs, and they're a gift that almost any woman would love.
Another vast area of Mother's Day gift possibilities is that of Ladies' Wallets. As a representative example I've selected the Fossil Emma RFID Zipper Leather Clutch Wallet – In Coral. I especially like the RFID blocking feature of this wallet, which will help to protect your mom from the horrors of identity theft. This is due to a special lining material that prevents the RFID signal (built into many of today's chip based bank and credit cards) from being read while the cards are enclosed in their slots. As if this great feature weren't already enough, this wallet also boasts 100% smooth-glazed leather construction. This leather is both soft and supple, and it's also highly durable and attractive. And I haven't even gotten to its storage capacity yet! The Fossil Emma Clutch Wallet offers 12 credit card slots, 2 currency compartments, 3 gusseted pockets, 1 media pocket, and 1 zippered pocket. Its main compartment is large enough to hold an iPhone 7 Plus (or a similarly sized smart device), and its handy wristlet strap is both stylish and functional. All up, I really don't think that your mom could ask for a nicer wallet!
Before we wrap things up, I just wanted to suggest a couple of honourable mentions. One of these is the Belkin MIXIT UP Lightning to USB Keychain Charging Cable, which is a really great way to help your mom to stay connected while on the go. This fun little keychain works with iPhones, iPads, and iPods, and it allows mom to charge her device, share photos, and more whenever she's out and about.
Another option is the entire category of Digital Photo Frames. These frames allow mom to view (or show off) an endless slideshow of her favourite digital photographs whenever she wishes. The Aluratek 8″ Slim Digital Photo Frame is one such example that fits into our sub $100 budget, and because it supports SD/SDHC memory cards of up to 32 GB, there's no limit to the number of photos that mom can enjoy. By the way, she'll enjoy those photos on an 8-inch TFT true color LCD display with 1024 x 768 resolution. Mom is sure to appreciate that!
Although it's still a ways off, allow me to wish all readers and all moms across Canada a Happy Mother's Day, 2017! Until next time, have an excellent week!