Today we learn about something that I didn't even know existed until just this week—smart insoles! This recent development in wearable technology comes in two varieties: Digitsole Run Profiler Smart Insoles & Digitsole Warm Smart Insoles. If you're a runner, recreational walker, or simply like to have warm and comfortable feet when you're trekking to work, school, or the local coffee shop, keep reading to learn about each type of Digitsole Insoles.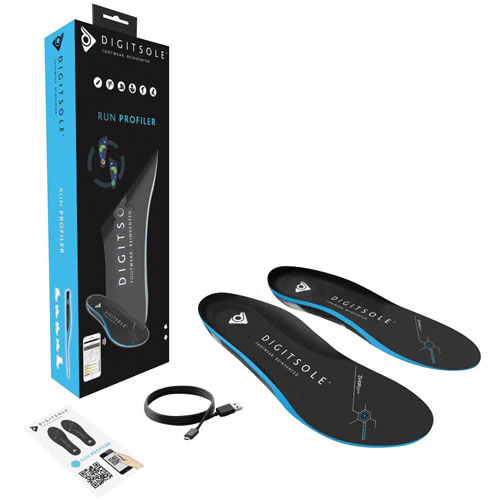 First we'll consider the Digitsole Run Profiler Smart Insole (the linked pair is Men's 8-10 / Women's 10.5-11 in black & blue). These insoles are truly unlike anything I've ever seen before. They actually measure your movements and then use Bluetooth to transfer the details to your smart phone (and the special Run Profiler App). Designed to help you improve your performance, the valuable feedback you'll receive will help you to manage your run and reduce both fatigue & the risk of injury. There's even a special audio coach built into the app that helps to keep you on track. Just what I need, shoes that yell at me! Of course, for anyone who wants (or needs) their own personal trainer, these connected insoles may be a dream come true! Other features of the Run Profilers include a Shock Heal System (which absorbs impact & reduces strain by spreading vibrations across more of your foot), 3D analysis (commentary) on your running performance, and the convenience of compatibility with both the Apple Health & Google Fit apps, to name but a few benefits.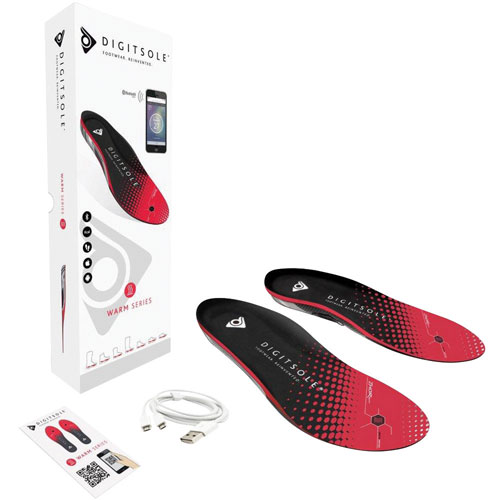 Next we have the Digitsole Warm Smart Insoles (featured pair is Men's 10-11 in black & red). These insoles do much of what the other pair does, but they can also keep your feet warm through their ability to regulate the temperature of your insoles (at up to 45 degrees C for each foot). This is controlled via your smart phone (thanks to Bluetooth 4.0 and a dedicated app that also allows you to track your total distance walked or ran). Additionally they can count your total steps taken & overall calories burned—both of which can help you to reach your personal fitness goals. Other features of the Digitsole Warm Smart Insoles include a Front Flex Zone (which helps to keep your feet in the most natural & healthy position as you exercise), built-in arch support, an X-Torsion System (& Sidewalls) that provide greater lateral stability for your foot (than standard, non-intelligent insoles), IPX6 rated water resistance, and the ability to set and monitor activity/exercise targets to help you to get/stay in top condition. Of course, once again this is just but a few of the key features that this insole offers.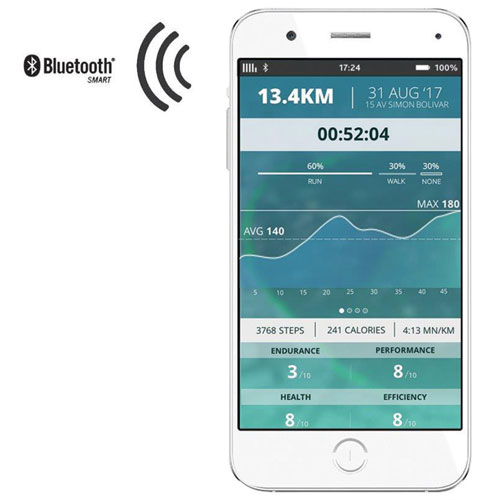 Pictured above is a screen shot from the Run Profiler App, which provides such information as a complete analysis of your gait. This in turn will help you to adjust your walking posture so that you'll spend less overall energy (when exercise isn't the goal). Not to be outdone, the app accompanying the Digitsole Warm Smart Insoles also provides useful information, such as letting you know when the time has come to swap out your insoles for a brand new pair. This is done so as to maintain the best possible performance of your insoles, and there's actually an alert that lets you know when it's time to change them up. How cool is that? It's almost like your footwear is looking out for your overall health.
One noteworthy point is that both versions of the Digitsole Insoles run on a lithium polymer battery & charge via an included USB cord in approximately 2 hours. A key difference in the 2 sets, however, is how long each one can maintain its battery charge. The Run Profilers can last for as long as 7 days (while on standby), whereas the Warm Insoles only last for a period of up to 6 hours (though this is entirely dependant on the temperature outside). I guess the fact that the Warm Insoles need to produce copious amounts of heat is a considerable drain on the battery, meaning you'll most likely have to charge them up anew before wearing them out (to work, school, running errands, or whatever) each day. You can learn more about Digitsole Smart Insoles and find all currently available sizes by visiting the appropriate section of Best Buy's Smart Clothing page. Simply click HERE for instant access.