Over the past couple of years I have had the opportunity to test and review a number of different Traxxas RC vehicles. While I am by no means an RC expert, I have developed an affinity for certain models, and today I share with you my top 5 Traxxas RC favourites from my own personal experience. The list you are about to see offers a fair amount of variety. It should also provide a good sampling of options to consider if you're either new to the RC hobby or a non-expert like me. The only vehicle on today's list that's somewhat beyond the beginner (or at least the intermediate) level is the very large and very powerful Traxxas Summit, but I'll address this further when we reach that part of the list. The primary objective of today's post is to let you know what I especially liked about each of these particular Traxxas RC favourites. Let's get started.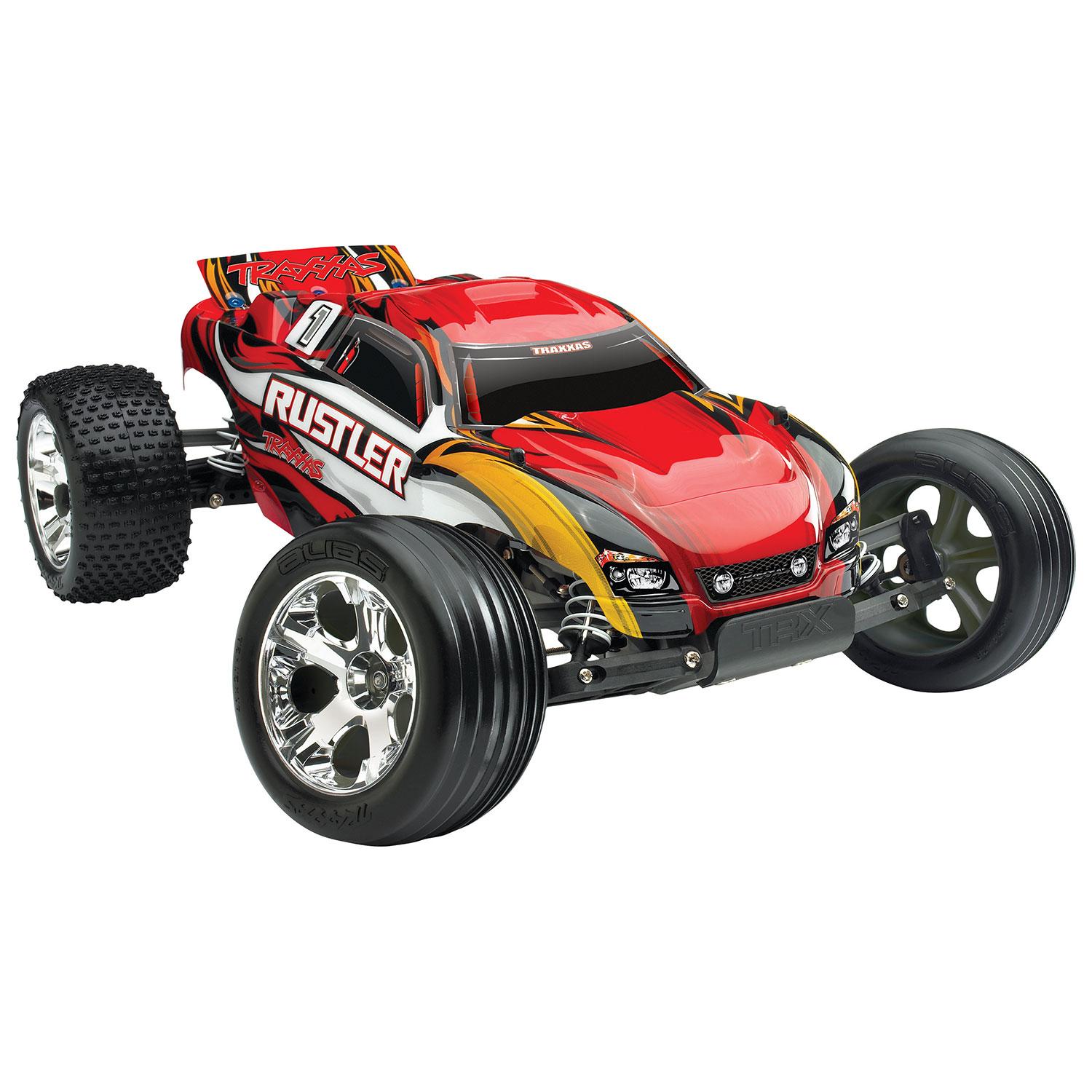 The first Traxxas RC vehicle I want to discuss is the Traxxas Rustler 2WD 1/10 Scale RC Truck. This truck, which is kind of a cross between a monster truck and a race car, is perfect for anyone just entering the hobby that doesn't want to begin with the most basic level of vehicle. It's ready to run right out of the box and comes with everything you need to hit the road fast, right down to its powerful Titan 12-Turn modified 550 motor. This motor allows for a top speed of 56 Km/h (35 mph), and it's Brushless-Ready metal gear transmission is capable of handling an upgrade to the Velineon brushless horsepower motor (with 112 Km/h / 70 mph capabilities) for those with an interest in modding their vehicle. What I especially liked about the Rustler, though, was its excellent handling when driving on a paved surface. It wasn't quite as good on other surfaces (for instance, it gives up quite a bit of traction on grass), but it could do practically anything on pavement, and I really had a blast running it!
Speaking of having a blast, the next vehicle on my list is the Traxxas Blast Boat with TQ 2.4GHz Radio System. This beautiful boat seems to drift in and out of stock at Best Buy (and may be something of a seasonal model), but it is nevertheless a very popular RC item that I really enjoyed using. It's only real drawback is that you can't run it in salt water, which greatly limits your options if you live on the coast like me. However, I found a nice, calm river to run this thing in back in August and had an absolute blast (pardon the pun) operating it! For the full features and specs of the Blast, you can check out my written review HERE, but just to give you a taste, the Blast features a slick looking 24 inch V shaped hull, is controlled by a Traxxas TQ 2.4GHz radio control system, and makes use of an ingenious cooling system whereby water is forced in through a pipe that coils around and around the motor before exiting the system at the side of the boat. This very cool system allows for longer running times before the Blast's motor will need a rest. Moreover, the Blast is super easy to control, goes like the absolute wind, and looks incredibly cool wits its bow pointed up in the air as you open it up to its top speed. Although I've never quite been able to ascertain exactly what that top speed is, and I do wish the Blast could go in reverse, this boat is quite possibly my very favourite model in this entire list. I absolutely loved this thing!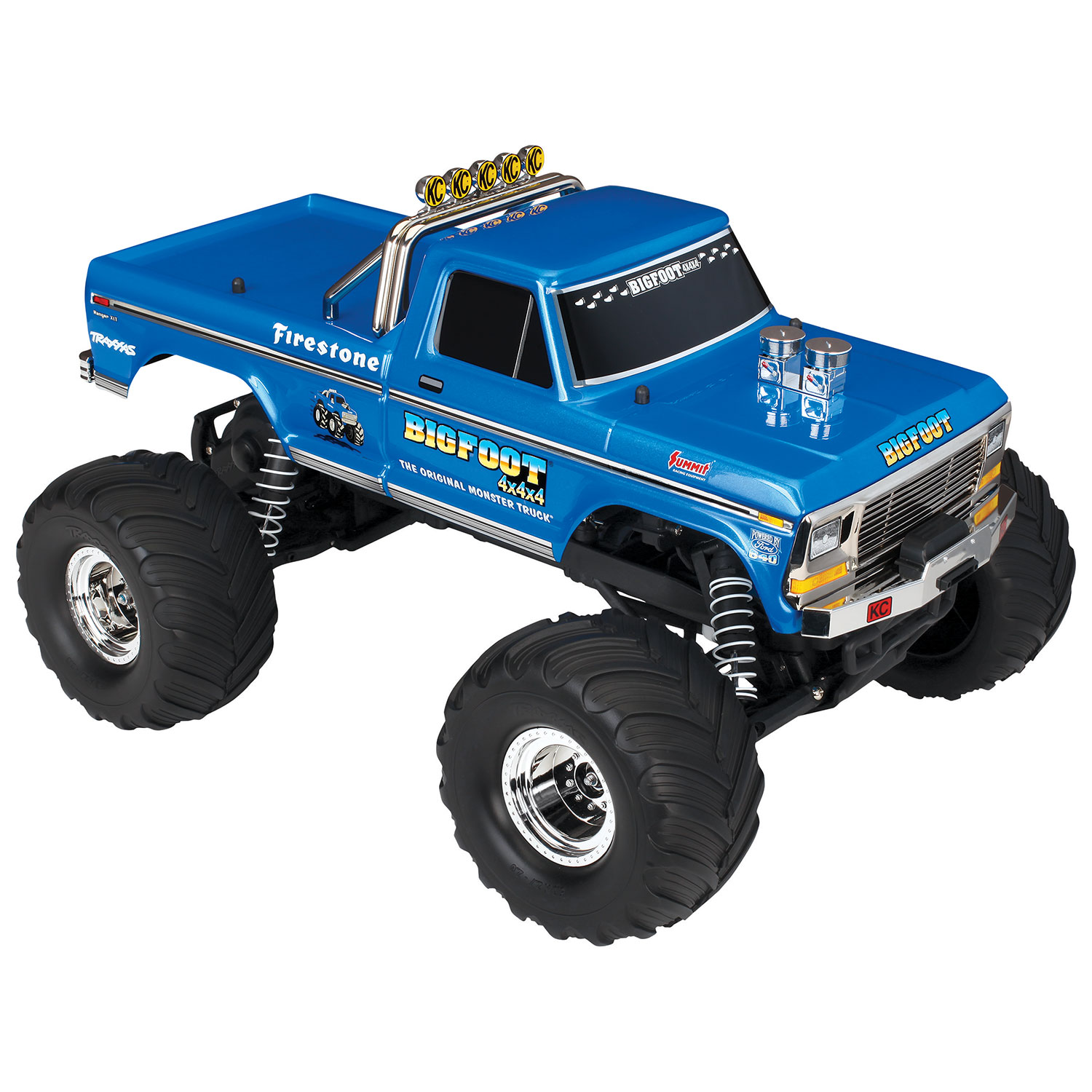 Another model that I just tested this summer and really enjoyed a lot is the incredibly cool Traxxas BIGFOOT No.1 2WD 1/10 Scale RC Truck. If you're familiar at all with the very popular Traxxas Stampede (a true RC classic), then you already know this truck, because the only differences here are cosmetic. In other words, this BIGFOOT is essentially the Stampede, only it's had a makeover to make it look like BIGFOOT. And what that all means is that this is a great entry level Traxxas monster truck with which to begin one's journey in the RC hobby. While only a 2WD model, this truck has enough great features to keep you going back to your local off-road track (if you have such a thing). Among them are a tough, waterproof design (featuring a sealed XL-5 ESC and receiver box) for anytime, anywhere driving, an integrated cooling fan for longer (and faster) running times/speeds, and an impressive 4 inches of ground clearance that literally allow this truck to tackle some of the roughest terrain there is. But what really appeals to me personally about this truck is the simple fact that it is BIGFOOT. Although the real life monster truck is known for its status as a powerful 4X4 monster, this representation certainly has everything else going for it, right down to the classic BIGFOOT colour scheme and the cool KC lights. And when I took this thing to the beach just a few months ago, I was seriously impressed with its speed and handling on the sand, as well as it's apparent love of pop-wheelies. If I were currently on the verge of buying any Traxxas RC truck today, this is most assuredly the model that I'd get. I do wish it had 4WD, but everything else is nearly perfect.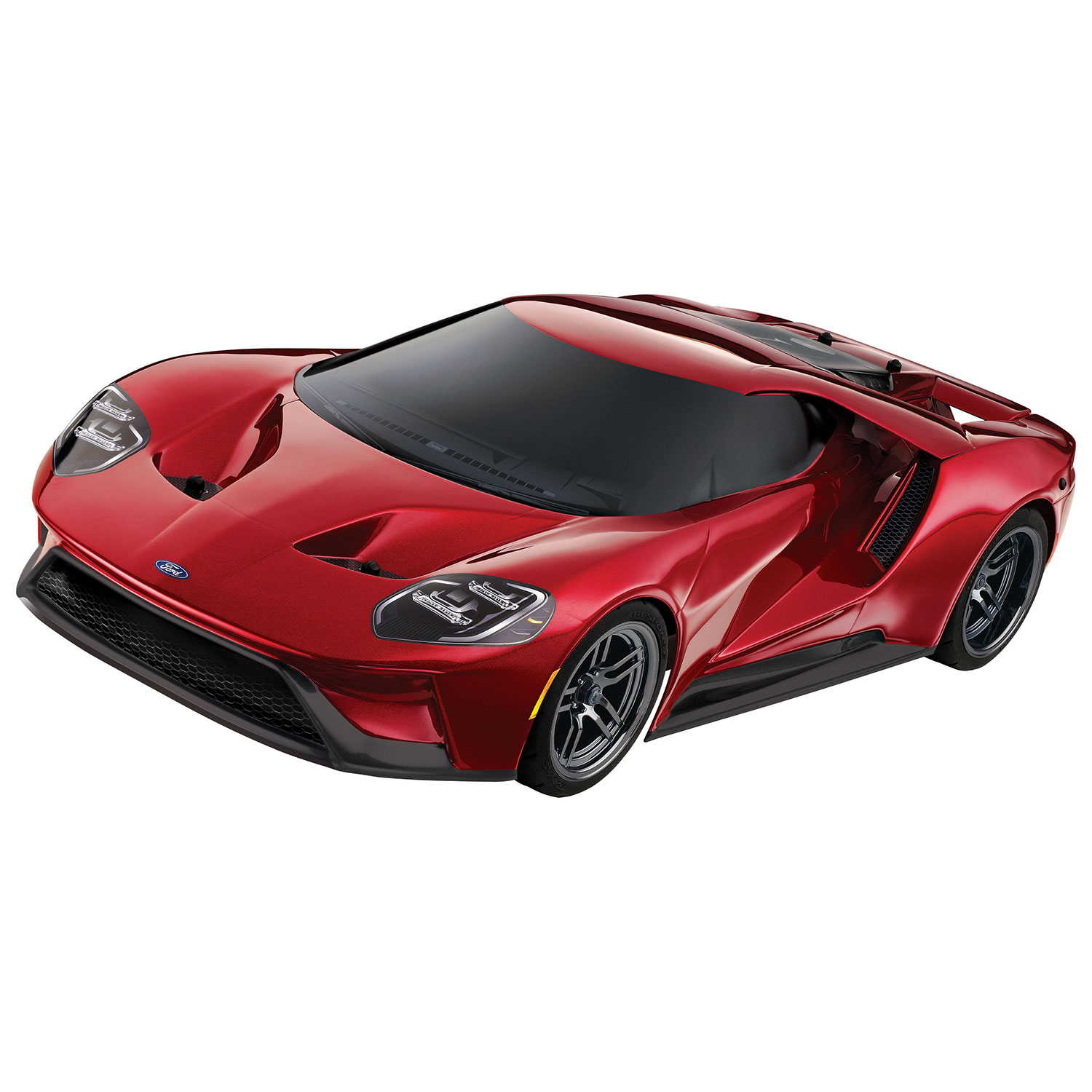 The only pure car to make today's list is the Traxxas Ford GT 4WD 1/10 Scale RC Car, which is an officially licensed replica of the real Ford GT. I also tested this vehicle just a few months ago, and what I liked about it was mostly how beautiful it was. It also drove fast (48 Km/h) and handled very well on flat paved surfaces. Of course, with it's very low undercarriage and somewhat small tires, you do have to be careful of even moderate sized rocks getting in your way. Anything the size of a marble or bigger can really do some damage if you hit it at full speed, so I would suggest finding some place as clean and clear as a new set of tennis courts to drive it on. Since it also has waterproof electronics and Traxxas Stability Management (TSM), you needn't worry about driving it in wet or slippery conditions. This car can hold the road better than many other vehicles even on slippery surfaces, but again, I would advise sticking to smooth areas without a lot of dirt or rocks that can get up into the steering system and reek havoc. If you enjoy messing around with telemetry and other such app based instrument readings, you'll be happy to know that the Traxxas Ford GT is fully compatible with the Traxxas Link App. Crunching all that racing data just adds another layer of fun to owning one of these models.
The final vehicle on today's Traxxas RC Favourites list is the massive and powerful Traxxas Summit 4WD 4-Channel 1/10 Scale RC Truck. This truck truly isn't a beginner's model, but if you're up for a bit of a challenge, you're going to love what this hulking beast can do! Among its features are a 10-LED lighting system that allows for nighttime driving, giant 7 inch Canyon AT (extreme-terrain) tires, and full telemetry info via the TQi 2.4GHz transmitter and the Traxxas Link App. Even so, what mostly appeals to me about this monster of a monster truck is its 4WD capabilities and the incredible torque it offers when you're ready to gear down. The Traxxas Summit isn't a super fast truck by any means, but it can get into and out of places (and jams) that most other RC vehicles can only dream of. For that reason alone it's one of my all time favourites.
And there it is, my top 5 Traxxas RC favourites from my own personal experience. Hopefully there's something in this list that appeals to your RC tastes as well. But if not, you can explore all of Best Buy's many RC options by following this LINK. Until next time, have an excellent day and a happy new year!