If you're a watch guy, you may well love today's blog report. The reason? Because today is the day I tell you all about Best Buy's top 5 watches for men. I'm actually covering these watches by very specific classifications (Chronograph, Fashion/Casual, Dress, Diver's, and Sport), though there's a lot of overlap here, so some of these watches do cross over into other classifications. Try not to hold that against me, and read on to learn the identities and features of some of the most popular and capable wristwatches of the day.
Disclaimer: For those who insist on mechanical watches or nothing, be warned that we're mostly dealing with Quartz based timepieces today. There's only one mechanical watch (an automatic, actually) on today's list. Try to see how quickly you can spot it!
Chronograph Watch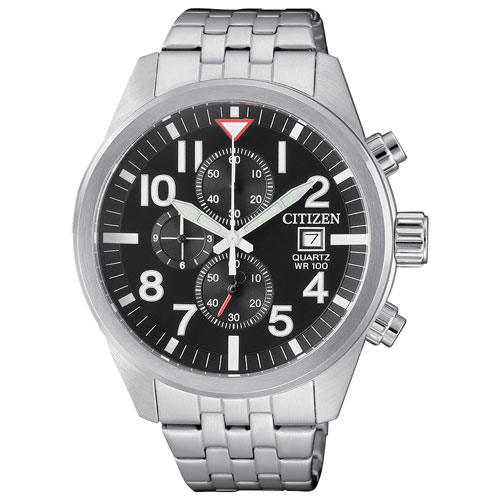 First up, representing the Chronograph category, is the Citizen 43mm Men's Analog Casual Watch with Chronograph. In addition to its stainless steel case, this watch features an attractive black dial with 3 timekeeping sub dials, a stainless steel bracelet with fold-over clasp and push-button release, a convenient date window at the 3 O'clock position, and highly accurate Quartz timekeeping. In fact, one of the major advantages of Quartz watch movements is that they consist of very few moving parts, meaning that they tend to last for many, many years without much, if any, need of servicing attention (aside from the occasional battery change). As a chronograph model, this attractive Citizen watch is perfect for timing your run, your commute to work, the time it takes to cook your pizza, or anything else you wish to keep time on. Finally, with 100m of water resistance, you won't have to worry about getting your watch wet (within reason, of course).
Fashion / Casual Watch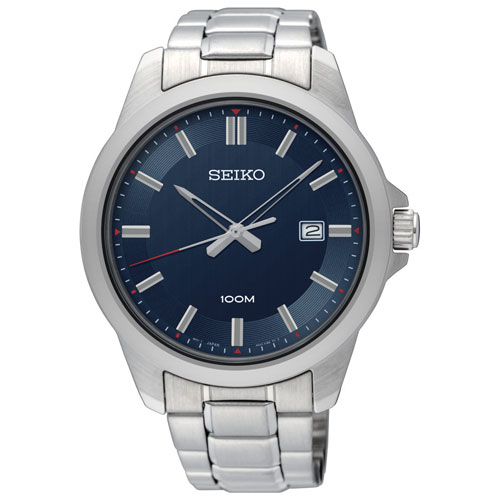 The second watch on our list represents the Fashion / Casual watch category. It's the Seiko 42mm Men's Analog Dress Watch, and it's a very stylish piece that's great for everyday use. In fact, Seiko is one of the most highly respected brands in the entire watch industry, and this particular watch gives us some serious clues as to why. With its stainless steel case and matching bracelet, crown guards to protect the crown against everyday bangs and bumps, a screw down case back for added water resistance, and a highly scratch-resistant Hardlex crystal (Seiko's own proprietary crystal material), this casual offering is as durable as it is attractive—and it's got the obligatory 100 m of water resistance to prove it. A beautiful blue dial (with an integrated date window at the 3 o'clock position) helps to round out the classic look of this Seiko stunner. You really can't go wrong with Seiko.
Dress Watch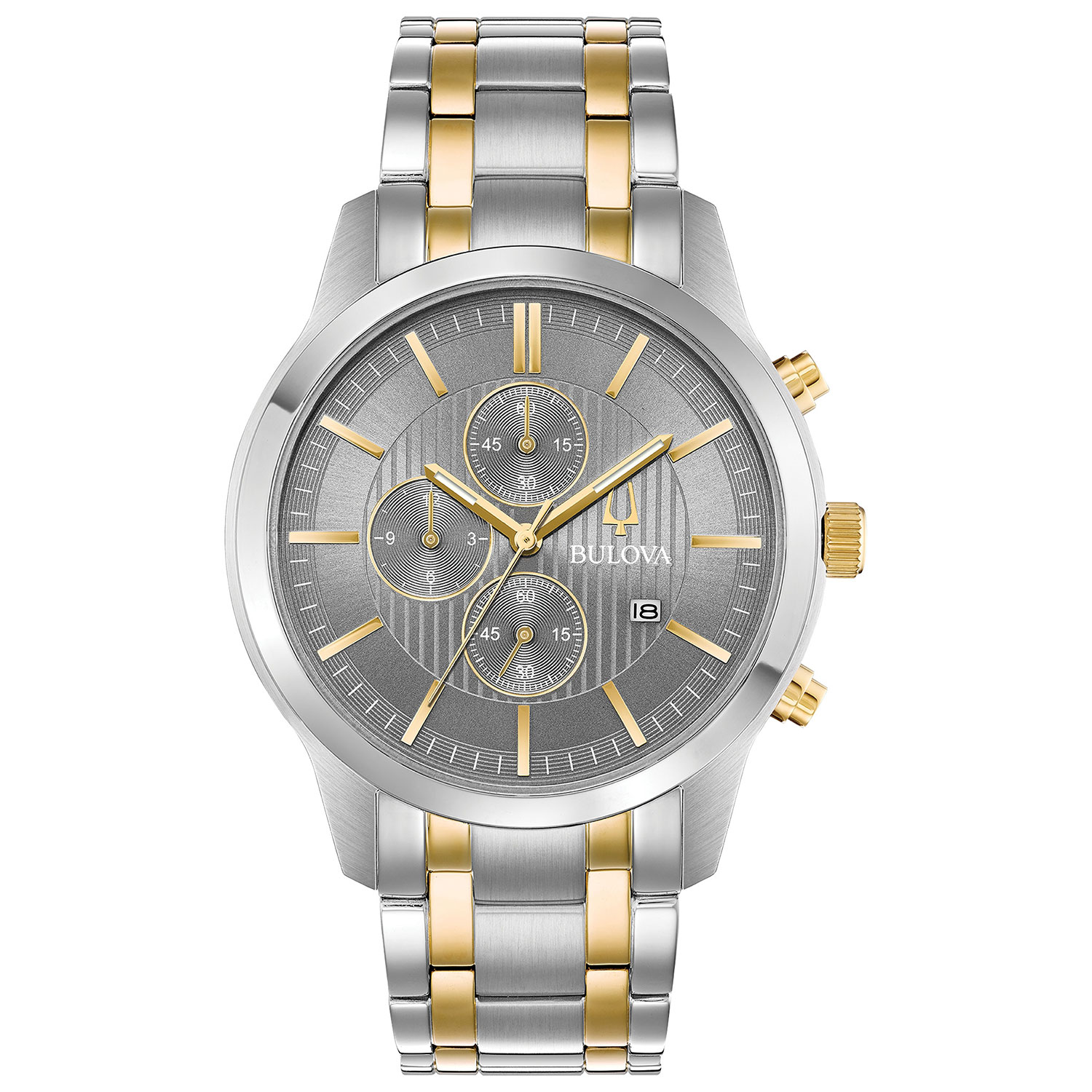 Another storied watch brand is Bulova, represented here by the Bulova 43mm Men's Chronograph Analog Dress Watch, a two-toned stainless steel timepiece that also happens to be a chronograph. This watch is definitely the dressiest model on the list today, with its beautiful silver dial and gold-tone highlights, as well as sub dials featuring textured concentric circles. This Bulova also has a date window at the 4 O'clock position, and the classic Bulova tuning fork logo is prominently and proudly displayed just above it. You know, Bulova is one of the only watch brands in the world to have put a wristwatch on the Moon, and they're also the inventors of the famous tuning fork movements that were used from 1960 to 1977. Now wholly owned by Citizen, Bulova is a very proud brand with a longstanding history of excellent in watchmaking. Any gentleman should feel honoured to wear one.
Diver's Watch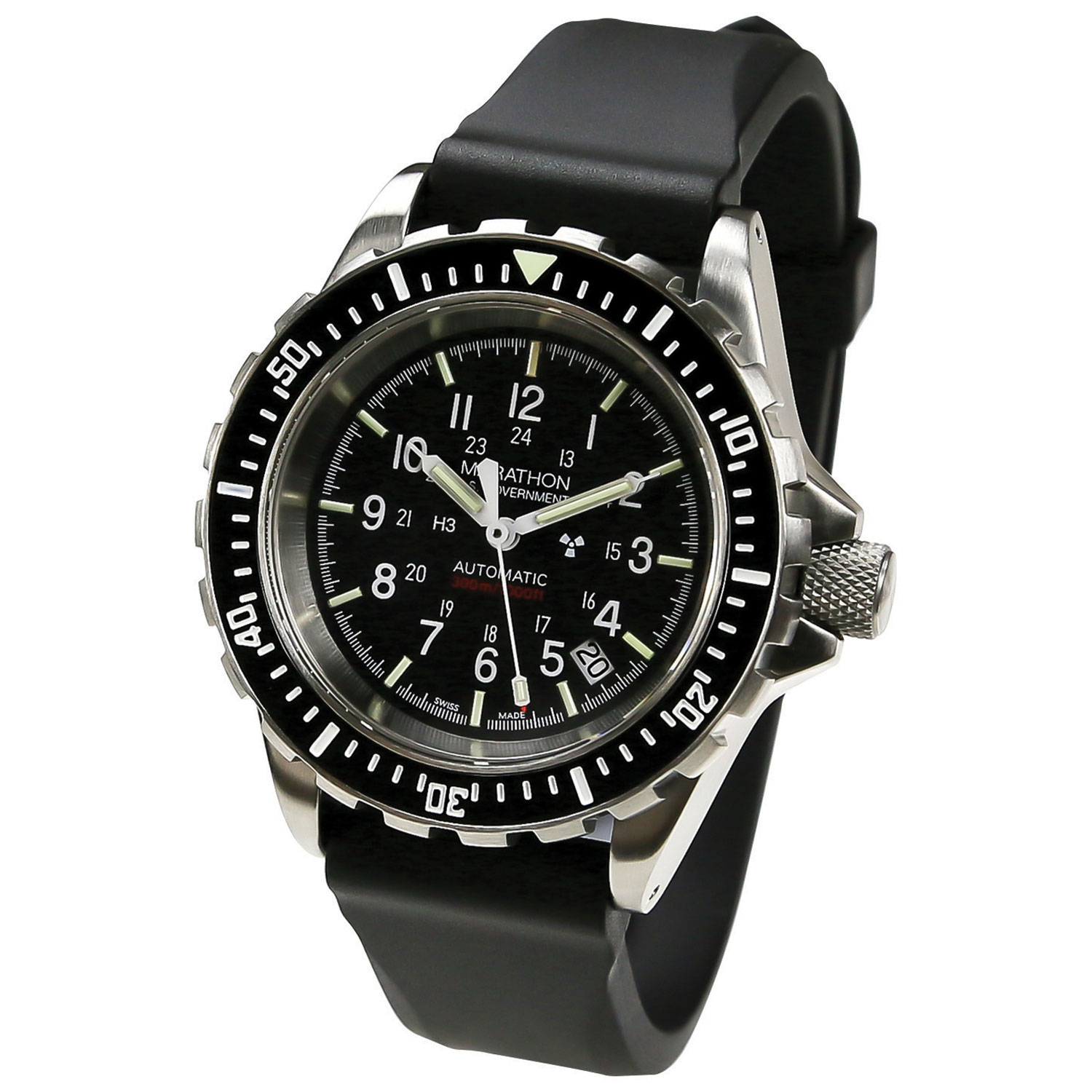 Up next is Marathon—a serious men's wristwatch, and the only one on this list to feature a true mechanical movement (the ETA 2824-A2). This Marathon Diver's Automatic 41mm Men's Analog Luxury Watch is truly a thing of beauty. Not only does it offer a real workhorse of a movement, but the movement is "Swiss Made" and Marathon itself is a Canadian company. What better combination could there possibly be? Featuring 300 m (1000 feet) of water resistance, the most scratch-resistant watch crystal material there is (sapphire glass), and a 316L surgical grade stainless steel case, this watch is built for the most extreme of conditions. In fact, Marathon makes military grade watches for numerous countries worldwide, who then issue them to their active military personal. Moreover, this particular watch, which features self-contained Tritium gas (that is, radioactive) tubes at the 5 minute markers that glow continually to ensure constant visibility in low light conditions, was built in accordance with US Government specifications for use in battle conditions. When I say that this watch is tough, I couldn't be more serious. 
Sport Watch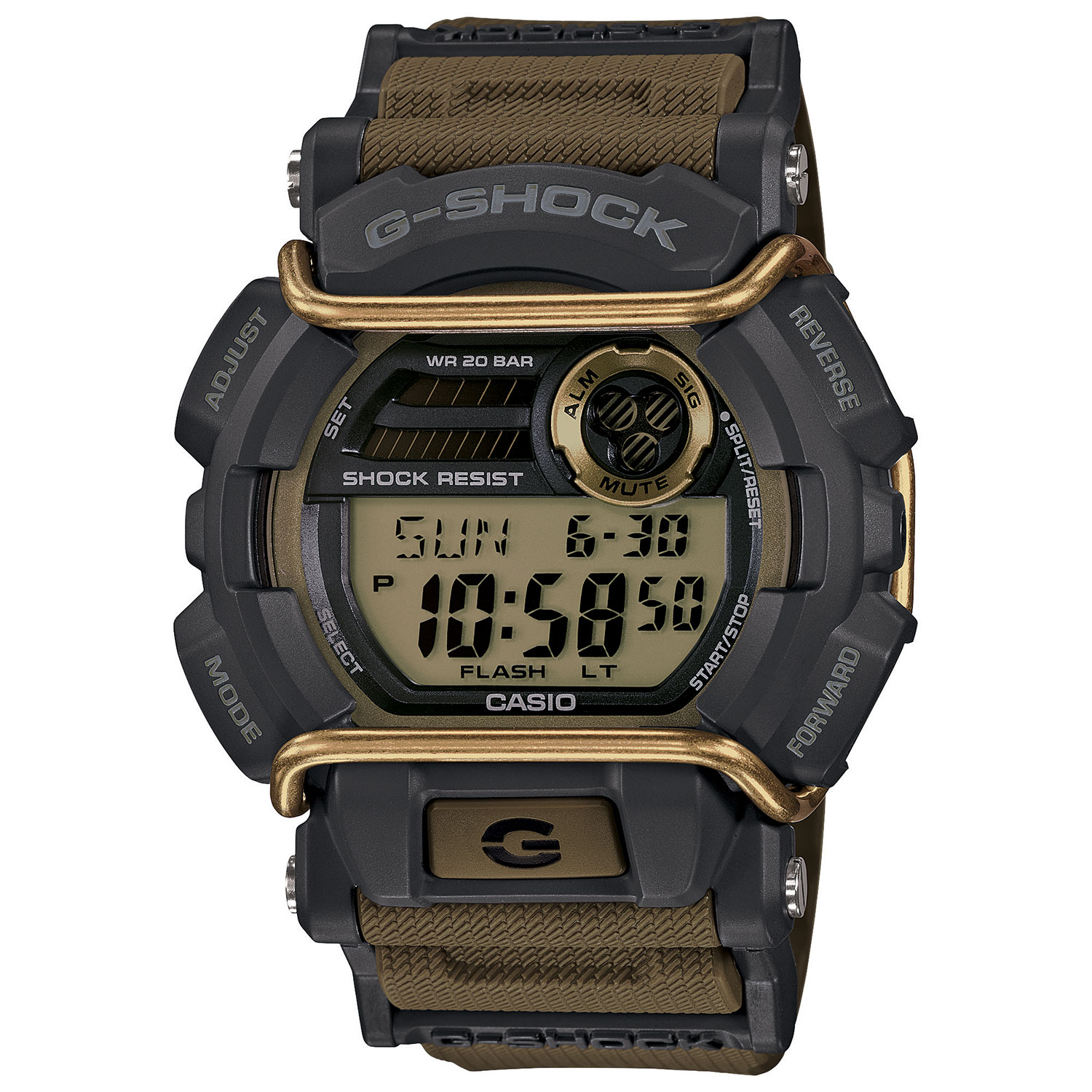 Last, but certainly not least, is a very well known style of modern sport watch, the Casio G-Shock 55mm Men's Digital Sport Watch. And speaking of tough, this is yet another watch that could easily survive a war. In fact, many police and military personnel wear these watches into battle every day (not as official government issue, but as their own personal watches). With its tough resin case and strap, the G-Shock is built to be shock resistant and capable of taking a serious beating without ever stopping. It's also 200 m water resistant and chock full of useful features. Among them are an LED backlight for reading the time in total darkness, a 1/100 stopwatch feature, 5 daily alarms, and a world time feature that's extremely useful for habitual travellers (it has 31 different time zones and 48 major cities), among many other cool features. As a digital watch, its easy for Casio to add in numerous complications, and they certainly do that! Of course, G-Shocks are big and bulky, and they don't necessarily appeal to everyone, but those that do like them really like them a lot. Some people even keep large collections of G-Shocks in various different styles. When it comes to digital resin watches, G-Shock is the absolute best there is. You just can't get anything better.
And that's our look at Best Buy's top 5 watches for men. If you don't see anything that you like here, do keep in mind that this is merely 5 out of the hundreds of Men's Watches that Best Buy currently has available. You're sure to find something among them that suits your individual style and meets your time telling needs, particularly considering some of the cool watch trends that are currently underway. For instance, bi-metal (or multi metal) watches are very hot this year, as are watches with blue or grey dials, or grey hues in the band. Also popular are watches with rose gold cases or trim, chronograph watches, and watches featuring either a classic or a minimalist look. So why not take a look at Best Buy and see if there's something there that you like?