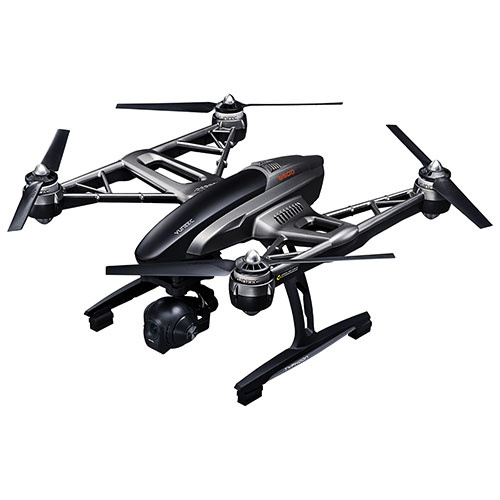 Today I consider the Yuneec Typhoon Q500 4K Quadcopter Drone with Camera & Controller, which I've been testing thoroughly over the past few days. I've also been shooting lots of footage for an embedded video summary of the Typhoon that you can check out below.
The packaging for this drone refers to it as a 4K Aerial & Ground Imaging Solution, though I've personally been calling it The Beast! And that's because this thing is really impressive. It's big, it's powerful, and it's got all kinds of serious features. We've clearly got a lot of ground to cover here, so if you're a drone person, keep on reading for all the fun!
Introduction
The Yuneec Typhoon Q500 4K is a very powerful and easy to fly drone that takes photography and videography VERY seriously. I've tested several other great drones in the past, but this one has by far the best camera setup I've ever seen on a drone. By combining a CGO3 4K camera and a 3-axis gimbal, the Typhoon takes some of the clearest and smoothest images you can possibly imagine. With 3 flight modes to choose from (Smart, Angle, and Home), the Typhoon can be flown by amateur and expert Pilots alike, and it can even return to its "home" position whenever you want it to. This particular mode actually works in conjunction with a number of GPS satellites that communicate both the drone's and the controller's position at all times (satellite signals permitting), so the drone can return to within a few feet of the controller and land when you engage Home Mode. Other fun features include a Follow Me function (a default function that allows the Typhoon to track your position and match you move for move) and a Watch Me function for taking dynamic video selfies (i.e., flying all over creation as the camera tracks and records you continually). There's even a Geo Fencing feature (with a 300 foot limit) that keeps your Typhoon from taking off on you. All in all, it's a pretty cool setup!
Key Features & Technical Specifications List
The Yuneec Typhoon's key features & specs includes the following list, and then some:
* 3 distinct flight modes:
– Smart Mode—Directional controls function relative to your position regardless of which way the drone is facing.
– Angle (AKA, Pilot) Mode—For full piloting control (drone moves relative to which way it is facing).
– Home Mode—Drone automatically flies to its "home" position (near its controller) and lands safely on its own.
* Default Geo Fencing Perimeter of 91M (300 ft).
* A total maximum range of 800M (2625 ft).
* Top speed of 22 mph (35 Km/h).
* Up to a maximum of 25 minutes of flight time per battery charge.
* A Follow Me Mode (default) for easy hands-free control.
* A Watch Me Mode for shooting dynamic video of yourself during flight.
* An included 5400 mAh rechargeable LiPo battery.
* 3-axis gimbal for shooting smooth, stable video.
* CGO SteadyGrip Handheld for stable ground level shooting.
* CGO3 4K camera (featuring a no-distortion lens).
* Records 4K video at 30fps & full UHD 1080p at up to 120fps.
* Shoots 12MP still images.
* ST10+ smart Personal Ground Station (Controller) with 5.5 inch touchscreen control (& display) screen (for seeing what the Typhoon sees).
* LCD display sunshade to eliminate glare on bright days.
* And several additional features.
Accessories & Remote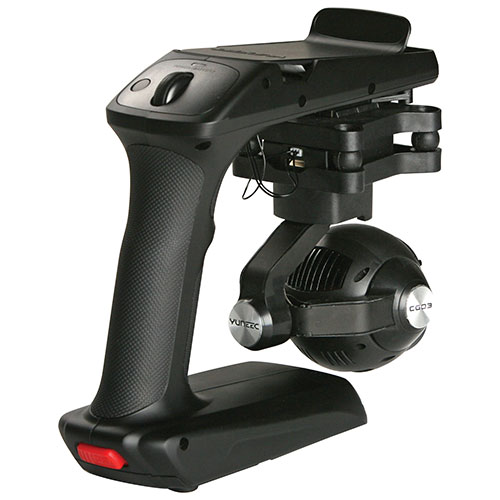 The Typhoon comes with many useful accessories to enhance your overall experience. One such inclusion is the SteadyGrip Handheld (shown at left). With this little contraption, you can carry the Typhoon's gimbal & camera in hand (at ground level) for shots that the Typhoon itself would be less than ideal for getting. If you have indoor video to shoot, for instance, you don't want the very large Typhoon flying around your living room. With the SteadyGrip Handheld, you'll get the same amazing shots simply by walking through. One thing about this accessory, however, is that it does require separately acquired batteries. It requires 8 very specific (& rechargeable) AAs, so do take note of that. Other Typhoon accessories include a full-featured controller with LCD viewing (and touch control) screen (this one recharges via a wall adaptor, so no additional batteries needed). It's also BIG, but not overly heavy or awkward, and it's got all of the standard (expected) buttons, knobs, sticks, & controls—including separate buttons for shooting photos & taking video. In fact, there's even a timer on the LCD screen that allows you to keep a running clock on the video clips you're recording. Added to that are a simple leaver for switching among the 3 flight modes, several trim adjustment buttons, & a dedicated button for starting and stopping the motors. This is one serious controller!
The Typhoon also comes with some basic tools, an extra set of rotors, 2 16 GB Micro SD cards (with an adaptor for your computer), a 25 minute (max) battery, various wires and chargers for both the main battery & the controller's built-in battery, and a glare blocker (sunshade) that attaches to the controller with 2 small suction cups. There's just so much going on with this drone. Take a look at the photo gallery below for additional proof of this. It's all quite overwhelming at first, but that feeling doesn't last for long. All that remains then is excitement.
Testing & Results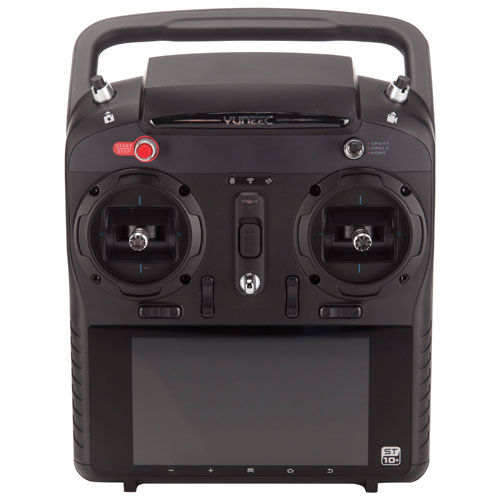 Aside from a slight learning curve that involved intimidation at the sheer number of components included in the Typhoon's box and a little trouble on my very first lift off, I would have to consider my testing of the Typhoon an enormous success. This drone is not only a breeze to control, but it's also the smoothest and least erratic drone I have ever experienced. I especially enjoyed using the Smart Flying Mode wherein the drone just went where I asked it to regardless of which way it was facing. In other words, most drones will fly left relative to the drone itself when you move the control stick to the left, which means if the drone is facing you when you give the order, it will actually move to your right. This is fine if you're an experienced Pilot or have plenty of room to work with, but for novice Pilots (or those having to deal with a multitude of trees and other obstacles), having a drone that goes exactly where you want it to is a really big deal. Happily this feature works perfectly! I also found the Follow Me feature to be fun and easy to use, and the Watch Me mode was even more fun, as I could fly the drone all over in any direction I wanted and still have the camera film me. The Watch Me feature did not, however, achieve 100% perfect performance.
Best of all with this drone was its amazing picture and video results! I think that even professional film directors could use this thing to great effect! I got some truly beautiful footage with the Typhoon and just couldn't believe how steady the gimbal kept the camera throughout my various flights, no matter how much jostling I had the drone doing. All up, I couldn't be more pleased with the Typhoon's performance. I didn't even crash it into a single house!
Examining the Video Evidence
For some truly Yuneec Views, as well as a summary of some of the Typhoon's key features and specs, check out my overview video below:
Final Thoughts / Recommendations
In the final analysis, I simply can't recommend the Yuneec Typhoon Q500 highly enough, but not to everyone! This drone is more tool than toy, so if you're just looking for a fun drone to play with, you can certainly have major fun with a much lower end model. However, if you're a Realtor looking to create a virtual walk-through of a property you're trying to sell, an Amateur or Professional Filmmaker / Director with need of a first class piece of aerial & ground camera equipment, or merely someone with a love of high end drones and no budgetary constraints to concern you, then the Yuneec Typhoon Q500 4K is surely the drone for you!
You don't have to be an expert Pilot or a trained Photographer to effectively operate the Typhoon and get some amazing footage with it, so don't let concerns over not being ready for this level of drone stop you. This machine is way easier to fly and film with than any other drone I've tested to date. In my experience, there seems to be a universal truth about drones: Essentially, the more complex (or higher end) the drone model, the easier it is to operate. I suppose that when the higher end features includes things like default 'geo-fencing' perimeters (to keep your drone from flying away) and 'return to home' & 'self landing' capabilities, it stands to reason that a drone's ease-of-use rises with its cost. The Yuneec Typhoon Q500 4K is highly recommended. Happy flying!
Gallery of Additional Photos