Star Wars day is on its way, and what better way to celebrate the fandom and the franchise we love than to put together some Star Wars themed LEGO sets? If you love Star Wars and enjoy building LEGO sets, keep reading below for a few cool pieces that are in very high demand among Star Wars LEGO fans. I even throw in a couple of Air Hogs RC Millennium Falcon drones at the end for those whose Star Wars merchandise interests go beyond simply LEGO.
Star Wars LEGO Sets
If you need to move large volumes of troops about the galaxy as quickly and efficiently as possible, the first set you'll need to acquire is the LEGO Star Wars First Order Transporter. This fun set, which encourages creativity and imaginative play, features 792 pieces and includes 7 different Star Wars LEGO mini figures, including Captain Phasma, 4 First Order troopers, and 2 resistance fighters. It also comes with multiple weapons and accessories, including blasters and flame throwers for the mini characters to carry. The best aspect of this set, however, has got to be the transporter itself. With special compartments for the mini figures to occupy (including a pilot's cabin with a working hatch and a transporter hold with enough space for 4 more characters) and fun weapons built right in (like its dual spring-loaded shooters and top-mounted stud shooter), this transporter is certainly ready for action! Although this set (as well as the one discussed below) is meant for kids from 9 to 14, I personally think it's great fun for Star Wars fans of all ages. I would definitely consider adding this one to my collection!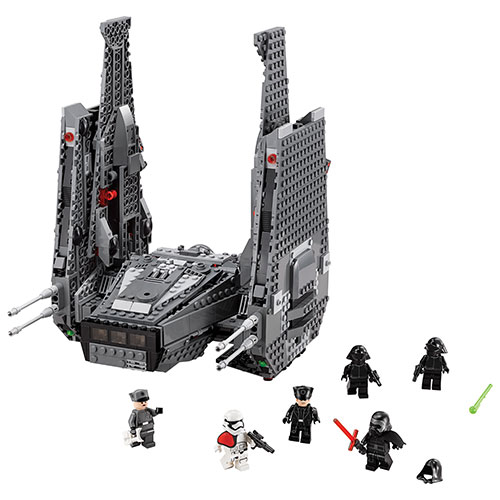 To go along with Captain Phasma and your other First Order personal, you may want to also pick up a LEGO Star Wars Kylo Ren's Command Shuttle. Spark your imagination and develop your building skills with this massive (1005 piece) LEGO set and fill out your First Order ranks in the process! A perfect companion set to the First Order Transporter above, this set includes 6 mini figures and their individual accessories. Characters in this set include one Kylo Ren, one General Hux, one First Order officer, one First Order Stormtrooper officer, and 2 First Order crew members. This means that when combined with the previously featured set, your First Order army is pretty much complete. Other features include detachable weapon racks (on the ship itself), as well as front, back, and undercarriage storage bays that open and close. Kylo Ren's ship also has extending wings and spring-loaded weapons that are mounted on those wings. Personally, this is a Star Wars LEGO set that I would love to have myself. Ever since The Force Awakens first hit theatres I've been a big fan of the movie and especially Ren's ship, even if I wasn't a huge fan of the character himself. Not that Red is a badly written character—he's just the kind of nasty villain I really love to hate!
.   
.

If you're a loyal fan of the original Star Wars trilogy and prefer your LEGO sets to feature characters like Jedi Master Yoda, you may wish to go with a set like the LEGO Star Wars Classic – Yoda's Jedi Starfighter. This set not only includes a mini LEGO Yoda figure, but it also comes with everyone's favourite droid, R2-D2. The Starfighter itself features a working cockpit for Yoda as well as laser cannons and spring-loaded weapons. The entire set consists of 262 individual pieces, and this even includes Yoda's green bladed Lightsaber. As with all Star Wars LEGO (and other LEGO) play sets, this one is highly educational and super fun. If you're a fan of classic Star Wars characters like Yoda and R2-D2, you can't go wrong with this cool little straighter!
Star Wars RC Drones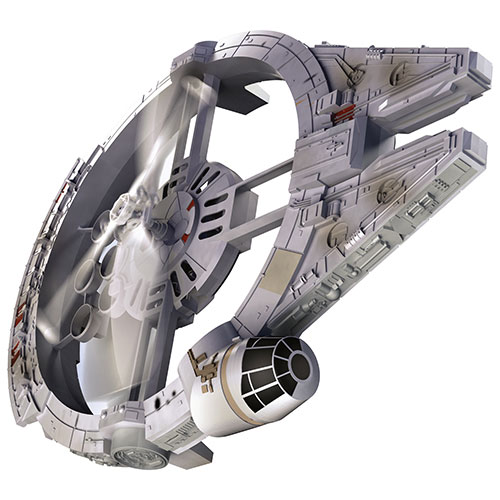 Not every Star Wars fan is also a lover of LEGO. Still, most hard core fans do enjoy some forms of Star Wars memorabilia. If this sounds like you, you may prefer something along the lines of the Air Hogs Star Wars RC Millennium Falcon. This ship is capable of zipping through the air just as gracefully as the real Millennium Falcon. Featuring onboard gyro-stabilization and made from impact-resistant foam, this mini Millennium Falcon offers smooth and stable flight, but if you do have a crash, you don't have to worry about damaging it. This thing is a tough as nails and incredibly fun to fly for those who have the touch! The Millennium Falcon's remote requires 4 AA batteries to operate, but the drone itself has a built-in rechargeable LI-PO, so it's quick and easy to recharge the battery any time you like. Light and maneuverable, the Falcon is best suited to indoor use, though you may occasionally fly into a wall or some furniture. Don't worry though, this drone is so light it really can't do any damage in a crash.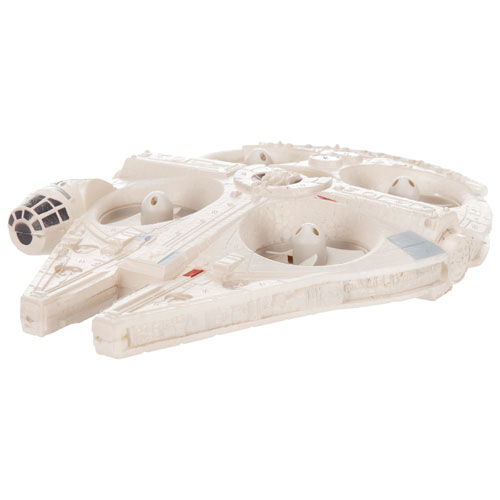 For those that may wish to get a slightly bigger version of the iconic hunk of junk, there's also the Air Hogs Star Wars RC Ultimate Millennium Falcon Quadcopter. Being a quadcopter, this Falcon is reported by some as being somewhat easier to control than the non-quad version, yet it also still does an excellent job of representing Han Solo's beloved starship. I personally really like this version of the Millennium Falcon and think it looks even more authentic than its smaller counterpart. With about 12-15 minutes of flying time and a lightweight yet durable build, the Air Hogs Millennium Falcon is the perfect drone with which to celebrate Star Wars day. In fact, both versions are fun, and I'd be happy to own either of them—though this quad version is truly my favourite model!
Best Buy has many more Star Wars LEGO sets and Star Wars themed flying machines than I can possibly cover here, and some of them may appeal to you more than those featured above. Similarly, there are lots of other great products with which to celebrate the upcoming Star Wars Day. Take a look at this page to find items like Star Wars SteelBooks (movie box sets), Star Wars toys and video games, and other products like Star Wars luggage, kitchen appliances, skateboards, and much more. I hope you enjoy the upcoming Star Wars Day, and May the 4th be with you!