I'm sure that every musician reaches a point where they want to be able to record their musical offerings in order to preserve, or share with others. Fortunately for those of us who fall into this category, technology has made this a very real, and relatively affordable possibility. Gone are the days of paying thousands of dollars to reserve studio time as new digital innovations have literally put the power to record and share directly in our hands.
iPad is the musician's best friend
While desktop PCs and Macs are capable of producing polished musical gems, I am going to focus on a more mobile way of recording and it starts with an iPad. It is my understanding that tablets from other makers are capable of achieving the same results, but as an iPad owner myself (I have an iPad 3 and an iPad Air), I can only speak to this particular configuration. But by all means consider—and research—achieving this on other platforms.
You will need an appropriate app on your iPad to record into, and you will find it tough to beat Apple's own GarageBand. It fluctuates between Free and $5 and would also allow you to install and use it on an iPhone. With GarageBand you can record your own guitars, bass, and vocals, and if you prefer, can supplement those with the pre-set drums or other loops and instruments from the app's library. But of course, the question you're asking at this point is "how do I actually get my potential Grammy ® winning song on my iPad and into GarageBand?" A most excellent question indeed.
iRig Pro will help you connect devices
The iRig Pro from IK Multimedia is an audio and midi interface that allows you to connect guitars, basses, microphones, midi instruments and more and then coverts the analog signal into a digital one to record into your iPad and voila, time to edit and polish in GarageBand. The iRig Pro has connections available to interface with older iPads and iPhones using the 30-pin connector or newer models using the Lightning connection. There is also a USB connector so you can record into a laptop or desktop computer. It has a Phantom Power switch so you can use both dynamic or condenser microphones to capture your awe-inspiring falsetto (or acoustic guitar for that matter).
It's really as simple as connecting the iRig Pro to your iPad with the appropriate supplied cable and plugging in the instrument or microphone and you are good to go, after setting up for proper recording in the app itself of course. This is possible due to the iRig's built in pre-amp that allows for a ¼" jack connection or an XLR connection. You power it all with a 9-volt battery. That is correct, no other power source is needed. And you can monitor it all through the iPad's headphone jack. The ultimate in mobile flexibility. But something is missing.
Gibson SG has that classic sound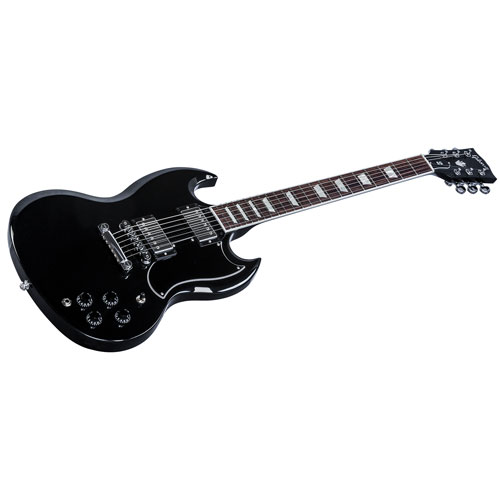 Tony Iommi and Angus Young. Enough said. But you're saying "the person I am thinking about buying this for already has a guitar. How many guitars does a person need?" Well, as I always say to my wife when I get a deal I can't pass up, "one more". Always just one more. The Gibson SG has been one of those guitars I coveted since I started to listen to music, before I even started to play. I finally bought one around 20 years ago and even if I don't play it as often as I once did (mostly because I have too many… I mean a few more guitars now, and need to spread the love around), I still pick it up regularly and will have this guitar forever.
The Gibson SG has that famous double cutaway look that gives it that slightly "evil" aesthetic. If the last thing you'd want is an evil looking guitar, then let's go with "edgy" instead. Gibson's necks are famous for being a bit meatier than most brands but are fast and responsive while letting you access every fret with ease. The SG is generally lighter than its Les Paul brother, and it has a bevelled body, both of which make playing it for longer periods of time very comfortable. It produces a nice warm tone and has a fairly unique ability to sound bang on in many different genres. From Doom Metal to Classic Rock, or from Modern garage/roots/indie to the Blues and everywhere in between, The SG is always a great choice.
Shure SM58 is a musician's choice 
So, your lucky gift recipient has an iPad and iRig Pro to record and edit their magnum opus, a new Gibson SG to provide the aural onslaught in waiting, but they will still need a microphone to beautifully capture that channeled inner Dave Grohl or Lzzy Hale. The Shure sm58 is one of the most reliable and durable microphones available for all vocal stylings. It is as valuable on stage as it is in the studio, so it offers that flexibility as well. It has a built in shockmount and pop filter so you know that every time you pick it up, or pop it in your mic stand, it is going to do justice to your recording in ways that few dynamic vocal microphones can. There is a reason it is the most popular vocal microphone on earth. These are the primary components of what are required to get your musical ideas into an iPad, edited, and output into a handy little mp3 file. But wait, the title says 5 things, and this list only has 4 items listed. Can't slip anything past you can I?
M-Audio Oxygen 49-Key Keyboard Controller will create new possibilities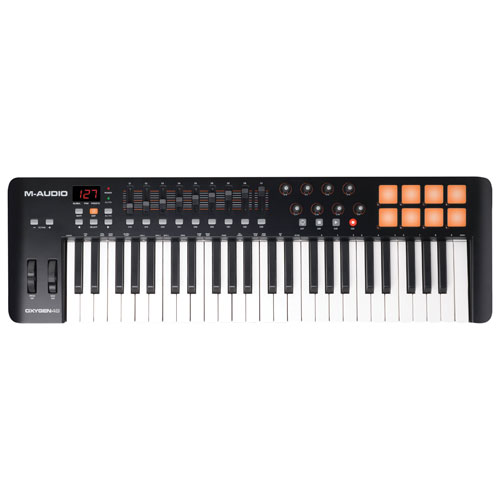 A keyboard and midi controller, it can program drums, provide the bass guitar line, or multiple keyboard sounds. It has full sized velocity sensitive keys that will provide all of the virtual instrumentation that you could ever want. Now gift away, step back, and watch the creativity flow. Feel free to throw in a guitar stand, mic stand, tuner, strings, XLR cables, guitar strap, and picks. Your new music producer will thank you for it. Happy shopping and enjoy the new musical creations that you helped to facilitate! You might even want to think about getting executive producer credit. In writing.