Summer is well on its way, and that means long days of bright sunshine and sometime unbearable heat. If only there were an easy way to cool off! For many of us, the summer sun can cause a heap of serious problems, but for those lucky enough to have their own backyard pools, summer is the sweetest of seasons! Join me today as I introduce Best Buy's new and exciting selection of backyard above ground Pools & Portable Hot Tubs. If an in-ground pool is prohibitively expensive for you, this may be the option that ultimately saves your summer!
Portable Hot Tubs
Let's begin with portable hot tubs and a look at the Aqua Marina Inflatable Spa. This blow-up spa gives you all the benefits of a permanent spa with the added feature that it can be deflated and put away at times when it's not needed. Its 6 person capacity means it's ideal for large families or small group gatherings, and it's also the perfect companion to an existing outdoor pool as a way to warm up and relax after engaging in a vigorous swim. If you like the idea of the Aqua Marina Inflatable Spa but are concerned that a 6 person hot tub may be too large for your needs, you'll be happy to learn that there's also a 4 person version available.
Above Ground Pools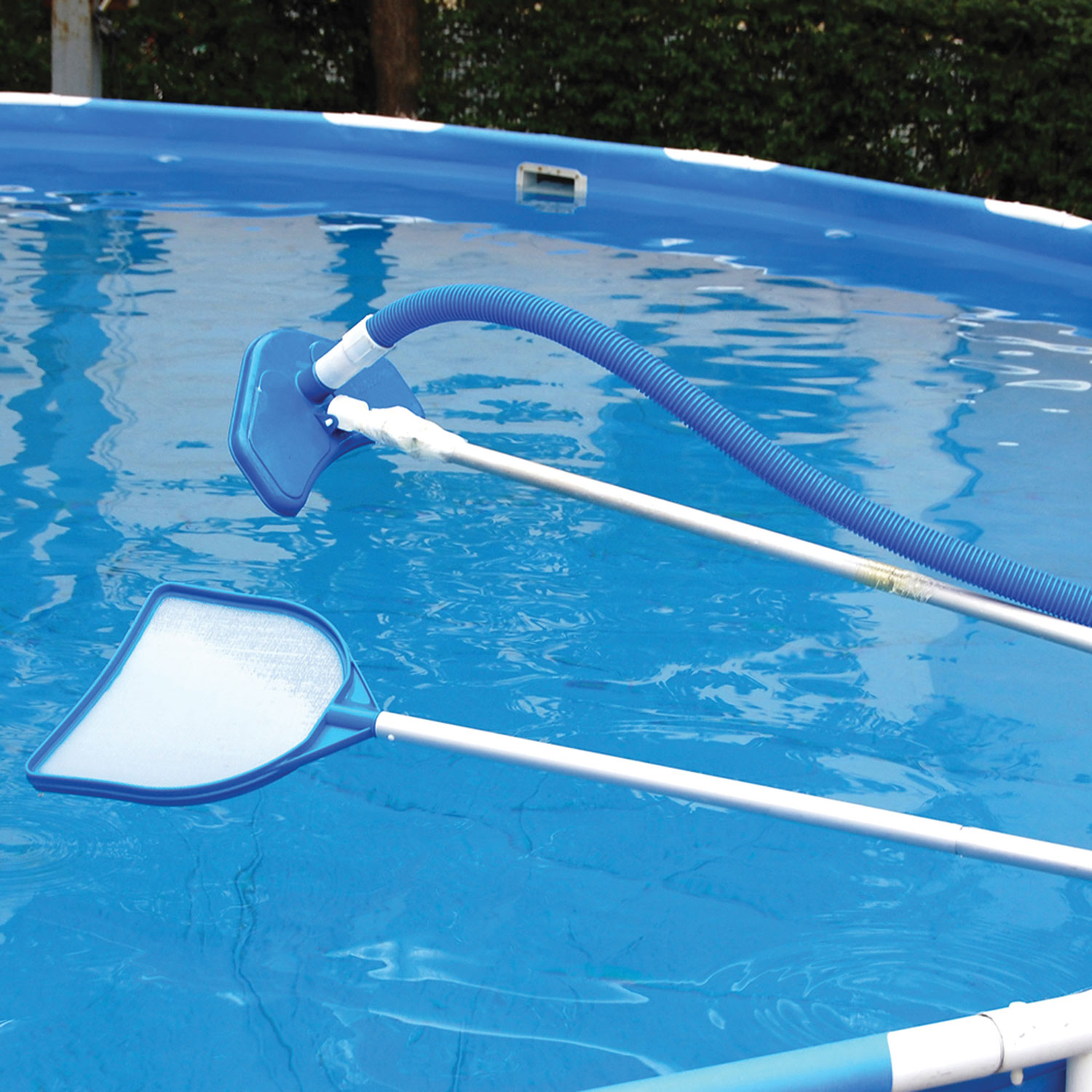 If you want to go all-out this summer and swim whenever you please, then getting one of Best Buy's new above ground pools could be the answer. Let's begin with a classically round unit called the Summer Waves Elite Above Ground Round Pool. This 18 foot (in diameter) x 52 inch deep pool (that's pictured at the top of the page) is the perfect environment in which to wile away the long summer days. It also happens to be loaded with features that make it easy to use and maintain. For example, it uses the Skimmer Plus Filtration System (which simply attaches to the side wall of the pool) to remain clean and free of bugs, leaves, and other debris all throughout the summer, and it also comes with a full maintenance kit that includes a vacuum hose and head, a telepole, and a handy leaf skimmer. This pool is also BIG! Its fluid capacity is over 29,000 Litres of H2O, and its people capacity is an impressive 9, making it perfect for parties and other gatherings—especially children's birthday parties! Constructed of heavy-gauge PVC and further reinforced with a strong inner layer of polyester mesh, the Summer Waves Elite Above Ground Round Pool is built for strength and durability, so there's every reason to expect a thorough summer of cool swimming fun with this backyard beauty. And it's even relatively easy to install, with a suggested setup time of less than one hour for a couple of people to put together. All up, this Summer Waves round shaped pool is sure to please both kids and adults alike, providing endless hours of fun on those hot summer days.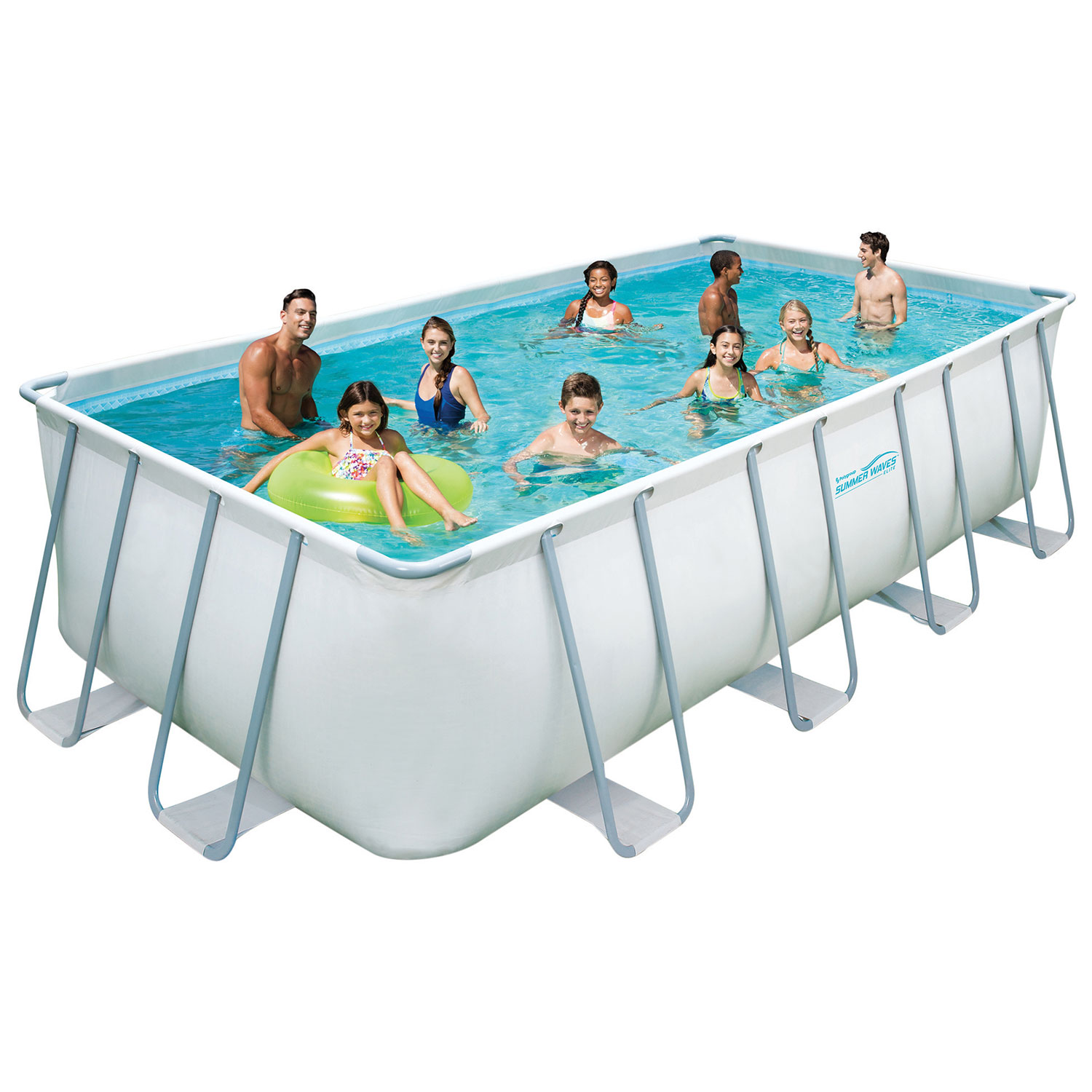 Perhaps, though, a circular pool doesn't quite speak to you? If this is the case, why not go rectangular with the Summer Waves Elite Above Ground Rectangular Pool? This model is great for swimming laps back and forth, just as you might choose to do in an Olympic style swimming pool. It's also definitely long enough, measuring 18 feet long x 9 feet wide with a depth of 52 inches. This makes for a water capacity of 16,959 Litres and a human capacity of about 9 people, so again, perfect for summer pool parties or just casually inviting a few friends over for a swim. Of course, being another Summer Waves model, this rectangular pool also has all of the same bells and whistles as the circular pool above, including the same sturdy construction and Skimmer Plus Filtration System. For safely and easily getting into and out of the pool, a durable A-frame ladder (with an in-pool safety barrier) is included with the set, as is a built-in chlorinator (part of the Summer Waves Patented Cartridge Filter) that can accommodate 1-inch chlorine tablets (which you'll have to source yourself), so you can rest assured that your Summer Waves pool will be fully disinfected and remain 100% bacteria free all summer long. By the way, I didn't mention the chlorination system for the round Summer Waves pool discussed above, but fear not—it too has the Patented Cartridge Filter.
.
.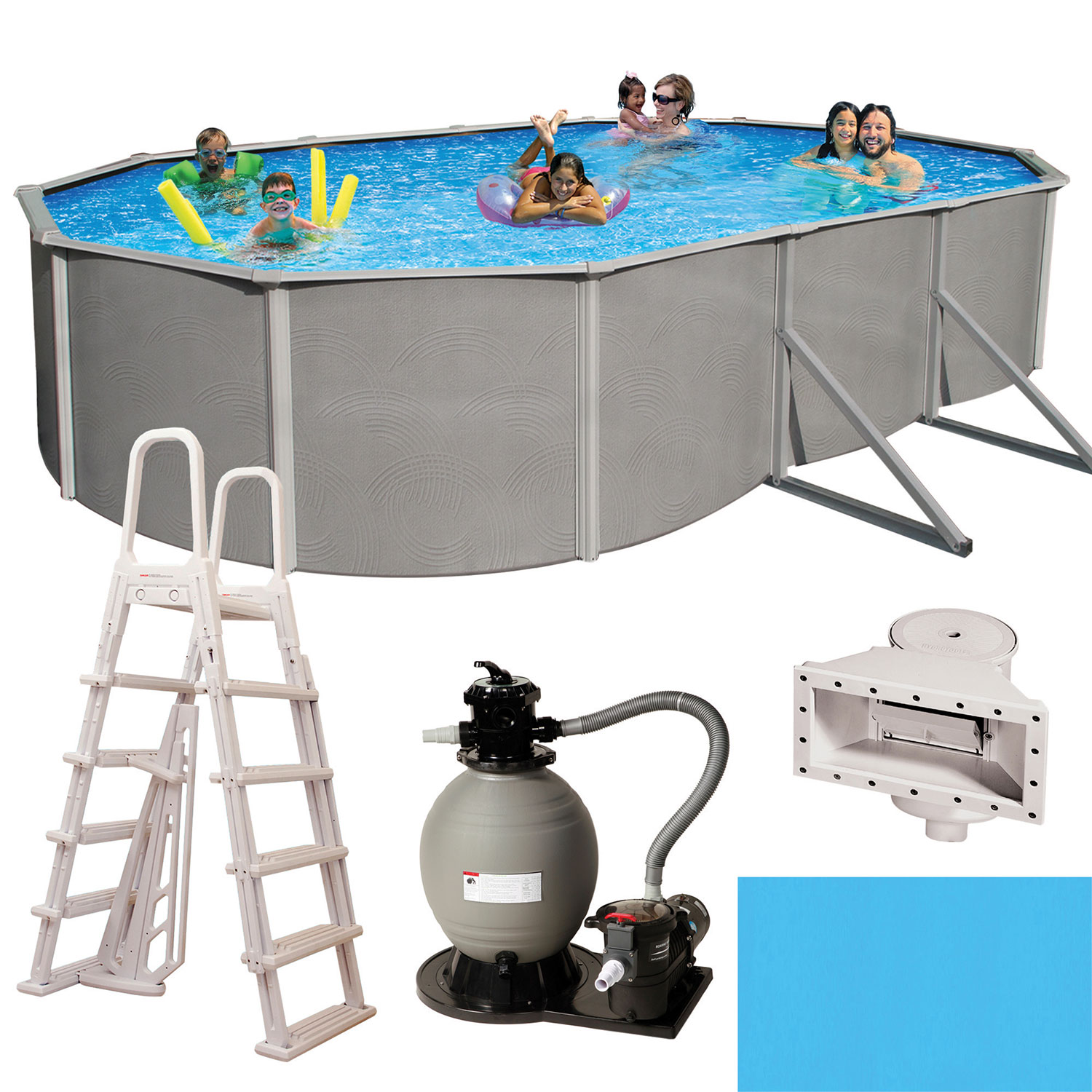 Finally, if you want to go really high end and super sized, you can opt to install the truly massive Blue Wave Belize Above Ground Oval Pool with Toprail. This pool measures an incredible 41 feet x 21 feet (with 52 inches of depth and a total water capacity of 76,920 Litres), meaning you can pack as many as 20 different people into it at once, which makes for one serious whopper of a summer pool party! Imagine the fun you could have with a pool of this size, or the exercise you could get swimming proper laps in it. Of course, it's got a ton of useful features and extras as well, like a skimmer and return system, a sand and filter system, a 1.5 HP pump, a resin A-frame ladder, and a blue overlap liner—just to name a few. Its 6 inch steel top rails and uprights make for a rugged and robust support structure, with all steel parts being subjected to the Star Galvin Process. This process prevents rust and corrosion from attacking your pool, meaning it's sure to remain just like new for many years to come. In fact, this pool's overall construction features a durable combination of resin, plastic, and steel, that together constitute a product capable of withstanding the unrelenting assaults of many a nasty winter. So confident is Blue Wave in the strength and long-lasting durability of its Belize Above Ground Oval Pool, that provided with it is a limited 15-year warranty. This certainly speaks to the perceived quality of Blue Wave above ground pools. I definitely think that they're worth some further investigation!
Are you excited for summer's impending arrival? If so, now is the time to begin looking at Best Buy's great selection of above ground Pools & Portable Hot Tubs. And don't forget to take a look at a few fun pool toys as well. When the heat wave finally arrives, will you be ready?