A new year means it's time to travel to new places and go on new adventures. Whether you're planning an epic backpacking trip through South America or taking the family to Hawaii for a relaxing getaway, here are seven travel essentials that'll help you make the most of your upcoming vacation.
Drone photography has taken over my Instagram feed and I'm double tapping every single gram. I love getting a bird's eye view of remote islands in Southeast Asia and seeing aerial shots of New York's mesmerizing skyline. All these gorgeous travel photos have got me lusting for a drone, the DJI Mavic drone to be exact. It folds up to the size of a water bottle and weighs just 743 grams so it'll fit in your carry-on no problem. Plus, with ActiveTrack technology and a 4K camera, this drone follows your outdoor adventures and captures it all in dazzling clarity.
Remember that time the airline lost your luggage? Or when your passport disappeared and you weren't sure if you left it in the cab or hotel? Luckily, there's a way to track down lost items fast. Attach, stick, or slide the Tile Slim or TrackR Bravo Bluetooth trackers onto your valuables when you travel, and use an app on your phone to locate misplaced items in seconds.
Don't get me wrong, I love my GoPro and the awesome shots I've gotten with it. But what I really want for 2017 is the 360fly 4K or Nikon KeyMission 360. From surfing waves in Australia to shredding slopes in Colorado, these 360-degree cameras record action from every angle to create an immersive 360-degree view of your surroundings. They also capture dynamic videos and photos so you can move the focal point during playback to "look around" within the footage itself. Pretty cool right? You can even share special travel moments by uploading your spherical snaps to Facebook or relive thrilling moments with a virtual reality headset.
If you crave music as loud as your adventures, I have just the speaker for you: the Ultimate Ears BOOM 2. Waterproof, dirtproof, and shockproof, I've taken this rugged speaker to beaches, hiking trails, pool parties, and more. It pumps out powerful 360-degree sound and the battery lasts up to 15 hours so I can keep playing DJ all night long. Short on luggage space? The Ultimate Ears ROLL 2 is a compact alternative that still packs a serious sound punch.
The key to surviving long haul flights is a good pair of headphones. I have the Bose QuietComfort 35 wireless headphones and never fly without them. Sporting cutting-edge noise-cancelling technology, they eliminate distracting sounds like that annoying engine hum and the snoring passenger snoozing on your shoulder. If you're looking for headphones designed for your active lifestyle, check out the Samsung Gear IconX wireless headphones. Fitness tracking technology monitors your speed, distance, heart rate, and calories burned during your hike to Machu Picchu, while 4GB of built-in storage keeps the tunes flowing in case your phone dies.
After a long day of exploring Paris, there's nothing better than curling up in your hotel room and watching TV. But how many times have you flipped through channels only to find nothing good on? Google's Chromecast Ultra plugs into any TV's HDMI port and lets you stream content from your smartphone straight to the big screen in up to 4K and HDR picture quality. So no matter where you are in the world, you'll get to catch up on the latest episode of Westworld.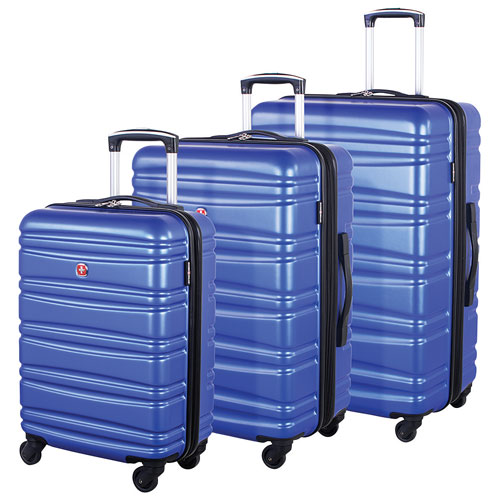 Going to Japan, Jordan, or Jamaica? You're going to need travel gear that lasts. I have the Swiss Gear Wallen 3-piece luggage set and can't recommend it enough. Made with lightweight yet durable ABS material and equipped with four 360-degree spinner wheels, this hard-sided luggage set withstands tumbles on the baggage carousel and rolls smoothly on the cobblestone streets of Italy. If you're a backpacker, keep your stuff safe at hostels with the Pacsafe Venturesafe backpack. Thieves won't stand a chance thanks to its puncture-resistant zippers and integrated slashguards.
Looking for more awesome travel gear? Get ready for your 2017 vacation by shopping Best Buy's huge selection of cameras, headphones, luggage, and drones.
Travel photo courtesy of Climb Georgia Travel