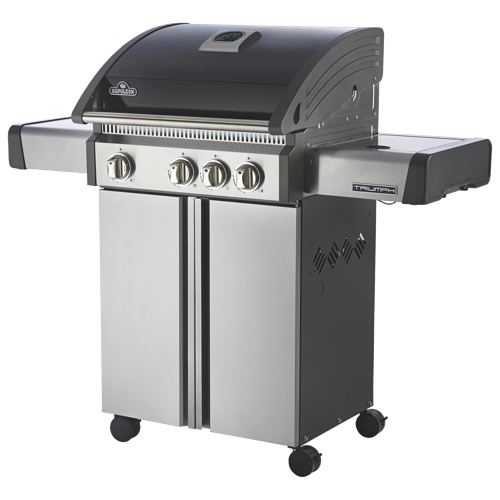 Some of today's most popular full-featured BBQ systems come with plenty of built-in storage space for all of your go-to accessories and utensils. Whether you're sporting one of these big beauties or simply a small portable unit, you're always in need of the proper utensils and extras that help to get those steaks, dogs, and burgers to turn out just right. But with so many useful tools available, sometimes it can be difficult to keep track of just what exactly is available out there. So join me today for a quick look at 4 great items that will help you to customize your BBQ to meet your own unique needs and barbecuing preferences. There's sure to be something here for every outdoor cook!
If you're a carpenter, you wear a tool belt; if you're a barbecuer, your tool belt is the Char-Buster 7-Piece Barbecue Apron Set. This handy set has pretty much everything you'll ever need to be the master of your own personal grill. Included here are a cook's apron, a mitt (not for baseball), a spatula, a fork, a pair of tongs, and two small shakers (one for salt & one for pepper). While wearing this fully equipped apron, you'll be absolutely prepared for every barbecuing scenario. Whether it's an emergency burger flipping, a last second salting, or the handling of an overheated implement, nothing in the barbecuing universe will ever be able to stop you! Wearing this apron / tool set is almost like being a BBQ superhero. Look! —It's a bird! —It's a plane! —It's BBQ Man (or Woman)! Super cool, & super useful!
One of my own barbecuing favourites is the ever popular skewer. If you're like me, you'll want the delicious outcomes of skewering without the hassle of handling all of that slippery grub! To solve this problem, consider using the Vacu Vin Large Quick Skewer. With this easy-to-use device, you simply place your chosen food items within the red chamber, close the lid, and stab the dickens out of them. That is, run them through with the metal skewer stick, then remove the entire contents of the chamber for quick and easy cooking. I just love stuff like this! It's right up there with those little corn-on-the-cob holders that allow you to eat your corn nice and hot without burning your fingers. If you're a BBQ master, the Quick Skewer is something you absolutely must have in your arsenal. It's one of the most useful BBQ tools you could possibly have, and it's sure to pay for itself with each and every use.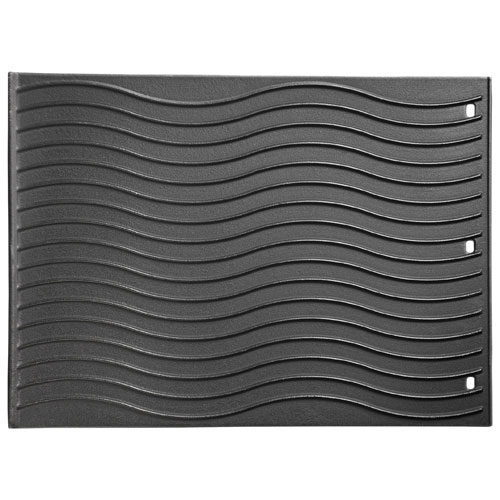 If you're a true barbecue enthusiast, you'll certainly be needing (more likely, already having) a nice cast iron griddle to use with your BBQ. And if you happen to reside within that "needing" category rather than the "already having" one, then look no further than to the Napoleon Reversible Cast Iron Griddle! Possibly the best aspect of this particular griddle is that it is fully reversible, with one smooth side and one wavy lined one. There are even some holes along the side to let the grease run off. And, because there's a porcelain coating covering the cast iron top, perfectly even cooking is practically assured (unless you cook like I do). There's no doubt about it, every world-class BBQ Chef deserves to have their own personal griddle, and this one certainly makes a solid case for itself!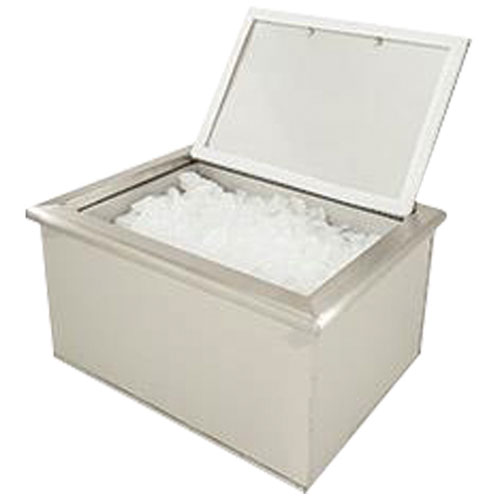 If you're going to take the effort to have a barbecue, you're most certainly going to have something to drink along with it, and for that you'll need a handy container to store those drinks in and keep them nice and cool. For this you can use the BroilChef Grill Island Drop-In Ice Chest – In Silver, which is a beautiful drop-in ice chest to round out your BBQ station. With this chest you can store all the pop, juice, or water you can drink—among other things, and, as it's made of solid 304 grade stainless steel & comes with a tightly sealing lid, it won't matter too much just how hot it is outside, because your ice isn't melting any time soon! There's even a handy drain hole in the bottom that can be let out when it's time for a cleaning. Just hose it down and close it up. That's all it'll take to get this shiny ice box ready for your next big barbecue.
Well, that's all that I've got for you for today, but if you're interested in reading another barbecue based blog, you may want to check out Shelly's recent article on how to "". Remember, no food ever tastes as good as food cooked outdoors! Enjoy your BBQ this season, but be careful not to burn yourself. Have an excellent week!
For your convenience, BBQ Cooking Utinsils.