Today we're taking a look at 2 Yale smart locks and the Yale Look Door Viewer—all of which are products that are sure to make your home feel safer and more secure than ever before! I actually have these items in hand and will give you a look at them as they appear straight out of the box. I'll also provide some info about (as well as a look at) the Yale App and let you know how all of these items work together to protect your home. Read on for full details!
Yale Smart Locks
First up is the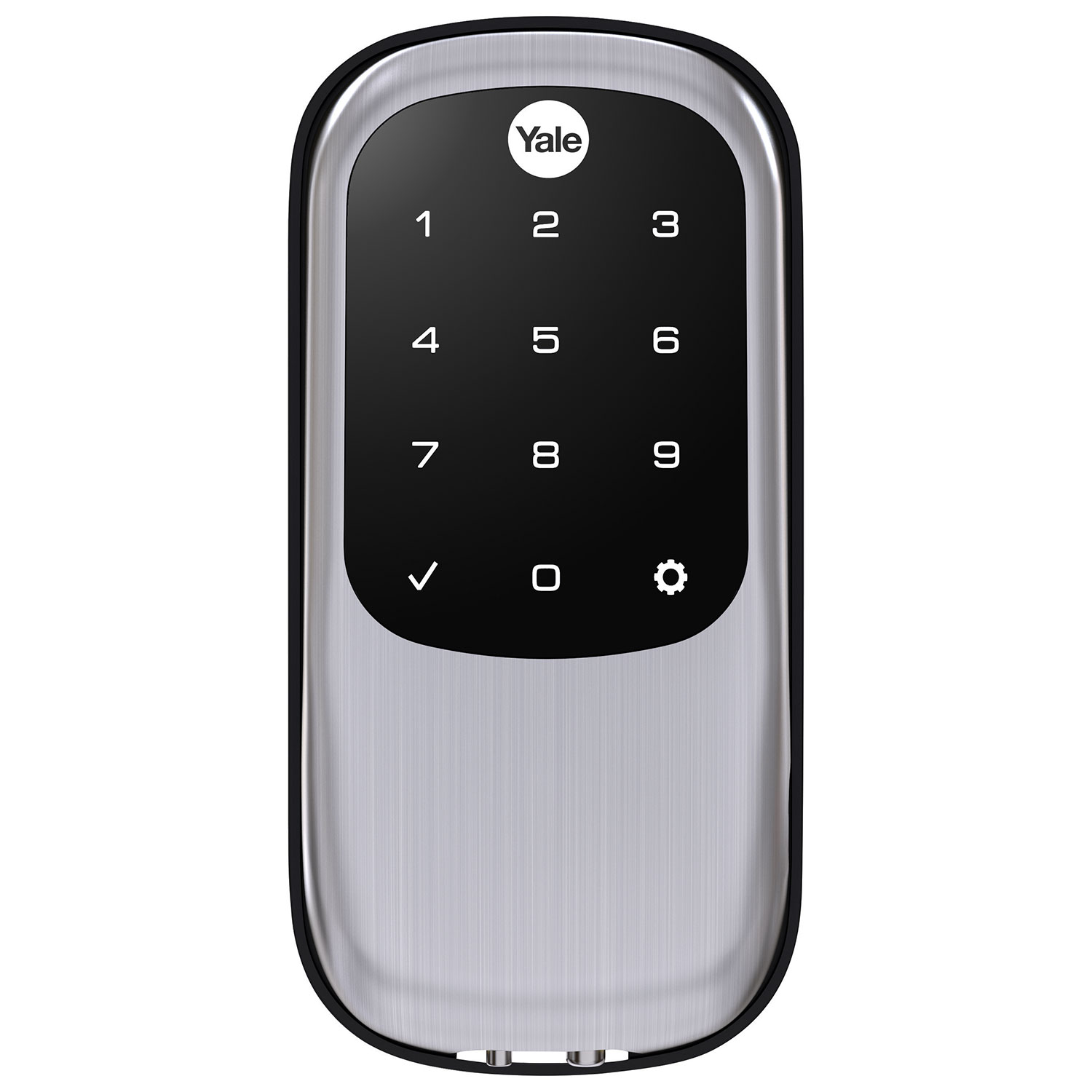 Yale Assure Key Free Smart Lock with Bluetooth. This sturdy lock (shown in satin nickel at right) gives you a couple of different options for getting into your home, and neither of them are keys. In other words, you can access your home via the touchscreen keypad on the front of the lock, or you can use your smart phone's Bluetooth feature to send a signal to your Assure Lock to open and let you in. Either way, you'll no longer have to fumble for keys. What's more, Yale allows you to share digital copies of your keys to anyone with whom you wish to give access to your home. This could be friends, family members, a housekeeper, or anyone else, and you can take advantage of automatic notifications and logging of all the entries and exits. In fact, it's the freely downloadable Yale Assure App that allows you to share access keys and view your lock's access history. Of course, the app is fully compatible with Android 4.3 (and later) as well as iOS 9 (and beyond) smart devices, so most of us will have no trouble whatsoever using it.
.

Another excellent example is the Yale Key Free B1L Lock – Push Button Deadbolt. This lock is actually very similar to the Yale Assure, even offering many of the same key features, yet it has a 3-dimensional, backlit, push-button keypad that's tamper-resistant to help prevent anyone from picking the lock. Perfect for both indoor and outdoor use, this weather resistant lock lets you in via a 4-8 digit PIN code that you create yourself. In fact, you can create up to 25 different codes for various family members or friends that you wish to give access to your home. The Yale B1L Lock uses a motorized, tapered deadbolt to lock and unlock your door. The mechanism actually has a feature whereby it will lock itself automatically after 30 seconds of having been unlocked, which is great if you forget to lock your door. Both convenient and highly attractive, the B1L Lock is sure to look great on the doors of any modern home. The sample I'm showing here is yet another of the satin nickel variety, and it looks every bit as good in real life as it does in photographs. By the way, this lock comes with 4xAA batteries and has a 9V backup as well.
.
.
The photo above shows some of the components of the Yale B1L Lock. These include both the front and back of the lock apparatus itself, along with a gasket (remember, these things are weatherproof) and the included AAs.
Examining the Video Evidence
Before we move on to accessories, why not take a few minutes to check out my brief video overview of the Yale products I'm discussing today:
Yale Smart Lock Accessories
If you're looking for the perfect Yale Smart Lock accessory, look no further than to the Yale Look Door Viewer with Wi-Fi Video Doorbell. This handy doorbell features a high definition video camera offering a wide angle view (105-degrees) of everything that happens when someone rings your doorbell (or even comes anywhere near your doorstep, thanks to its motion detection feature). This camera provides crystal clear views and has night vision capabilities for both video clips and still images, and you can even check who's at your door by using either the (included) full-colour interior screen or directly on your smart phone's screen thanks to the Yale Look App. Additionally, if you wish to communicate with the person come-a-calling, a built-in microphone speaker allows for clear, 2-way communication with that person even when you're not at home. How's that for convenience?
Other noteworthy aspects of the Yale Look Door Viewer include the fact that it's compatible with devices of both the Android (4.3 or newer) and iOS (9 and up) variety, as well as the fact that it comes with a Micro SD card for storage of your captured video and images. The media that is recorded to the card is also time and date stamped for added convenience.
Yale Apps
Yale smart locks and accessories don't all use the exact same app. Even so, when I created my account for the Yale Assure App, I was later able to use the very same credentials to log into the Yale Look App. This is the first of many conveniences provided by the Yale suite of apps.
Specific to the Yale Assure App is the screen shot at right. This image shows one of the digital keys that users have the ability to share with friends and family directly from inside the app. In fact, an unlimited number of digital keys can be created and managed by the Yale Assure App, which is great both for large families and for situations where a large number of people need access to the same building or facility. Additionally, the Yale Assure App allows you to view a lock's access history, to receive entry notifications on your smart device, and to check the level of the lock's battery, among other things.
The Yale Look App also has some unique and useful features, like giving you the ability to see (and communicate with) whoever's at your door. Since this works directly on your device, you can be half way around the world and still have this work, which I think is pretty amazing!
In my experience testing these Yale products, both the Yale Assure App and the Yale Look App were very easy and straightforward to install and use. And of course, the apps are completely free for anyone to download.
If you're a security conscious individual with an interest in and enthusiasm for today's many smart home technologies, then I'm pretty sure that Yale's smart locks and accessories will fully meet your expectations.